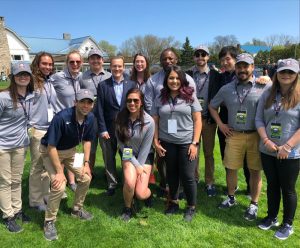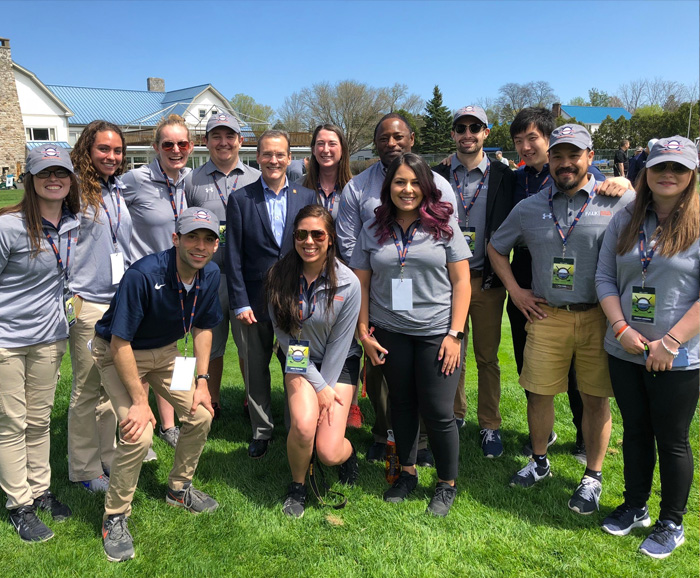 The Sport Venue and Event Management (SVEM) graduate program raised $20,000 during a charity golf tournament to benefit Vera House on May 7 at Drumlins Country Club in Syracuse. The event, which was sponsored by Key Bank, included more than 100 golfers, lunch, a dinner reception, silent auction, guest speakers, and raffle prizes.
Monies raised will support Vera House's domestic and sexual violence program, providing shelter, advocacy, education, and counseling for women, children, and men.
"The Charity Golf Classic provides our students with a unique opportunity to learn, plan, and execute a sporting event," said Sport Venue and Event Management graduate program director Dr. Jeff Pauline. "In addition to their professional development, students learn the importance of social responsibility."
This event connected event management courses, including experiential learning opportunities, and social responsibility, which are hallmarks of the academic programs across Falk College. The execution of this tournament is part of the SVEM curriculum that requires students to organize an event to gain a direct, hands-on learning experience working in all facets of the sports industry.
"Having the opportunity to be involved in all facets of the event planning and management process was a great way to learn and develop as industry professionals," said Sport Venue and Event Management graduate student Kelsey Meisenzahl '18. "The hands-on experience we gained is truly invaluable. Vera House is such a deserving partner and we really enjoyed furthering their efforts in bringing awareness to domestic and relationship violence."
The students worked on the event as part of their SPM 665 Advanced Event Management class and SPM 635 Marketing Sport Venues and Events class. Students were responsible for all aspects of the tournament including selecting the community partner, course operations, marketing, hospitality, fundraising, and sponsorships.
"The students took the framework of this event and worked hard to expand upon various areas to make the event unique," said Dr. Gina Pauline, Sport Management associate professor and undergraduate director. "The result was the creation of a top-notch experience for attendees that included golf, specialty food, music, contests, and an incredible keynote speaker."