Sport Management Student Organizations
Baseball Sabermetrics
Baseball Statistics and Sabermetrics Club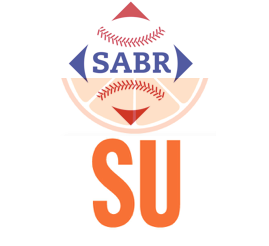 Sabermetrics is the study of advanced baseball statistics. And who better to study that than Syracuse University Sport Analytics students? The student-led club formed during the Spring 2013 semester with Sport Analytics professor Dr. Rodney Paul as its faculty advisor. The club conducts in-depth discussions about baseball statistics and sabermetrics. Members take part in a fantasy baseball league and guest speakers are brought in on a variety of topics throughout the year.
In Spring 2019, Club members Charles "CB" Garrett IV '19, Cody Barbuto '19 and Kyle Liotta '20 published a research paper in conjunction with Dr. Paul on how minor league baseball player Tim Tebow affected attendance for teams during the 2017 season. The paper, titled "Celebrity Attraction in the Minors: The Case of Tim Tebow," was published in the Journal of Economics and Finance. Tebow played for the Syracuse Mets during the 2019 season.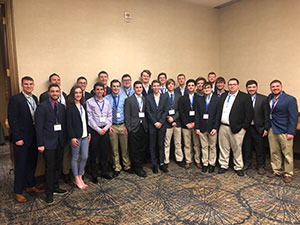 In November 2017, a team representing the Club won the prestigious SABR Diamond Dollars Case Competition at NYU. Sport Analytics majors Justin Perline ('19), Charles "CB" Garrett IV '19, Luke Scheetz ('21), Trevor Olofson ('21), and Zak Koeppel ('21) won the competition against other universities such as Villanova, NYU and Fordham.
The teams were tasked with creating a model to determine a player's BABIP (Batting Average on Balls In Play), both for hitters, as well as the BABIP that pitchers allow. They were then asked to use this to determine the players who are going to see the biggest increases and decreases in their BABIP next season. The teams were given five days to collect data, create a model, and prepare a 30-minute presentation on the topic to be given in New York City.
The Club also competed at the Diamond Dollars event in Fall 2018, 2016 and 2015. In Fall 2018, teams were tasked with predicting the contracts of MLB free agents Bryce Harper and Manny Machado. Students were given five days to collect data, create a model, and prepare a 30-minute presentation on the topic that was given in New York City. Judges for the competition included Cameron Barwick of the MLB and Chris Pang of the New York Yankees.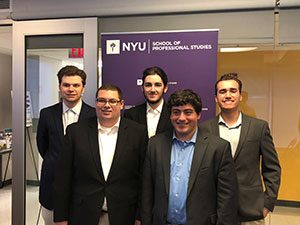 "We are very proud of the way our students compete at these events," said Dr. Paul. "It's a terrific way for them to showcase their research in front of industry professionals as well as gain experience outside of the classroom."
In March 2019, for the fifth straight year, Club members participated in the annual Society of American Baseball Research (SABR) Analytics' Diamond Dollars Case Competition in Phoenix, Arizona. The competition is for undergraduate and graduate students from universities across the country to compete against each other by researching and presenting on a current baseball analytics topic. Presentations were made to a panel of judges consisting of Major League Baseball executives. Five SU teams competed in Arizona in 2019, with two teams winning their respective divisions.
The topic was "Developing a Strategy for Pitching Usage," and teams were tasked with defining a strategy (or multiple strategies) that MLB teams can follow to assess the optimal way to deploy their pitching assets over the course of a 162-game schedule. Teams had to show how their strategy would impact team run prevention and ultimately team performance. Teams made their presentations by using programs such as R, Excel, and Tableau.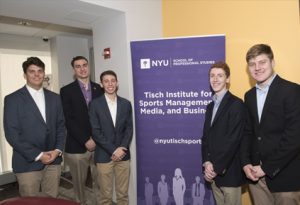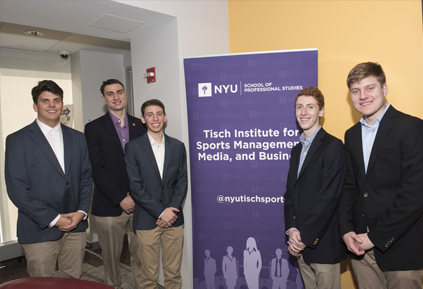 With the help of gifts from Falk College donors Mark Lomasky and Andrew Berlin, 25 students competed at this prestigious event. The competition is part of the annual SABR Analytics Conference in Phoenix, which featured industry speakers, as well as a networking event and job fair for the students to engage with executives who work in the baseball analytics field. Students also attended spring training games and an Arizona Coyotes game, along with meeting members of the Arizona Diamondbacks' business analytics team, including Syracuse SPM graduate Greg Ackerman '15.
In spring 2014, the Club saw its research published in ESPN The Magazine. Dr. Paul and SPM students Matt Filippi '15, Greg Ackerman '15, and Zack Albright '15 also co-authored a research paper that was presented at the 2014 MIT Sloan Sports Analytics Conference in Boston. Their paper, "The Effects of Atmospheric Conditions on Pitchers," studied the impact of air density on pitch selection and pitcher performance. It was one of 16 papers selected from more than 300 submissions worldwide.
"Having a Sabermetrics club at Syracuse is important as it allows for students to study in-depth advanced baseball statistics to create a better understanding of the game and of player value," Paul said. "Students will learn the origins and uses of the current crop of sabermetric statistics and we will discuss and debate their usage. The goal of the club is to inform and encourage the use of advanced baseball statistics for a variety of uses in the industry."
Officers for the 2019-2020 academic year are president Kyle Liotta, vice president Brendan McKeown, director of research Steven DiMaria and director of outreach Hughston Preston. The Club meets at 6:45 p.m. Wednesdays in Falk 200. Email Dr. Paul at rpaul01@syr.edu or Liotta at kaliotta@syr.edu for more information.
Check out the video by NCC (Newhouse Communications Center) News featuring the SPM Sabermetrics club and its passion for baseball statistics.
Basketball Analytics
Basketball Analytics Club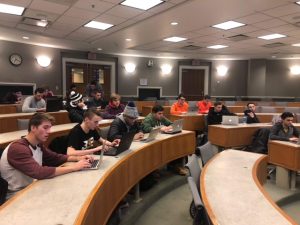 The Syracuse University Basketball Analytics Club concluded its third year in 2018-2019, expanding its membership to more than 40 members who strive to uncover statistical trends in basketball through research, as well as maintaining a fun environment to discuss and debate all things basketball related.
The organization was assembled to conduct analysis on the NBA, NCAA, and high school basketball. Over the past year, members have researched topics such as "Which NCAA Conferences Produce the Best NBA Players," "The Consequences of Over-Playing Starters in the NBA," and "Does College Shooting Translate to the NBA."
The club aims to gather a group of students who share the same zest for basketball, in addition to their drive for research. Members practice their analytical skills in Excel as well as utilize their research skills on basketball databases to find appropriate data for analysis.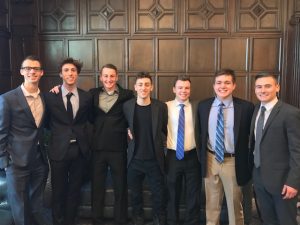 In February 2019, club members Jonathan Bosch, Nick Riccardi, Zach Anhalt, Alejandro Pesantez, Fletcher Wilson, Isaiah Freedman, and John Litchenstein attended the McCormack Sport Analytics Trade Deadline conference at UMass. They acted as GMs in a simulation of the NBA trade deadline. Attendees were broken into groups and assigned an NBA franchise. The groups then began trading and transforming their rosters for the duration of the day. The event gave students the opportunity to practice first-hand what takes place during NBA trade negotiations in regard to trade rules, salary cap management, and the CBA, among others.
Other projects included taking part in the Falk College Research Celebration, and hosting guest speakers in person or via Skype, including basketball analytics professionals from the Houston Rockets, Phoenix Suns, and Milwaukee Bucks.
Officers for the 2019-20 academic year are president Jonathan Bosch, executive vice president John Lichtenstein, vice president marketing Brendan McKeown, director of social media Sean Kenney, and project coordinators Alejandro Pesantez and Danny Emerman.
The club meets 7 p.m. Mondays in Falk College room 175 during the academic year. All Syracuse University students are welcome to join. Contact Jonathan Bosch at jbosch@syr.edu for more information.
Football Analytics
Football Analytics Club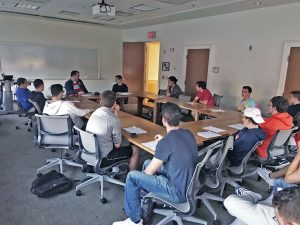 The Football Analytics Club was first established during the 2017-18 academic year and grew from four to 40 students this past year. The Club has also been accepted as an official Syracuse University Registered Student Organization beginning in Fall 2019. Weekly meetings are a combination of football discussion and research projects or activities.
In Fall 2019, members of the club attended a Buffalo Bills game, where they met with members of the Bills' analytics staff, including Class of 2019 graduate Evan Weiss. They also spent the semester working on research projects in conjunction with analytics faculty members for future publication or conference presentation.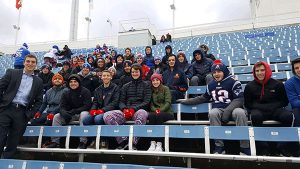 In Fall 2018, the club partnered with the XFL, the spring football league started by Vince McMahon, to help the league research potential changes to the game. Members worked with SPM alumnus Bryan Kilmeade '18 to analyze NFL, AAF, and CFL games. Data was collected and analyzed to reach conclusions that the XFL has used to help formulate its rules.
Members also worked on a research project to show how winning/losing streaks impact future winning chances and betting lines, finding that for each additional win on a team's winning streak, the point spread swung about one point in their favor and that the home team's likelihood to win the next game improved by 6.6%. For the away team, it improved by 3.9%. In addition to these projects, the Club also researched ideal cities for XFL teams and predicted free-agent contracts.
During the 2017-18 year, the club conducted research titled, "How player arrests affect team winning percentage in the NFL." Members looked at every player arrest from 2000 to 2018 using an online database and recorded the player's team and year(s) they were arrested. Also included in the research is each players' on-field value since a non-starter being arrested would not have the same effect on the team as a star player being arrested.
Over the past two years, the club has welcomed numerous guest speakers, including Tucker Zeleny, director of sports analytics at the University of Nebraska; JT Busco, Syracuse University football assistant coach; and Ryan Smith, analyst and account manager at Pro Football Focus, among others. The speakers gave students insight into the use of analytics in both professional and college football.
Club officers for the 2019-20 academic year are Zak Koeppel (president), Sean Kenney (vice president), Dylan Blechner (director of research), Joe Pickering (director of operations), and Will Friedeman (treasurer).
The Football Analytics Club meets at 6:00 p.m. Mondays during the academic year in Falk 104. All Syracuse University students are welcome to attend. For more information, email Zak Koeppel at zkoeppel@syr.edu.
Sales Club
Sales Club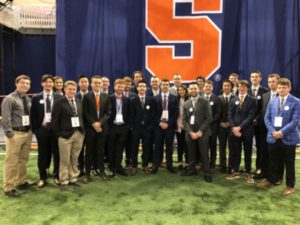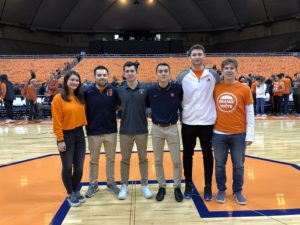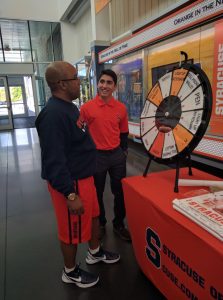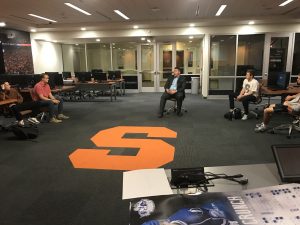 The Sport Management Sales Club was established in 2015 to act as a medium for earning members hands-on experience in the sport sales industry. In a job market with increasing demands for preliminary experience, students can add practical sales experience to their resumes.
During the 2018-19 academic year, the Sport Sales Club's focus was to increase membership, strengthen its partnership with Syracuse University Athletics, increase sales for its project with the Syracuse Crunch, hold a community service event, and welcome guest speakers from the sports industry.
In conjunction with SU Athletics, the students helped break the program's Night Sales record, selling more than $24,000 in tickets for men's and women's basketball and football games. Club member's cold-called prospects and worked sales events such as the annual Spring Game Select-A-Seat Event.
The club worked with the Crunch on its annual "SU Night" for the Crunch's game against the Lehigh Valley Phantoms in March of 2019. To achieve their sales goals, members prospected student organizations, athletic teams, and local businesses to pack the War Memorial that evening. The club partnered with the Rescue Mission to donate a portion of the proceeds to help feed those in need in Syracuse.
The club has welcomed numerous guest speakers, including Mario Oliveri of the New York Yankees, Kevin Rochlitz of the Baltimore Ravens, Andrew Sidney of the Houston Rockets, Steve McMahon of the Philadelphia 76ers, Jentry Mullins and Blake Pallansch of the Phoenix Suns, David Campbell of the Miami Marlins, Nate Medrano of the Miami Dolphins, Alexandria Anneheim of the Charlotte Hornets, Howard Cole of the New York Mets, Mark Hayes of the Syracuse Crunch, Foster Baker of Paycom, and David Hammond of Catapult.
In Summer 2019, members of the Sales Club interned with the New York Yankees, University of Illinois, Philadelphia Soul, Syracuse Crunch, and Hartford Yard Goats, among others.
Club officers for 2019-20 are Seth Kourpas, president; Drew Bush, executive vice president; Niko Armstrong, vice president of programming; Cooper Self, vice president of events; Devan Dachisen, vice president of membership; and Ian Benepe, vice president of administration.
The Sales Club meets at 6:30 p.m. Thursdays during the academic year in Falk 400. For more information, contact Kourpas at sbkourpa@syr.edu or club advisor David Meluni at dmmeluni@syr.edu. All Syracuse University students are welcome to attend.
SPM Club
Sport Management Club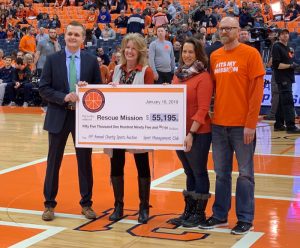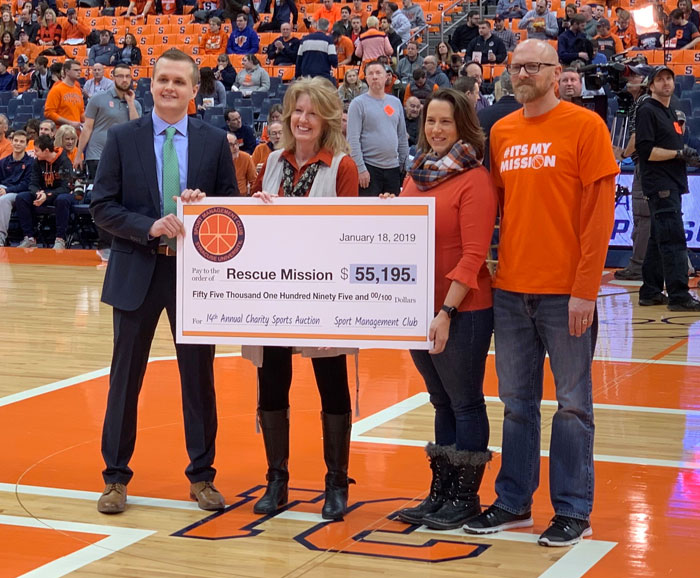 The Sport Management Club is a student-run organization of the David B. Falk College of Sport and Human Dynamics's Department of Sport Management. Since its founding in 2005, the Club has raised over $500,000 for local charities. Beneficiaries of the Club's annual charity auction have included Make-A-Wish Central New York, Meals on Wheels of Syracuse, Boys & Girls Clubs, American Diabetes Association, Golisano Children's Hospital at Upstate, the Ronald McDonald House Charities of CNY, the Central New York SPCA, the Upstate Cancer Center, Special Olympics New York, Food Bank of CNY, McMahon/Ryan Child Advocacy Center, and the Salvation Army.
The Club's signature event is its annual Charity Sports Auction to raise money for a Syracuse-area charity. The 15th annual auction was held on November 16, 2019, during the SU men's basketball game at the Carrier Dome. To support Make-A-Wish Central New York, supporters placed bids on hundreds of items, including sports memorabilia, gift certificates, household items, vacation packages, electronics and tickets to major sporting events. More than $40,000 was raised. Find out more about the annual Charity Auction.
During the academic year, the Club hosts guest speakers, takes group trips, and volunteers in the community. In Fall 2019, club members recorded 305 hours of community service, volunteering at places like Meals on Wheels, Make-A-Wish Central New York, 3fifteen, Ronald McDonald House, and New Castle Youth Basketball Association.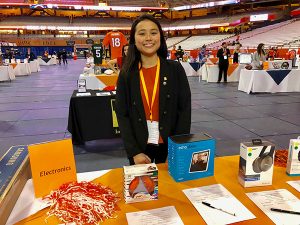 The Sport Management Club meets at 7 p.m. Tuesdays during the academic year in Falk 200. Students from all majors are welcome. For more information, contact SPM Club President Sam Marteka (svmartek@syr.edu), Executive Vice President Jakob Fox (jfox16@syr.edu), Vice President of Membership Caitlin Donoghue (cadonogh@syr.edu), Vice President of Community Service Alexa Schlitt (arschlit@syr.edu), Vice President of Programming Megan Monzo (mtmonzo@syr.edu), or Vice President of Administration Alex Guo (aguo05@syr.edu). SPM director Michael Veley serves as the Club's advisor.

Sport Pros. of Color
Sport Professionals of Color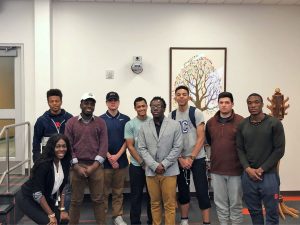 The Sport Management Sport Professionals of Color Club wrapped up its fifth year in 2018-19, as an organization to connect students who identify as people of color with sport professionals from across the industry.
The organization was formed during the 2014-15 academic year with the purpose of helping to guide young professionals in their pursuit of success and career establishment in the industry. The club strives to improve members' professional skills, host speakers, foster networking growth, and take part in experiential learning opportunities.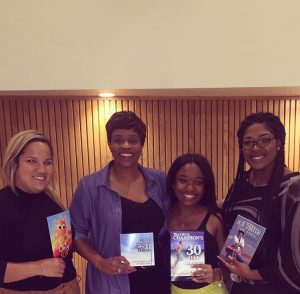 During the 2018-19 academic year, the club began a new membership drive, held an NFL Draft watch party, and welcomed social media entrepreneur Eamonn Donlyn as a guest speaker. During the 2015-16 academic year, club members co-hosted a panel discussion on women in sports titled "Competing to Win" with Phi Beta Sigma Fraternity, Inc., as well as hosted a Madison Square Garden internship panel. ESPN Information Specialist Francisco Ramos came to campus as a guest lecturer. The club has welcomed guest speakers Arnold Malloy of the Syracuse Chiefs, Kevin Cooper of the Houston Texans, and Davina Sutton of ESPN, CNN Atlanta/London, and Turner Sports.
Meetings are on Mondays at 6:45 p.m. in Falk 401, and are open to all Syracuse University students. Contact Nate Gansworth at nrganswo@syr.edu for more information or call 315-443-9881.
SVEM Club
Sport Venue and Event Management (SVEM) Club
Mission statement: To provide students specific knowledge and experience focused on managing and operating sport and entertainment facilities and events.
Objectives:
Create an experiential learning opportunity for SU graduate students interested in sport venue and event management.
Create activities that foster philanthropic and social responsibility associated with sport.
Create career networking and educational field trip opportunities for members of the organization.
Promote interest in the sport venue and facility management industry
Organizational Structure:
Executive Board: comprised of four (4) members.
Advisor (Faculty Member): Provide oversight and managerial direction; serve as the liaison between the Department of Sport Management and The SVEM Club; work directly with officers on communication, marketing, and financial matters; serve as co-chair of fundraising activities sponsored by the organization.
President: Represent the club as primary contact with the Office of Graduate Student Organizations. The President will be responsible for running all meetings, programming and developing club activities such as coordinating guest speakers, fundraiser meetings and other social activities.
Vice President: Responsible for assisting the president in developing meetings and club activities, maintaining attendance of meetings, collecting membership dues, and other miscellaneous tasks.
Treasurer: Responsible for keeping financial records of funds and allocation of disbursements subject to board approval, and as outlined by the Office of Graduate Student Organizations.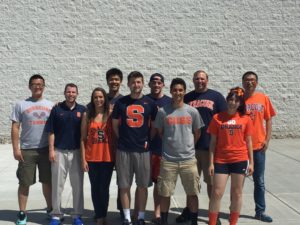 Membership: Any graduate student in the M.S. Sport Venue and Event Management Program in the David B. Falk College of Sport and Human Dynamics at Syracuse University is eligible to be an active member and may hold office. All active members must submit annual dues of five ($5) dollars.
Meetings: General club meetings will be held on a bi-weekly schedule, as determined by the President and Advisory Faculty Member and voted on by the membership. All general meetings are required among all members. Executive Board meetings will be held a minimum of once per month.
For more information: Contact Dr. Jeffrey Pauline at 315-443-2630 or jspaulin@syr.edu.
WISE
Women in Sports and Events (WISE)
Women in Sports and Events (WISE) is a nationally recognized group whose goal is to be a leading voice and resource for women who currently work in, or aspire to be a part of, the professional field of sports and events. In 2009, Syracuse University was voted in as the first collegiate chapter of WISE's national organization, and since its inception on campus, has offered multiple professional development opportunities for members.
Students in WISE are involved with numerous events and activities over the course of the academic year, including networking trips, fundraisers, interview workshops, professional development seminars, community service, and assisting with SPM alumni events on campus.
In Fall 2019, the club organized a two-day trip to Pittsburgh to network and learn from industry professionals. The group met with executives from the Pittsburgh Steelers, Pittsburgh Pirates, Pittsburgh Penguins, Diamond Kinetics, Dick's Sporting Goods, and WISE Pitt. They toured Heinz Field, PNC Park, and PPG Paints Arena, and attended a Penguins NHL game.
In Spring 2019, WISE members volunteered at the Ronald McDonald House in Syracuse to cook and serve meals to families staying at the facility. The group also co-hosted workshops focusing on-campus resources and resumes; partnered with Witty Wicks, a homemade candle company, and Chipotle, to fundraise for future networking trips and events; and welcomed numerous guest speakers to campus or via Skype.
"We all enjoy volunteering with WISE, to give back to the community we call home for four years," said Devan Dachisen, vice president of programming and recruitment. "At SU, we have so many incredible opportunities to grow in our careers, it only makes sense to give back to the community that we live in."
In Fall 2018, the club went to Philadelphia, where they met with the Philadelphia Phillies, Sixers, Flyers and the University of Pennsylvania. The women toured Citizens Bank Park, Wells Fargo Center, and University of Pennsylvania athletic facilities, speaking with women who work throughout different sectors of the sports organizations. Students also attended the UPenn vs. Columbia volleyball game and Flyers vs. Golden Knights NHL game. Past groups traveled to Colgate for a tour of its athletic facilities, attended espnW's Campus Conversations hosted by SU Athletics, and collected monies for Trick-or-Treat for UNICEF. They co-hosted professional development workshops on salary negotiation and interview preparation.
"WISE provides a fantastic way for young women to hold leadership positions and create opportunities for members, such as hosting events or collaborating with other on-campus groups," WISE co-advisor Nicole Cost said. "These are great talking points when networking as well as on interviews, not to mention a solid way to learn skills for when they leave campus."
In February 2017, WISE hosted "Shoot for Success: WISE Women in Sports," a pre-game panel discussion at the Carrier Dome. Organized in collaboration with Syracuse University Athletics, the panel discussion took place before the SU women's basketball against Notre Dame. Designed for women interested in pursuing professional careers in sports and events, the event featured how-to guidance and personal experiences from panelists on leading a successful career in sports.
Keep up with SU's WISE Club on Social Media: Twitter: @WISE_SU; Instagram: WISE_Cuse; and Facebook: Women in Sports and Events at Syracuse University.
The club officers for 2020 are Caroline Johnson, President; Devan Dachisen, Vice President of Programing and Recruitment; Cailtin Donoghue and Chloe Moss, Social Media and Communications Co-Chairs; and Megan Monzo, Treasurer and Fundraising Chair.
WISE, which meets at 5:45 p.m. Tuesdays in Falk 104, includes women from all majors on campus interested in pursuing careers in sports and events. For more information, email WISE co-advisors Nicole Cost (nfimbrog@syr.edu) and Lisa Liparulo (lmliparu@syr.edu) or club president Caroline Johnson (cjohns39@syr.edu).