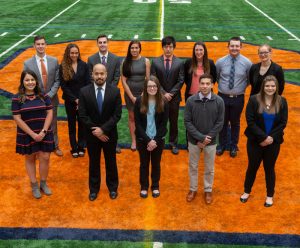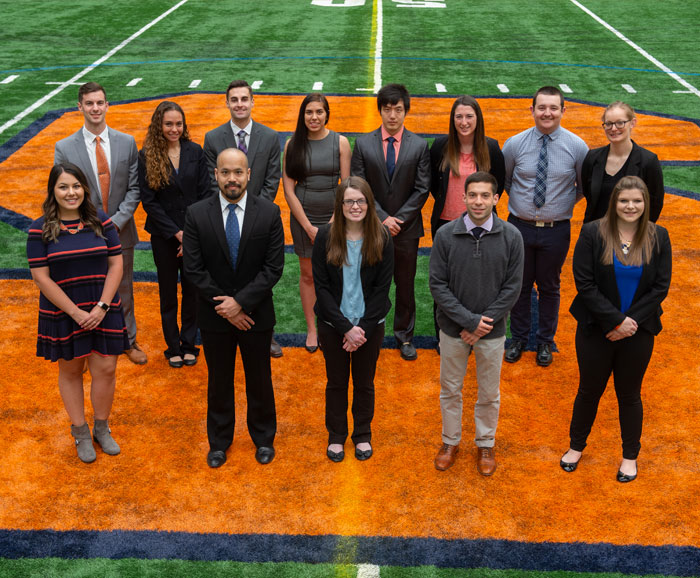 The Department of Sport Management's master's program in Sport Venue and Event Management (SVEM) welcomed its sixth class of graduate students to campus in July 2017. The program comprises 36 credit hours of intensive classroom learning, skill development and experiential opportunities in settings like SU's Carrier Dome.
The 2017-18 cohort included 13 students, with a diverse mix of educational backgrounds and from a variety of geographic locations. Students will complete their practicum work in the Summer and Fall 2018 semesters with organizations such as Live Nation, Special Olympics, the Indianapolis Colts, MetLife Stadium and Los Angeles Rams.
In July 2017, the students began in an immersive nature, working three days at the Musselman Triathlon in the Finger Lakes region during the first week of the program, followed by an immersion experience at the Buffalo Bills preseason training camp.
The graduate students also took part in professional development seminars conducted by Sport Management internship placement coordinators on the topics of networking, cover letters and resumes, strategic interviewing, salary negotiation, career guidance and using LinkedIn.
In the Fall 2017 semester, SVEM graduate students helped to plan and execute the annual Coming Back Together Celebrity Classic, which brings former student-athletes and fans together for a fun evening of remembering and reminiscing.
In the Spring 2018 semester, students worked with SPM associate professor Dr. Gina Pauline in the advanced event management course to plan a charity golf classic benefiting Vera House. Read more about the event.
Students in the first six cohorts have immersed themselves in the program's academic and experiential opportunities, and leveraged relationships to launch their careers in the industry. Graduates have secured positions within McFetridge Sports Center in Chicago, Dover Speedway, Brown University, Spectra Venue Management, Legends Hospitality, Spartan Race Inc., Country Music Hall of Fame, Syracuse University's Carrier Dome, Boston Celtics, University of Virginia Athletics, Boise State University, and Tulsa Sports Commission, among others.
The seventh SVEM graduate class began in July 2017.