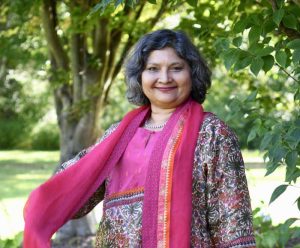 Falk College is co-sponsoring "TitBits: Breast Cancer Stories," a documentary theater production based on stories of breast cancer—patient, survivor, caregiver, medical practitioner and advocate. The production debuts next month, Nov. 9 and 10 at the Newhouse School.
Conceived, produced and directed by Tula Goenka, professor of television, radio and film, and written by alumna Nancy Keefe Rhodes G'89, G'06 with Kyle Bass, associate director of Syracuse Stage, "TitBits" is part of the Look Now Project and presented as part of the Humanities Center's 2019-20 Syracuse Symposium: Silence. It features the stories of Colleen Anderson, Deirdre Bordies, Anthony Deboni, Barbara Genton, AnnMarie Giannino-Otis, Samuel Gruber, Sheila Lemke and Anju Varshney.
Goenka, a breast cancer survivor, launched "Look Now: Facing Breast Cancer" in 2010 with the goal of focusing on survivors using a series of clothed and nude portraits to juxtapose their public personas with their private struggles. The project was relaunched in 2016 when Goenka received the rotating Newhouse Endowed Chair award. In 2018, a multimedia exhibition at Point of Contact Gallery showcased portraits of 25 project participants by photographer Cindy Bell. Those portraits will be displayed at Newhouse to coincide with the performance.
Performances, which are free and open to the public, will be held in the Joyce Hergenhan Auditorium, Newhouse 3 on Saturday, Nov. 9 at 7 p.m. and Sunday, Nov. 10 at 2 p.m.