Public health major Brianna Howard on winning 2019 Invent@SU team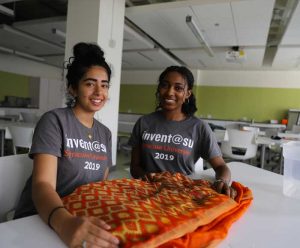 Syracuse University students Brianna Howard (Public Health) and Nikita Chatterjee (Economics), co-founders of PAANI, are working to bring clean water to a neighborhood where it is direly needed in the heart of Mumbai, India. Their concept is for a water filter made from resources that are readily available in Dharavi, as well as an educational program to improve public health and the quality of life through community engagement. Learn more about the PAANI project.
Through the Invent@SU program, undergraduate students are transformed into inventors as they design, prototype and pitch original devices. Students learn about design, ideation and intellectual property, then conceive an original invention, prototype the invention and refine it in response to weekly feedback from diverse audiences of guest evaluators.
During the six-week Invent@SU program in 2019, Chatterjee and Howard designed and built a prototype for an invention combining a traditional sari with advanced water filters built in. Their PAANI device is simple, familiar and practical for families who already use sari cloth for filtering.
"They had this intuitive method that did work for them, though just not as efficiently as it should. And I think we wanted to enhance that but still keep that familiarity for them," said Chatterjee.
When the filters in the PAANI device are used up, henna dye produces an "X" symbol on the cloth.
"The 'x' we choose because everyone knows 'x' means stop. There doesn't have to be a language barrier," said Chatterjee.
Howard and Chatterjee were one of ten teams to participate in the Invent@SU invention accelerator during the Syracuse University campus session. Each week the teams presented their work to guest evaluators during seven-minute presentations, and at the end of the program, a panel of judges voted on the top inventions. PAANI took first place and a $5,000 prize.
"This is something that is not only what we are doing right now, but it is bigger than us," says Howard.
The Invent@SU award is not the only support the project has received. PAANI participated in the 2019 RvD iPrize Competition winning $3,000 and the Hunter Brooks Watson Spirit Award for an additional $2,500 in funding. Howard and Chatterjee also traveled to Albany, NY on May 26, 2019 for the 10th annual New York Business Plan Competition (NYBPC) organized by the Upstate Capital Association of New York in Albany and was awarded the MWBE Excellence Award for an additional $2,000 in funding.
On Feb. 21, 2020, the PAANI project was also awarded first alternate, runner-up, from among 18 Syracuse University student teams by a panel of campus and community judges, in the Syracuse University InVenture Prize campus qualifier competition, sponsored by the Blackstone LaunchPad powered by Techstars at Syracuse University Libraries.
Public health major Brianna Howard is a first-generation college student from Queens, NY who has always known what it means to work hard. "It's quite ironic that the field I want to go into is the field of public health, knowing that I grew up in a district that received little to no funding for health promotion and prevention," she says.
"My passion stems from the exact factors that were placed against me, so to me there are no limits to what I can accomplish and achieve," notes Howard. "I chose the field of health because I have a passion for working with communities and understanding the ways in which health can be improved as a community instead of through individual impact. I love working with children because I truly believe that the impact that is made within them is an impact made for future generations to come. For this reason I work as a tutor in an elementary school located in the Syracuse City District, twice a week."
Together, the team is working on a global impact project, in which they were given the opportunity to make a change in a community through Women Entrepreneurs Make a Difference in Communities, a program developed by Capital One Bank. The program is designed to given women entrepreneurs the opportunity to develop and refine their skills to help contribute to the economic and social strength of a community. The Future Edge initiative has given grants to students thrive in creating programs to help communities and their economies.
Working with local mentors and water quality experts, Chatterjee and Howard are working on the concept of a tangible water filter. They are hopeful that their innovation will not only enhance water quality, but will give women (who often travel for hours to carry fresh water to their homes and communities) a chance to become more entrepreneurial by freeing up time to pursue other ventures, including small businesses.
In Spring 2020, Chatterjee and Howard received the School of Information Studies' (iSchool) Raymond von Dran (RvD) Fund for Student Entrepreneurship (Health and Well Being category) and the Hunter Brooks Watson Spirit of Entrepreneurship Award. They placed in the Compete CNY regional qualifier and will compete in the New York Business Plan Competition (NYBPC) being held virtually May 2020. For more information on these awards, visit the Syracuse University Blackstone LaunchPad announcement.
LinkedIn: PAANI, LLC
Instagram: @paanisolutions
Visit the project website
Watch an Invent@SU video about the project.