| | | |
| --- | --- | --- |
| | ISSUE 10 | FEBRUARY 16, 2021 | |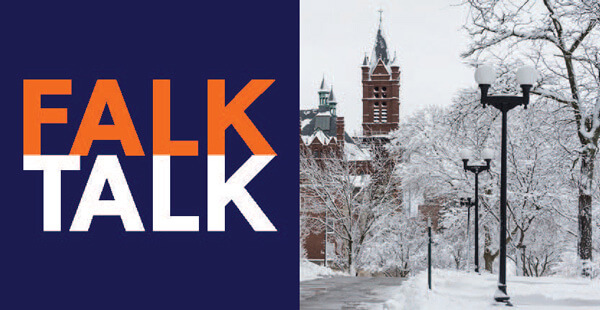 | | | |
| --- | --- | --- |
| | Greetings from Dean Murphy | |
| | | |
| --- | --- | --- |
| | | Greetings alumni, parents, and friends of Falk College. As we begin the Spring 2021 semester, I'd like to thank the countless people across campus whose dedicated work in public health, technology, teaching, and beyond, have made it possible for students to safely continue their academic careers while our community manages the COVID-19 pandemic. |
We are so proud of our students for demonstrating strength, resilience, and excellence even in these most difficult circumstances. Falk College is dedicated to their success as students, professionals, and people. From classrooms to the Career Services Office, our faculty and staff are working with students to see that their experience here is exceptional.

As our extended Falk family, we invite you to connect with us and be part of this mission. Whether you're looking to connect with fellow alumni, attend a virtual event, offer virtual internship opportunities at your company, or share your expertise in a virtual classroom, visit our alumni connect form online to let us know how you'd like to engage with Falk College.

Stay safe, be healthy and well.

Diane Lyden Murphy, M.A., M.S.W., Ph.D.
Dean, Falk College
| | | |
| --- | --- | --- |
| | Highlights from Falk College | |
| | | |
| --- | --- | --- |
| | Food studies students Phoebe Ambrose '22 and Avalon Gupta VerWiebesix, a graduate student, are among the six 2021-22 Lender Center student fellows who will continue Evan Weissman's passion for advancing food justice in Syracuse. Weissman, an associate professor in food studies and nutrition who passed away unexpectedly in April, was recently honored as an Unsung Hero at the 2021 Rev. Dr. Martin Luther King Jr. Celebration. | |
| | | |
| --- | --- | --- |
| | How parents talk to their kids about racial inequality and trauma has taken on a sense of urgency, says Jaipaul Roopnarine, the Pearl S. Falk Professor of Human Development and Family Science. "Ethnic-racial socialization is positively linked to better academic outcomes and better behavioral adjustment in children as well as a stronger sense of racial identity in adolescents," says Roopnarine, "It imbues children with a sense of self-confidence and teaches them about bias." Roopnarine further discusses how socialization works, particularly among ethnic-racial minority families. | |
| | | |
| --- | --- | --- |
| | Senior Bailie Brown will be the first female to earn a bachelor's degree in sport analytics from Falk College when she completes her coursework in May 2021. For women in the University's sport analytics program that admitted its fifth class this past fall, networking with female role models in sports is essential as they enter a traditionally male-dominated field. "Seeing there is a community of really amazing women in the industry, no matter how small, is proof I can succeed there as well," says Brown. | |
| | | |
| --- | --- | --- |
| | Student-Athlete Career Pursuits | |
| | | |
| --- | --- | --- |
| | | In nutrition science, Eva Scott '21 explores connections between food and health, and the intersection of human and environmental health. "What's good for our bodies is also good for the Earth, and vice versa," says Eva Scott '21. "The two are interconnected, and one supports the other." |
| | | |
| --- | --- | --- |
| | | Exercise science graduate student Airon Servais '19, G'21 is considering multiple career options, including teaching, personal training and chiropractic medicine. "Much of what I do in the classroom translates onto the field and vice versa." |
| | | |
| --- | --- | --- |
| | | Alisamarie Yiatras '21, the first in her family to attend college, is pursuing a career as a clinical psychologist. A minor in addiction studies will prepare her to focus on counseling people who misuse substances. |
| | | |
| --- | --- | --- |
| | New Online Graduate Programs | |
Online M.A. Marriage and Family Therapy

According to U.S. News & World Report, marriage and family therapy, a core mental health profession, is one of the fastest-growing professions today. Syracuse University has been preparing marriage and family therapy professionals for nearly five decades, and its commitment to high-quality learning now includes the online M.A. Marriage and Family Therapy.

Online Master of Social Work (M.S.W.)

Syracuse University is preparing social workers committed to the values of human diversity and the dignity and worth of all people, with particular attention to those who are oppressed, vulnerable or living in poverty. The online MSW program's immersive learning experience enables you to fully engage with the University's network, complete your coursework in a way that works for you, and give back to your community during local field placements.
| | | |
| --- | --- | --- |
| | Connect and Engage with Falk | |
From career webinars to fascinating podcasts, the Syracuse University Alumni Association is keeping you connected to Syracuse University—virtually! Visit cusecommunity.syr.edu to stay up-to-date on upcoming events. While you're there, don't forget to update your info, too.

In addition, you can find events on the University's Community Calendar and the Falk College Eventscalendar.
| | | |
| --- | --- | --- |
| | Across all Falk disciplines, professors and researchers help journalists provide information, facts, and insights to the general public. Browse faculty in the news. | |