| | | |
| --- | --- | --- |
| | FALKTALK | ISSUE 11 | JUNE 9, 2021 | |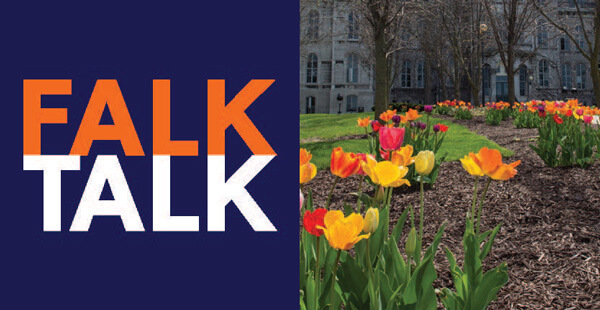 | | | |
| --- | --- | --- |
| | | Alumni, parents, and friends of Falk College, please join me in welcoming the Class of 2021 to the Syracuse alumni family. This academic year, students faced a disruption to normal learning environments and challenges unlike any we've ever faced. Yet they demonstrated resilience and a deep commitment to achieving their goals. |
Students served their communities, completed internships, engaged in research, and so much more. Their remarkable work gives me confidence in their ability to lead as change-makers of tomorrow. Congratulations to all our students. I'd also like to thank the families of students, as well as alumni, supporters, and friends of Falk. Your support has made such a difference. I am truly grateful and proud to be part of this community.

Diane Lyden Murphy, M.A., M.S.W., Ph.D.
Dean, Falk College
Watch Commencement, Falk Convocation

Chancellor Syverud addressed students in Falk College during the Commencement ceremony on Saturday, May 22 in the stadium. Falk College also presented a live virtual Convocation on May 22. Recordings of both are available on the Falk College website.

Departments across Falk College honored student achievements and celebrated the graduating Class of 2021, which are detailed on the individual department web news sections.
Exploring Forests of Food

The Syracuse Urban Food Forest Project (SUFFP) explores the potential for foods found in natural urban environments to answer community needs through an interdisciplinary research initiative between Syracuse University's food studies program in Falk College and the State University of New York College of Environmental Science and Forestry (ESF). The pilot project will assess the existing and potential ecological productivity and community engagement around managing and harvesting edible plants. A longer-term goal is to have connected "edible ecosystems" across Syracuse to benefit city residents, plants, animals, and landscapes. Watch the SUFFP in action.
Leadership in Public Health

Pruthvi Kilaru '18, G'20 puts his engineering and public health knowledge to work helping the University monitor for the COVID-19 virus. As a project manager for Falk College's Department of Public Health, Pruthvi oversees the day-to-day operations in the University's COVID-19 testing center at the stadium. Read Pruthvi's story.
Partnering for a Greater Impact

The Department of Marriage and Family Therapy is teaming up with Syracuse Community Connections to offer free mental health services to everyone in Central New York. Dominque Walker, a Ph.D. student, has been involved with this initiative for two years. Students like Dominque offer free and confidential services under supervision of licensed marriage and family therapists.
| | | |
| --- | --- | --- |
| | "I think primarily my passion lied with specifically working with the Black community here in Syracuse, and so it's been an amazing opportunity to be able to be exposed to the community and to be able to do the work that I'm very passionate about," she says. Watch the local news segment. | |
Stepping Up to the Plate

Christian Buonadonna '22 plans to address issues of diversity and equity in sports and sport industries. Sports provide a valuable arena in which to address these topics, he says, because sports powerfully influence many other areas of culture and the economy. Read Christian's story.
Connecting Food and Medicine

With her plan to enter the medical field, and her interest in the healing properties of food, Alexandra Borza '21 knew the nutrition science major was her path to dental school. Through courses like "Integrated Food and Nutrition Therapy," students learn what is in food that gives it the potential to heal, and the types of foods that are essential for optimal health. Read Alexandra's story.
From Classroom to Community

Madalyn Tallo '21 spent her spring semester at a local an elementary school, working alongside the school's occupational therapist and engaging students in activities that help them accomplish set goals to promote their success both in the classroom and in everyday life. Read Madalyn's story.
Social Work Alumna Honors an Orange Friendship

Stacy Helfstein '98 is reconnecting with her Syracuse University roots. Her first day at Syracuse, Stacy met Heidi, a fellow social work major, and the two became best friends. Stacy recently established the Sunflower Scholarship, a name which holds special significance for her and Heidi's friendship, to support current social work students by defraying tuition costs. Read Stacy's story.
Growing Research Community

Since joining Falk College in 2020, the Department of Exercise Science has contributed greatly to the thriving research community in Falk College. Explore exercise science research on Experts@Syracuse or visit the Falk College Research Center.
| | | |
| --- | --- | --- |
| | Exercise science faculty research interests span anti-inflammatory effects of exercise; effect of gene and environmental interactions on human athletic ability, health, and disease; skeletal muscle adaptations to disuse and aging; obesity and diabetes, and; physical activity promotion for individuals with disabilities and their families, among other interests. | |
Falk College Alumni LinkedIn Group

Connect with other Falk College alumni in the Falk College Alumni LinkedIn Group. Join now to network with fellow alumni and Falk College Career Services staff, who share job, internship, and research opportunities with the Group.
Upcoming Events

Save the following dates and check back at syracuse.edu for more details as they are announced.

Coming Back Together: September 10 – 12
Family Weekend: October 8 – 10
Orange Central (Alumni Weekend): October 28 – 31
Become a #BoostCuse VIP

Are you a VIP (Very Influential Person)? We think so! When you become a Boost the 'Cuse 2021 influencer, we'll send some fun Syracuse swag your way.