| | | |
| --- | --- | --- |
| | FALKTALK | ISSUE 12 | DECEMBER 22, 2021 | |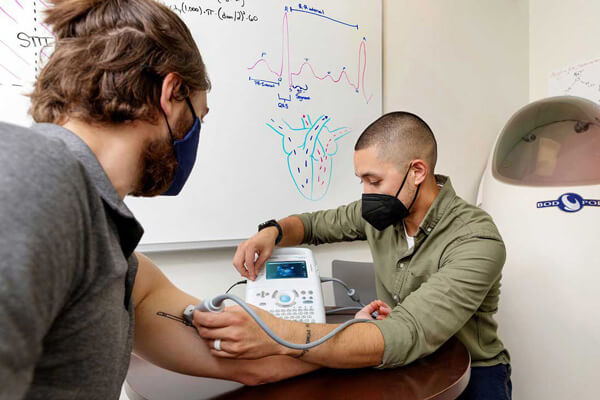 | | | |
| --- | --- | --- |
| | Nutrition science graduate student Justin Pascual '20, G'22 uses ultrasound technology in his research. | |
Greetings Falk College alumni, friends, and families. It is with great pride that I share a few highlights of the remarkable work our students, alumni, faculty, and staff are doing to create change in the world. From the classroom to careers, our Falk family is building healthier and stronger communities by advancing research, policy, and professional excellence. I commend each of you for your dedicated service to your communities, and leadership in your fields. Together, we build the future.

With gratitude,

Diane Lyden Murphy, M.A., M.S.W., Ph.D.
Dean, Falk College
Heart of the field

Nutrition science graduate student Justin Pascual '20, G'22, a former explosive technician with the U.S. Air Force, plans to use his knowledge of nutrition and human physiology to prepare military members for the physiological stressors of a combat-based career. Read Justin's story.
Exercise for better life

Future physical therapists Julia Geronimo '24 and Ally Krevolin '23 are jump-starting their careers with a foundation in exercise science. As interns at Vitality, they helped promote health and fitness among various populations. Read Julia and Ally's story.
Growing food and a future

Phoebe Ambrose '22, a dual major in food studies and citizenship and civic engagement, is working on a project to understand the dynamics of local food systems and initiate programs to address the areas where community needs are not being met. Read Phoebe's story.
Classroom and community

Public health senior Mohamed Khan '22 and alumna Bijal Patel '22 (pictured) are taking their public health knowledge—and their dedication to health equity—into medical school. They say learning about topics such as social determinants of health, environmental health, and health disparities at Falk College will help them become better physicians. Read Mohamed and Bijal's story.
Focus on research

The work of the faculty in Falk College's Department of Marriage and Family Therapy impacts individuals, families, and communities locally and globally. Their research and scholarly work have resulted in best-practices presentations and publications that span critical topics, such as trauma-informed practice, mental health training and service delivery for veterans and military families, supporting transgender youth and their families in therapy, and family relationships and mental health of refugees resettled in the U.S., among many others.
Alumni at work

First African American woman City Clerk

On January 5, 2022, human development and family science alumna Patricia "Katie" McBride G'21 will be elected the first African American woman City Clerk for the City of Syracuse by the Syracuse Common Council. Read Katie's story.

Leaders in the National Football League

From social responsibility to player safety, sport management alumnae excel in careers with the most popular professional sports league in the world, the National Football League, where they make a positive impact on countless lives. Read alumnae stories.

Lifelong learner and mother of six

Shirley Trendowski '05, '07 (CAS), G'08 earned four degrees from Syracuse University, including a master of social work (MSW), while raising six children and working full-time. All six of her children earned bachelor's degrees at Syracuse. Read Shirley's story.
Meet the director of development

Megan Myers is taking on a new leadership role in Falk College Office of Advancement as director of development reporting to David Salanger, assistant dean for advancement. As director, Myers establishes and develops effective relationships with Falk College alumni, donors, and friends, in addition to collaborating with Syracuse University's regional fundraising program.
| | | |
| --- | --- | --- |
| | Myers joined the Falk advancement team as assistant director of development in December 2018. Prior to joining the College, she served as a development associate with Syracuse University's Division of Advancement and External Affairs. | |