A dual major and Lender Center fellow infuses her academic journey with a passion for community farming and food security.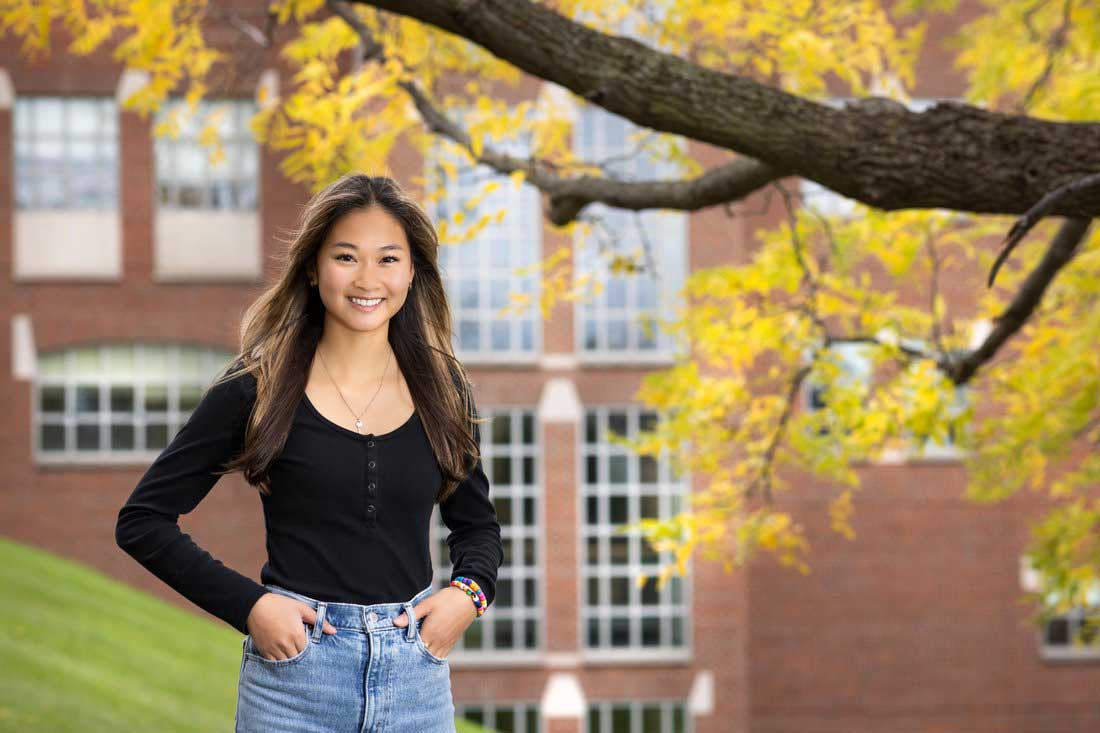 On an overcast day in early fall, the bright colors in Pete's Giving Garden on Syracuse University's South Campus draw the eye. Late summer flowers bloom along the fence and orange gourds dot the ground where squash vines spread. Phoebe Ambrose '22 surveys the raised beds where peppers and hardy greens still thrive. There's much to be done in a garden at the end of the growing season. Today she plans to weed, but she's thinking ahead to winterizing chores and the fall planting that still needs to be done.
Ambrose—who majors in food studies in the Falk College and citizenship and civic engagement in the Maxwell School and the College of Arts and Sciences—has shaped her academic journey around her interest in community agriculture and food security. One of Ambrose's goals this year is to develop strategies for increased and sustained student engagement with Pete's Giving Garden, which supplies fresh produce to campus food pantries. "If we can get more people working regularly in the garden, we'd increase its output potential a great deal, which could have a big impact addressing food insecurity in our campus community," she says.
Ambrose grew up on a working farm in nearby Jamesville, New York, where her family raised goats, alpaca and horses. Ambrose's mother, Janet Ambrose '82, G'91, taught textile design at the University and used cashmere and wool from their animals in her work. But when Ambrose first joined the food studies program, she envisioned studying the culinary field with an eye toward opening a restaurant. It was a class she took in her first semester, taught by the late Evan Weissman G'12, an associate professor in food studies and nutrition, that changed her focus. "We studied how food insecurity is related to distribution and access and how, although we produce enough food to feed everyone in the world, many communities lack infrastructure like grocery stores and viable transportation to make that food accessible," she says. "The introduction to food studies really got me thinking about how community-based farming can address both hunger and social justice in our communities."
Getting Involved
Ambrose was inspired by Weissman's community work to advance food justice in Syracuse. She started volunteering at Brady Farm, a 6-acre produce farm on a lot in downtown Syracuse, where she learned how to grow vegetables and experienced first-hand the important role the farm plays in the community. "The farm provides so much more than food," she says. "It's a place to exchange recipes, heartache and ideas for grassroots change. It creates an environment of powerful growth and resilience and working there confirmed for me that I want to be part of creating spaces like that."
Ambrose engaged in other initiatives at the intersection of food and community building as well. She started a gardening program for kids at a local summer camp, served meals to seniors at a community center, prepared pre-packaged lunches for a soup kitchen, and gave tours of local farms during the Onondaga On-Farm Fest.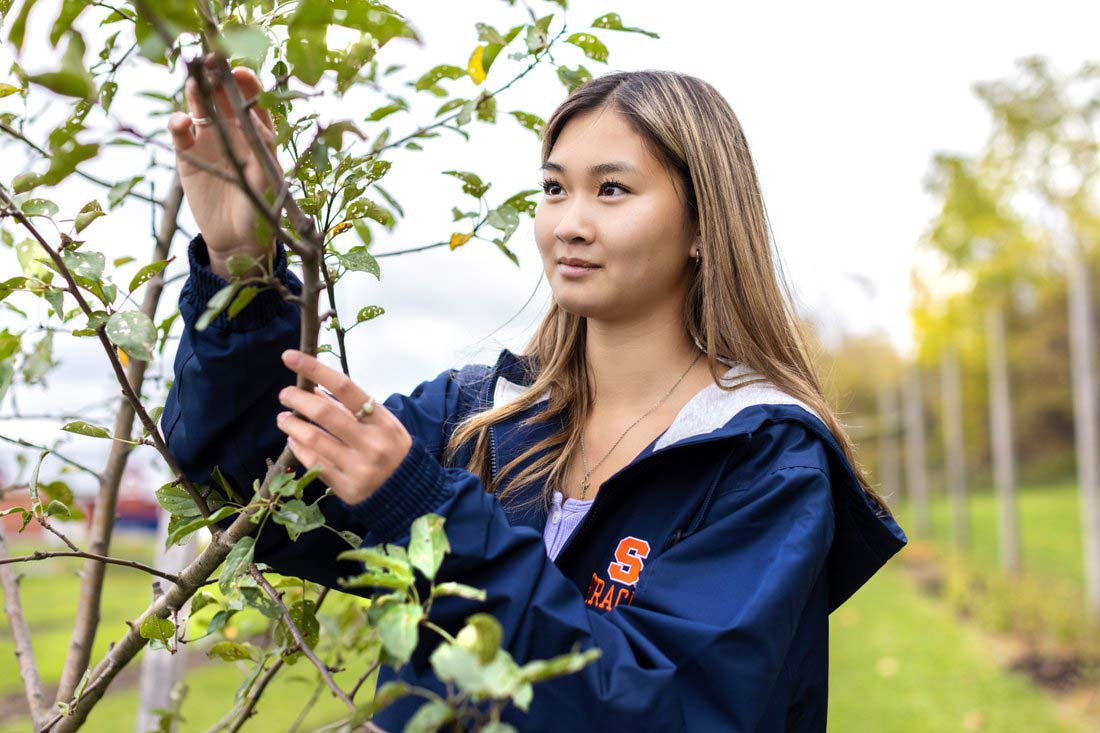 Through her service with a range of nonprofits, Ambrose came to appreciate the importance of collaboration between organizations that share similar goals. As one of six students selected for a Lender Center for Social Justice fellowship this academic year, she has an opportunity to help make such collaborations easier. Ambrose is working on a project that was designed by Weissman and is carried on in his honor by Jonnell Robinson, a Lender faculty fellow and associate professor of geography and the environment in the Maxwell School. The project seeks to understand the dynamics of local food systems and initiate programs to address the areas where community needs are not being met.
As a Lender fellow, Ambrose engages in active research, interviewing many players in local food-centered programs to gain deeper insight into community-driven food policies and practices as well as the strengths, weaknesses and structural inequalities of the local food system. "The research we are doing through the Lender Center fellowship helps organizations collaborate on new food security solutions," she says. "I get to see all these different connections fit together to make solutions that are well-rounded and answer what the community is asking for."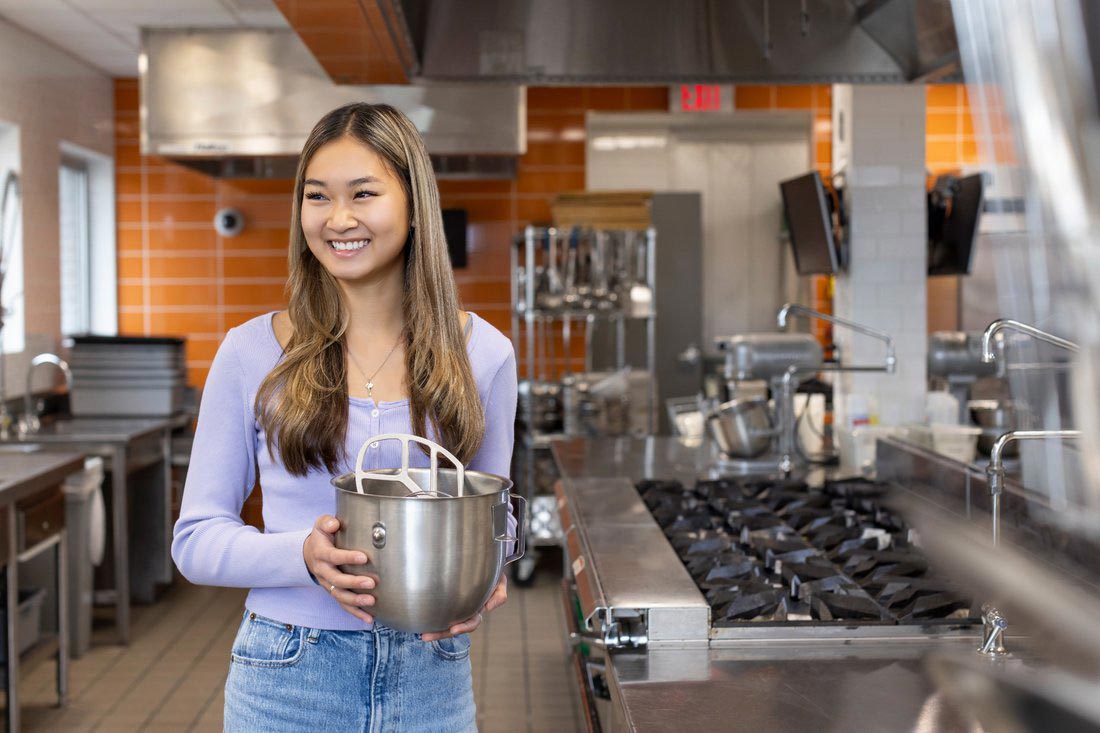 Nurturing Growth
"If I had to choose my favorite aspect about working in a garden, it would be observing a single seed transform into a powerful plant that produces food," Ambrose says. This is an apt metaphor for the growth she's experienced while at Syracuse. Ambrose credits faculty mentorship and support for helping her find opportunities to challenge herself—such as the distinctive Mount Vernon Fellowship she earned through the Center for Fellowship and Scholarship Advising—and discovering an academic approach that allows her to marry passion with purpose. "My dual major allows me to put the conceptual knowledge I learn in food studies to practical use," she says. "Through the citizenship and civic engagement program I engage in the community by working on a problem that I'm passionate about."
And while Ambrose's focus so far has been on the Syracuse community, she plans to expand her studies in a master's program in the United Kingdom, focusing on how to address issues of food scarcity and justice at a more global scale. This aspiration is tied to her family history. Both Phoebe and her sister, Ruth Ambrose '22, who majors in French and francophone studies in the College of Arts and Sciences, were adopted from Vietnam when they were infants. Although Ambrose has no memories of Vietnam, her knowledge of her biological family is a deeply important part of her identity. "My experiences have prepared me to help bring the comfort of food security to children facing the sort of hunger my family in Vietnam did," she says. "This is a driving force behind my passion and fight to one day live in a food-secure world."
A Syracuse University Story by Sarah H. Griffin originally published on November 30, 2021.