Public health empowers future physicians to promote health equity.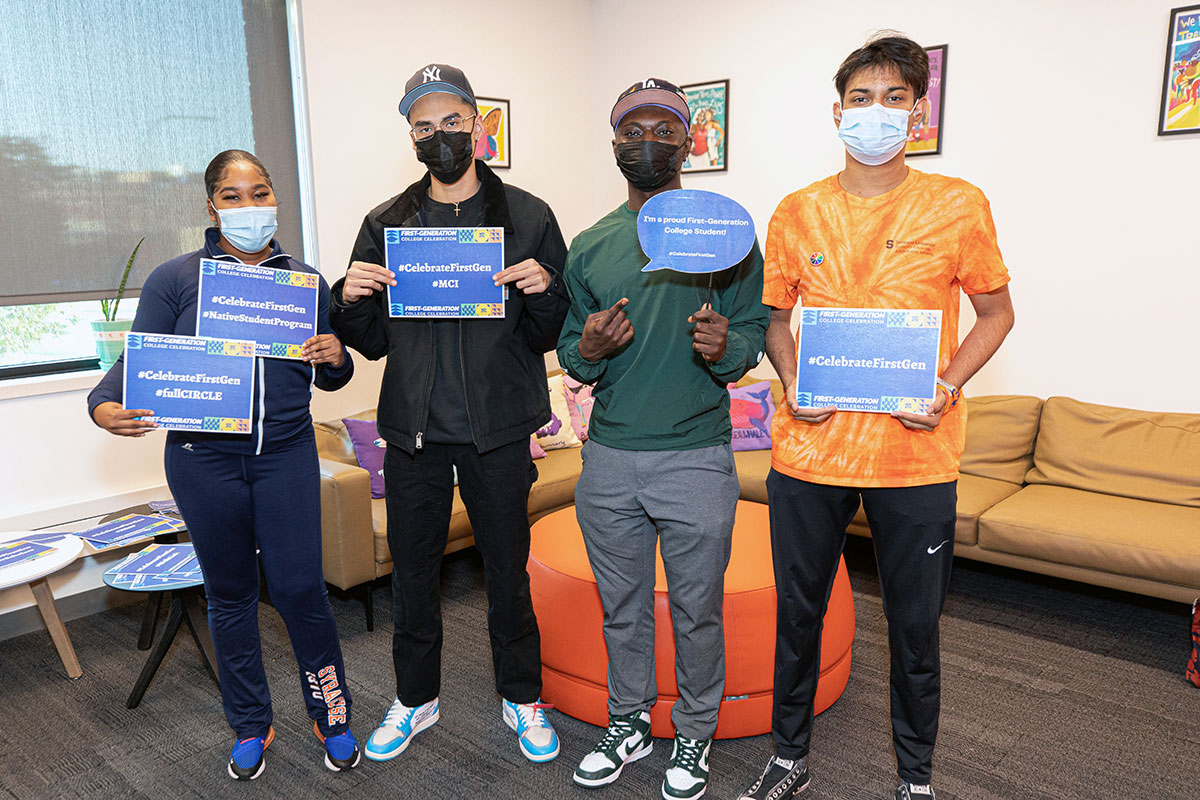 Mohamed Khan '22 is preparing for medical school by integrating natural and social sciences as a double major in public health and history. "As a first-generation college student and student of color, the most important thing I want to do with my public health knowledge is increase the health quality for people from all walks of life in my long career in medicine," says Khan. He first enrolled at Syracuse University as a biomedical engineering major, but after taking a Falk College course on health disparities, he switched his major to public health. "I wanted to learn more about the social determinants of health."
One of Khan's public health professors, Luvenia Cowart, Ed.D., RN is an expert in minority health, and directs initiatives to develop academic and community partnerships to reduce health disparities and promote health and healthy lifestyles among minority communities. "Many people from racial and ethnic minority groups are at higher risk for various diseases due to historical health and social inequities," says Cowart. "Social determinants of health, such as poverty and access to healthcare have prevented them having equal opportunities for total health. To achieve health equity, barriers must be removed so that everyone has an equal opportunity to be healthy."
In her course, "Promoting Health through Literacy and Cultural Competence," students like Khan learn how and why limited health literacy and the lack of culturally competent healthcare fuel health disparities, resulting in poor health outcomes. "The course explores the multilayered linkages between culturally competent healthcare, health and literacy and health outcomes," says Cowart. "Literacy, health literacy and cultural competence are all factors that impact quality of healthcare delivery and health outcomes among all populations."
Among the requirements of the course, students gain exposure to different cultures throughout the community as part of a 25-hour academic service-learning course requirement. In Fall 2021, Khan and his classmates tutored with RISE (Refugee and Immigrants Self-Empowerment) in the city of Syracuse. In addition, every student in the course registers for the Conversations About Race and Ethnicity (CARE) program, a six-week dialogue space for community members of Syracuse University to engage in meaningful, challenging, and vital conversations about race and ethnicity. "Both of these experiences reinforced the learning objectives of the course, as well as emphasized the need for more culturally competent physicians, which is what I hope to become," says Khan.
He has big plans for life after Syracuse, including medical school to become a doctor of allopathic or osteopathic medicine. "I am also planning to work as a graduate medical officer for the Navy for 7 years, active duty, right after medical school," he says.
"I believe public health at a population level is the key to my personal and professional goals," Khan adds. And he's not the only one.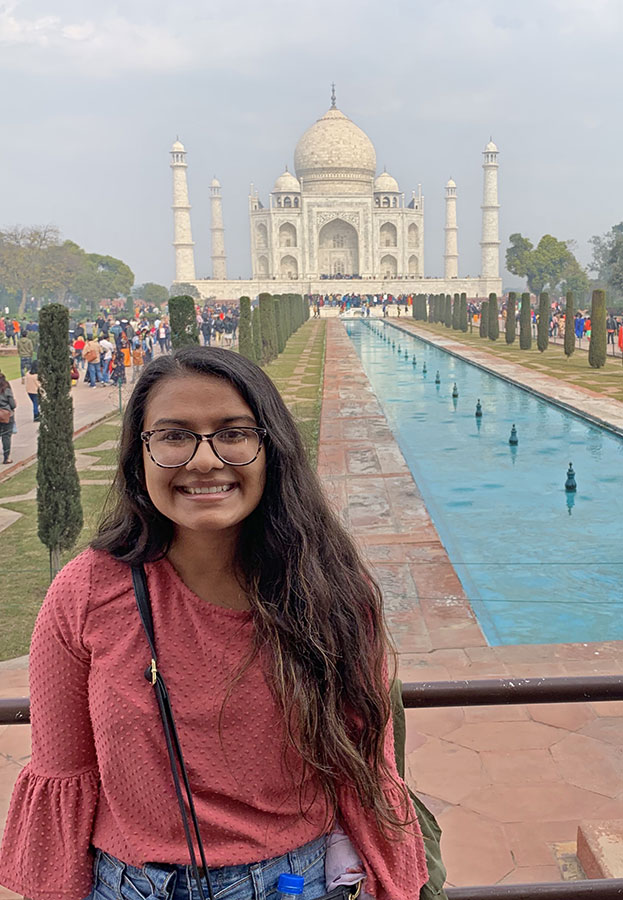 Public health alumna Bijal Patel '20 says the skills she gained at Falk translated directly into her work as a health educator in a local nonprofit family planning clinic. "Professor Cowart's course taught me about the importance of sharing accurate, accessible, and reliable health information," says Patel. "This was especially relevant to my work as a health educator teaching reproductive health in Syracuse after graduation. In this role, I developed health messaging for our social media, website, and clinics and the lessons I learned in her course have been so useful!"
Patel chose public health to pursue her interest in communities, environmental health, and disparities. "I wanted to learn about health and illness beyond biology," she says. She completed degrees in both biology and public health. "I'm glad I was able to study health all the way from cells to populations!"
In Summer 2022, she starts medical school, where she looks forward to learning more about the intersection between public health and medicine. "I am most excited to apply what I've learned to a clinical setting and emphasize prevention and equity in my work," says Patel. "My biggest goal as a physician is to provide equitable, inclusive care to all patients."
Her public health education, she says, will help her reach that goal. "One thing that stuck with me from my public health education is the importance of meeting people where they are at in healthcare. People are coming from various cultural backgrounds, literacy levels, and life experiences."
Students in Cowart's classroom benefit from her professional and academic experience, as well as her personal passion for health equity. "The prevalence of health disparities and increasing evidence of inequities in social determinants of health among African Americans in underserved communities compels a 'call to action,'" says Cowart reflecting on her own interest in public health. "As a public health professional, it is needful to respond to the identified health and social needs, as well as social injustices, in your community. If not me, then who will answer the call to work in non-traditional settings, such as churches and barbershops, to engage, educate and promote healthier lifestyles among African Americans in underserved communities."
Among her academic research and community work, Cowart leads community-driven, culturally competent interventions to reduce health disparities among African Americans, who are at higher risk for chronic diseases and health problems, and to adopt healthier lifestyles across the lifespan. One example of her work is The Genesis Health Project Network, a collaborative effort with faith-based communities and other health related agencies to develop a culturally appropriate program church members want, need, and will sustain. "The approach to the work is simple; recognize, respect and integrate," Cowart explains. "We must recognize cultural differences, values, traditions and health beliefs, and respect and integrate those differences into our healthcare and healthcare delivery system. Our theme is: Community First. That is, working to address the health and social needs identified by the community, for the community and with the community."
Future physicians Khan and Patel are keeping issues of health equity at the forefront of their careers in medicine. "Low health literacy along racial and socioeconomic lines is not only a direct consequence of health disparities, but it is evident of institutionalized racism in our nation," says Khan.
"Health should not be a consequence of race, geographic location, gender, socioeconomic status, or sexuality. Health disparities are deeply rooted in systemic inequities, but we can and should work towards a solution," says Patel. "Equity is possible!"