"If you can dream it, you can do it. If this mom can do it, you can too."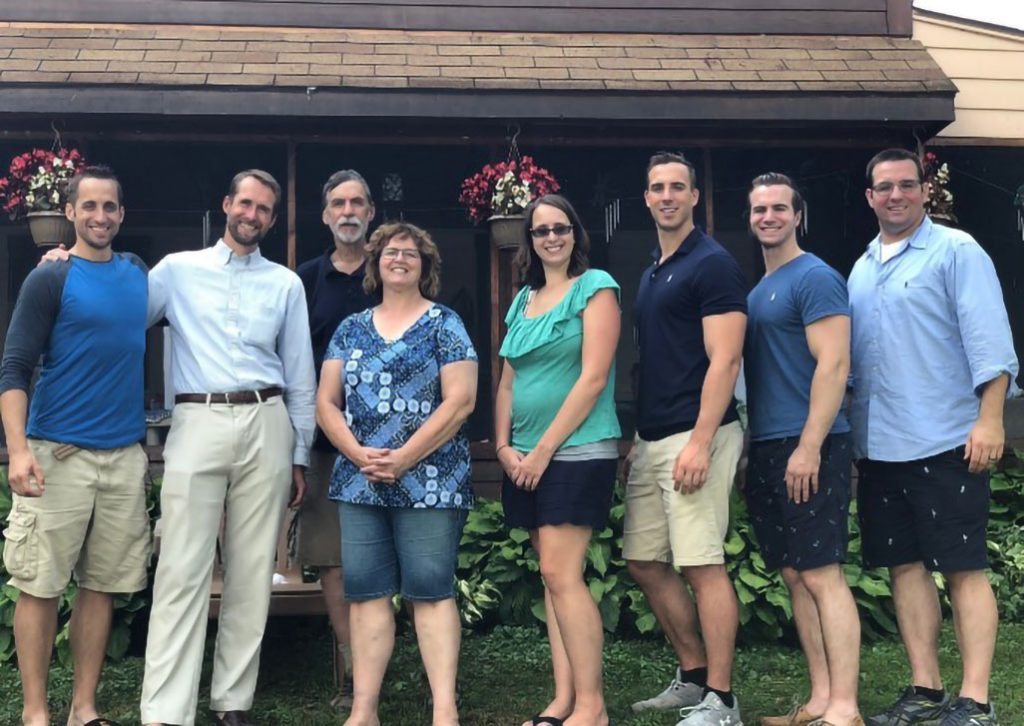 When Shirley Trendowski '05, '07 (C.A.S.) G'08 was raising her family, everyday life took very careful planning.
Trendowski and her husband, Ray, are the parents of six children. In 1995, after being a stay-at-home mom for 15 years, Shirley came to work for Food Services at Syracuse University with the goal of earning a college degree. She took advantage of the University's dependent tuition benefit and began taking courses that interested her, two classes per semester. Her youngest child was 2 years old at the time.
A lifelong learner and lover of education, Trendowski didn't stop there. She went to the University's Career Services and took a test to determine what career would be best for her. She took that first step and never looked back. Over the next 12 years, she went on to earn that associate's degree (2001) and bachelor's (2005) and master's (2008) degrees in social work from Falk College and a certificate of advanced studies in women's and gender studies (2007) from the College of Arts and Sciences. She also completed social work internships at Rosewood Nursing and Rehabilitation Center and the Syracuse Veterans Administration Hospital. And she did it all while working full-time—she has worked in every dining hall and snack bar operation at the University over the past 26 years—and raising six very active, involved children. For many years, Shirley and Ray (who coached baseball and basketball) worked opposite shifts to make it all work.
Trendowski overcame many obstacles over the years—working multiple jobs in food service and changing her shifts five different times—to complete her degree. "I was not going to be deterred from my goal," she says. She was a pioneer and believes she was the first person in Food Services to receive a master's degree after starting from scratch with no college credits.
"I planned out what classes I was going to take each year and how I was going to fit them into my schedule," Trendowski says. "I would have a calendar on my wall to indicate when assignments were due." Not a moment was ever wasted during the day. Trendowski took her textbooks to her kids' sporting events and to study during the 30-minute wait time after the administration of allergy shots. "I also made sure never to miss work," she says.
Impacting the Whole Family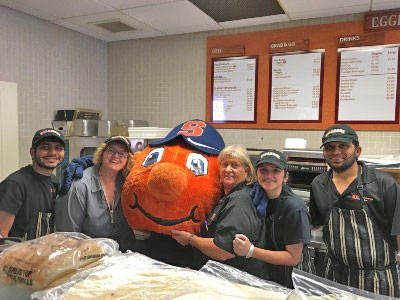 All six of her children earned bachelor's degrees through Syracuse University, all while watching their mom make so many sacrifices to earn her own degrees. "I offered my kids $50 for any semester they could beat my grade point average, and I gladly only paid twice," she says. Her son, Joseph, skipped his own graduation for his bachelor's degree so he could attend his mother's graduation in Syracuse.
Trendowski is every bit the proud mom when she talks about her children and their chosen life journeys—she is particularly proud that all have gravitated toward education and service to others, calling it the "mind, body, soul connection." They have even co-authored papers together across different disciplines.
Her oldest son, Edward, earned a bachelor's degree in French from Hartwick College. He earned a master's degree in religion from St. Joseph's College and a Ph.D. in theology and religious studies from Catholic University (completing it after 10 years and six children). He is the director of faith formation for the Diocese of Providence, Rhode Island, and teaches part-time at St. Joseph's College.
Her second son, Joseph, earned a bachelor's degree in business and an MBA at Alfred University, and a Ph.D. in business management and international business at Old Dominion University. He currently teaches at DePaul University in Chicago.
Michael, her third son, earned a bachelor's degree in chemistry from Alfred University and a master's degree from the State University of New York (SUNY) at Cortland. He is a high school chemistry and physics teacher and track coach who has led his athletes to state and regional championships (even during the COVID pandemic). He is married to Newhouse alumna and Emmy Award-winning reporter Isabel Sanchez G'17, a reporter at Channel 10 in Philadelphia (the No. 4 media market in the nation).
Trendowski's daughter, Andrea, tripled majored in communications, psychology and business at Clarkson University. She is a stay-at-home mom of three children, and until recently was a local leader in MOPS International, an organization for stay-at-home mothers.
Her fifth child, son Thomas, earned a bachelor's degree in physical education and health from Syracuse in 2012, in the first year of the combined major. He went on to earn a master's degree and Ph.D. in kinesiology at the University of Illinois Urbana-Champaign. Thomas played football at tight end for the Orange, was on the Big East All-Academic Team several times and was a member of the 2011 Pinstripe Bowl winning team. Thomas' affiliation with Syracuse began early—in second grade, he took part in research in remedial reading led by Professor Benita Blachman in the School of Education and participated in a follow-up study 10 years later.
Her youngest child, Matt, earned a bachelor's degree in biology from the College of Arts and Sciences in 2014 in three years, earning the Donald G. Lundgren Memorial Award, the biology department's highest honor. He received his master's degree and Ph.D. in cancer biology at the University of Chicago, where he has also earned awards for his research and for volunteering. He is a second-year medical student at Wayne State University. He started his body of research as an undergraduate at Syracuse, presented abroad as an undergraduate and has 31 publications in medical journals on his research.
Trendowski says that she and her husband consistently emphasized the importance of education to their children. "Your education is something that no one can ever take from you," she told them. They also underscored the importance of understanding that actions have consequences, and it's your actions and choices that affect your future. "My kids are not smarter than anyone else's—it's just that they work hard. Tom came home after a long day of teaching at SUNY Cortland and was also finishing his Ph.D. and looked at my husband and said, 'It's your fault I have this work ethic.' What a great compliment."
A Strong Work Ethic
Her oldest son, Edward, says his mother instilled values, a strong work ethic and a strong faith in him and his siblings. "When she decided to pursue further education, she did so while still having many young children at home, on top of her hard work at Syracuse University and her domestic responsibilities," he says. "Through her work, studies and other obligations, she continued to be present to us children and care for us, and others, exhibiting the virtue of charity. Now, with six children of my own, I look to my mother for guidance and wisdom. I certainly drew inspiration from her as I pursued my own studies. But the greatest gift my mom handed onto me was the gift of faith, something that lasts even when fame and fortune vanish."
Her youngest son, Matt, says his mom is perhaps the hardest worker he knows.
"Whenever my mom went to one of our sporting events, she would watch us when we were playing in the game, and then study for the rest of the time. It is truly amazing how devoted she was in continuing her education while working a grueling and sometimes erratic schedule as a food service employee," he says. "She always emphasized the importance of an education, and how it could ensure a bright future. The example that she provided to my siblings was truly inspiring and is reflected in the career paths we chose.
"As a fellow alumnus of SU, I am grateful my mom's sacrifices gave me the opportunity to pursue an education, and it is without question that her guidance and wisdom enabled me to reach the level of success I have attained," he says.
Trendowski's maternal nature has extended over the years to the students she comes in contact with through her job and to the student-athletes she tutored in the past. "Three of the football players I tutored were in the National Football League and one has a Super Bowl ring," she proudly says.
Trendowski and her husband now have 10 grandchildren, ages newborn to 13, to whom they extend the same hopes and dreams they had for their own children.
"Syracuse University has been a great place to work and has offered myself and my children many opportunities," she says. "My education has broadened my sense of self and community. My life has been intertwined with Syracuse University on many levels, whether I was doing initial personal patient intakes at the VA Hospital, working on a dementia floor with patients at Rosewood, tutoring and mentoring Syracuse University students, or just greeting my customers, I am the same person and treat everyone with a smile."
Her advice to others? "If you can dream it, you can do it. If this mom can do it, you can too."
Adapted from a Syracuse University News story by Kelly Homan Rodoski originally published on Tuesday, October 12, 2021.