Patricia "Katie" McBride G'21 will be elected the first African-American woman City Clerk for the City of Syracuse by the Syracuse Common Council and will begin her service on January 5, 2022.
Since November 2014, Katie McBride has served as Deputy City Clerk at City Hall, where she works closely with the local law makers of the city. McBride brings more than 25 years of experience in administrative management. She previously worked as Assistant Director for Syracuse Housing Authority Section 8 Housing Program for low-income families. Among her prior experience, she worked for Liberty Resources at a half-way house serving individuals facing a variety of life challenges and health issues. Reflecting on her career, she says the most rewarding part was working with those in need of support.
She currently serves the local Syracuse community as Commissioner on the Syracuse Housing Authority board and serves on the board of Vera House, an agency that seeks to end domestic and sexual violence and other forms of abuse.
This December, McBride earned a Master of Arts degree in human development and family science from Falk College at Syracuse University. She successfully defended her thesis, "Youth Violence Prevention Programs: Teens Violence Programs in Syracuse," a project that has many implications for, and significance in, the city and the field.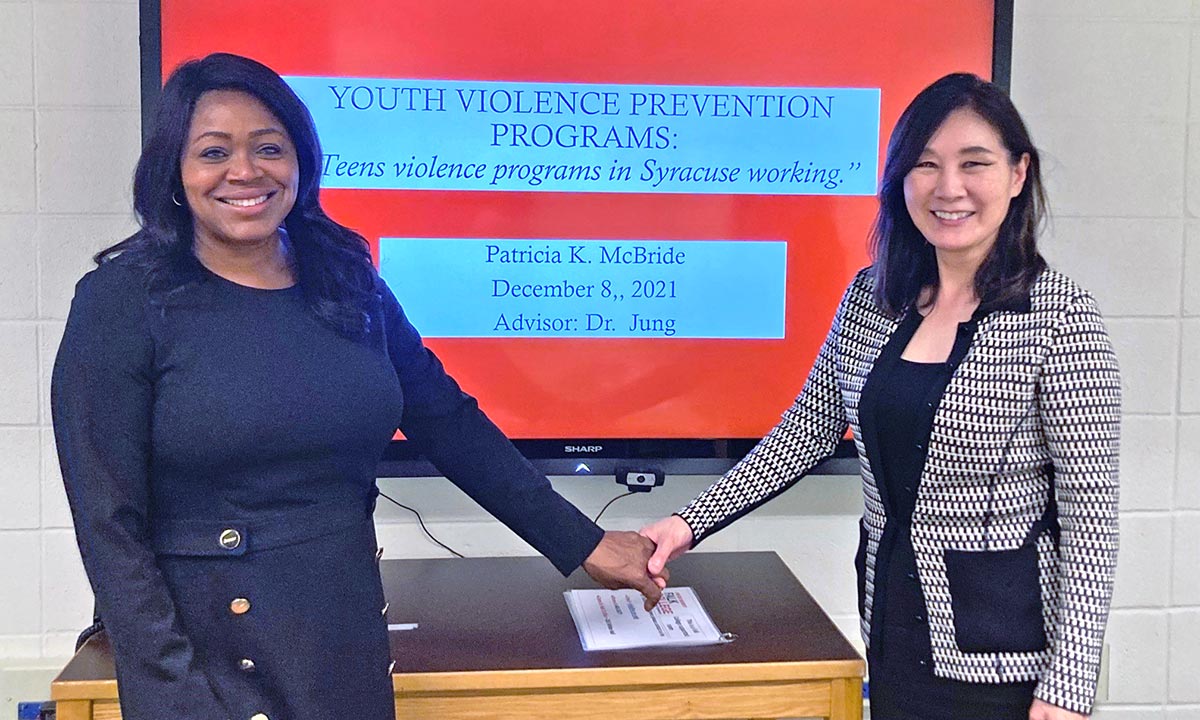 McBride also holds a bachelor's degree in the professional studies major creative leadership from Syracuse University. "I gained a surge of hope when it finally soaked in that I had completed my bachelor's degree," she says. "It gave me the confidence I needed to see myself as City Clerk."
McBride became a mother at a young age, and as a single parent, she knew getting an education would be an important part of her family life. As an adult, she raised a child, worked full-time, and went to school part-time. Today, she is a key leader in the City of Syracuse.
"Being a non-traditional student, at first I feared that I wouldn't fit, but I found it to be the total opposite," adds McBride. "My life experience both personally and professionally brought a powerful testimony to my journey in classrooms. Going back to school at an older age give me back control over how I wanted to live my life. At Syracuse University, I was respected, and my wisdom and experience were embraced by my advisors and professors."
"I am very proud of all of Patricia's accomplishments as a student, a professional, and as a mother," says Eunjoo Jung, Ed.D., professor of human development and family science and McBride's advisor. I look forward to seeing Patricia serving as a key player in youth violence prevention and intervention programs, bringing her deep commitment and passion in healthy youth and community development."
In 2019, the Cuse Culture Legacy Foundation presented a scholarship in her name, the Katie McBride Legacy Scholarship Award. It was recognized by Mayor Ben Walsh with a proclamation naming April 20, 2019 "Cuse Culture's Katie McBride Legacy Day."
McBride encourages others saying it's never too late to pursue higher education. "If anyone is pondering with the idea of being 'too old' or asking, 'How can I do it with a family?' I tell you to start seeking what God has for you. It does not come with limitations."