Newsletter of the Graduate Program in Food Studies
Volume I
Inside this Issue
A Message From Dr. Anne Bellows, Food Studies Graduate Director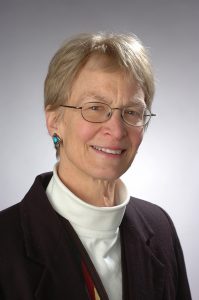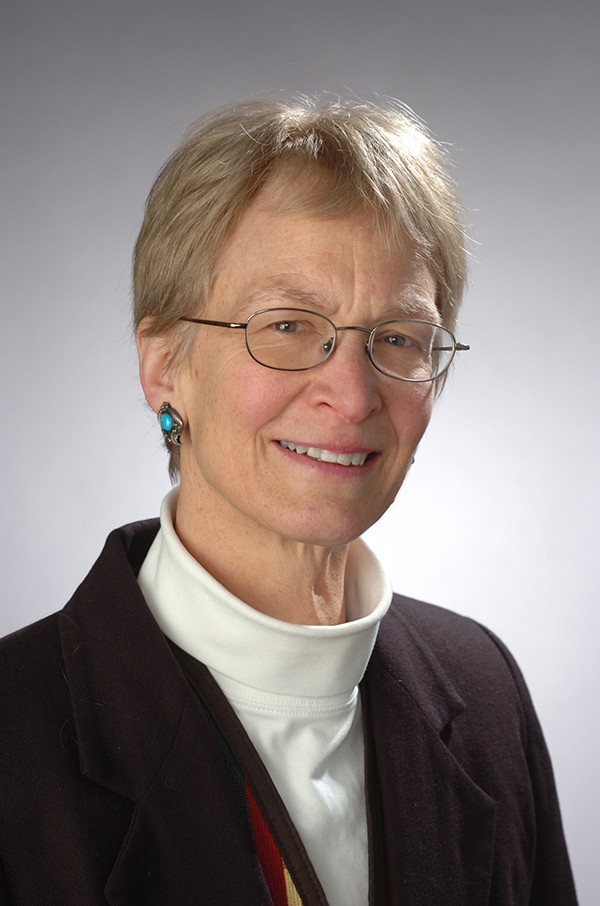 The 2017-2018 academic year has closed with four students earning Master of Science (M.S.) degrees and three students with Certificates of Advanced Studies (C.A.S.) in Food Studies. They include: Briana Alfaro, Hillary Chartron- Bartholomew, Mallory (Molly) Ennist, and Irma Nurliawati with the M.S. degree and Nodira Azizova, Tom Mackey, and Kris Walton with the C.A.S. In December 2016, Shelby Squire rocketed through with our first Food Studies M.S. even as we were moving the program into full swing. This year is really our first regular graduating class and we are very excited to see them launch forward. As you will see from the descriptions inside, each has excelled at research and program engagements, presenting their work at national and regional conferences and workshops. We look forward to next year with a powerful group of returning M.S. students – Maegan, Katie, Cheyenne, and Adrianne – as well as a greatly anticipated crop of new students. The program is growing; our collaborations with partners on campus and beyond expanding; and we are ready to develop our particular program niche and strengths in food justice and policy, political economy, and human rights.
Congratulations M.S. Food Studies Graduates 2017-18
Briana Alfaro
Practicum site: San Diego Food System Alliance, San Diego, CA
"I collected narratives on accessing public land for the Urban Agriculture Working Group, created an assessment tool to determine whether a restaurant is "healthy" from a food systems perspective, helped to plan a Farm Bill Forum for local stakeholders, and undertook grant research."
Hillary Katrina Chartron-Bartholomew
Practicum site: Cornell Cooperative Extension of Onondaga County, Syracuse, NY
"This Practicum facilitated a 2018 Central New York Food Summit with the theme Improving Our Local Food System. Focusing on all sections of our food system, this event connected farmers, processors, distributors, community partners, educators, and policymakers to help advance our local food system in Central NewYork."
Molly Ennist
Practicum site: Capital Roots, Albany, NY
"I spent my Practicum working with Capital Roots on the Greater Capital Region Food System Assessment, an ongoing assessment of the regional food system encompassing 11 counties. Specifically, I analyzed the food recovery system in the region, developing a systems map and identifying key players. This work included analyzing survey information, interviewing, and general research."
Irma Nurliawati
Practicum site: Agricultural Affairs Division, The Embassy of the Republic of Indonesia, Washington, DC
"My main job as an intern under the agriculture attaché was to assist with her works, such as preparing and attending
meetings; writing technical papers; and preparing information or data related to trade, agriculture (including food and fisheries), forestry and environment. I was assigned to assist the attaché in organizing the 2017 ASEAN Agricultural Attaché Roundtable and preparing a technical paper, "The Potential of Cacao Products From Indonesia and its Market Opportunities in the United States" for The Ministry of Agriculture."
Irma's thesis title was: "Indonesia's Food Safety Regulations on the Import of Fresh Agri-Foods: Balancing Public Health Protection and Trade Facilitation." Policy makers have the responsibility to balance the economic benefits (e.g., right to work and the right to adequate standard of living) and public health protection (right to safe and adequate food) to ensure an inclusive regulation. The study analyzed Indonesia's existing national food safety standards for imported fresh foods using a food sovereignty framework and human rights perspective. It identified the most suitable food safety control mechanism at the border, particularly for fresh imported products in Indonesia.
Research from Continuing Students
Maegan Krajewski
Lunch Money: School Food Programming in Regina, Saskatchewan
The study will use qualitative interviewing techniques to understand the work that local organizations, volunteers, and school administrators do to provide school food programming in the city of Regina. With no national school food program in Canada, Regina will serve as a case study for how a particular municipality operates to provide food to schoolchildren.
Katherine Mott
Shortcomings of Healthy Food Financing Initiatives in Grocery Stores: The Case of Syracuse, New York
This paper aims to analyze Near Westside residents' food access strategies in the wake of the loss of their cornerstone grocery store. This research contributes to broader discussions on the complexities of food access issues within marginalized communities. Precisely, this paper examines why grocery stores within low-income neighborhoods of color might rely heavily on financing initiatives for produce and why these initiatives are often times unsuccessful.
Cheyenne Schoen
Opportunities and Challenges of Refugee Farmers in an Organized Farming Project in Syracuse, New York
This paper qualitatively analyzes the Refugee and Immigrant Self-Empowerment (RISE) farming project, which engages New Americans in an organized gardening and farming program in Syracuse. Cheyenne will interview active farmers in the RISE project to understand their cultural perceptions, barriers and goals to farming, and compare those to the goals of organizational staff and farm land owners.
Adrianne Traub
Female Fermenters of New York
In 1913 considerably more than half the cannery workers in New York State were women (Factory Investigating Commission, 1913). Who were these female fermenters and how did their role shape the cultural food ways of the region? How did their roles in their families, communities, and workplaces change? Through interviews, archival research, and scholarly literature their story is revealed as one of reliance and multifaceted identity.
Conferences & Presentations
AFHVS/ASFS 2017 – Migrating Food Cultures: Engaging Pacific Perspectives on Food and Agriculture
Briana Alfaro, "Local Beer, Local Governance: Policy Issues for San Diego Breweries"
Molly Ennist, "Locating the Intersection of Violence Against Women and Violations of The Human Right to Adequate Food and Nutrition"
Irma Nurliawati, "Food Safety Regulations on the Import of Fresh Agrifoods: A Human Right Perspective on Fair Trade and Right to Safe Food in Indonesia"
Adrianne Traub, "Fueling the Rural Economy: Funding Food Infrastructure"
Northeast Sustainable Agriculture Working Group (NESAWG) 2017: "It Takes a Region" Conference
Graduate Student Posters:
Adrianne Traub
Katherine Mott
Molly Ennist
AFHVS/ASFS 2018 – The Agroecological Prospect: The Politics of Integrating Food and Farming with Values and the Land
Maegan Krajewski, "Together We Can Grow Community: Community Gardening in North Central Regina"
Katherine Mott, "Shortcomings of Healthy Food Financing Initiatives in Grocery Stores: The Case of Syracuse, New York"
Cheyenne Schoen, "Food Insecurity & Feeding Work Among Immigrant Women Domestic Workers"
Adrianne Traub: "Female Fermenters of New York"
Falk College Research Poster Celebration 2018
Maegan Krajewski, "Rights or Wrong: Concerns with Canada's Implementation of the Right to Food"
Katherine Mott, "An Analysis of the Closing of Nojaim Brothers Supermarket in the Near Westside Neighborhood of Syracuse, NY: Initial Findings"
Cheyenne Schoen, "Right to Food in U.S. News"
Adrianne Traub, "Procuring Local and Regional Foods from Beginning Farmers: A Qualitative Study of Intermediaries"
Award Recipients
Outstanding Teaching Assistant Award – Briana Alfaro
"Briana always exceeds expectations as a Teaching Assistant by providing critical assistance to the students both in and out of the classroom. She has proven to be highly motivated, exceptionally competent, and genuinely passionate about her position as a Teaching Assistant. Her outstanding dedication to student learning makes her a strong asset to our University community and Food Studies Department."
~ Adrianne Traub, Adjunct Instructor and graduate student
2018 Excellence in Graduate Education Faculty Recognition Award – Dr. Evan Weissman
"Dr. Weissman is an innovative scholar who sees opportunities for engagement in the classroom as tied to social justice, practical application, and community engagement. His graduate level courses meet students where they're at in their academic journey, and then push them to become engaged scholars who are concerned with the lasting impact that a well-informed citizen can make in their community, at any level. His students have benefitted from this grounded approach and go on to complete cogent research and critical professional advancements."
~ Elissa Johnson, Internship Practicum Coordinator, Food Studies
Roseane do Socorro Gonçalves Viana Human Rights Award – Cheyenne Schoen
Best graduate paper on human right to food, nutrition, and/or health.
Scrapbook 2017-2018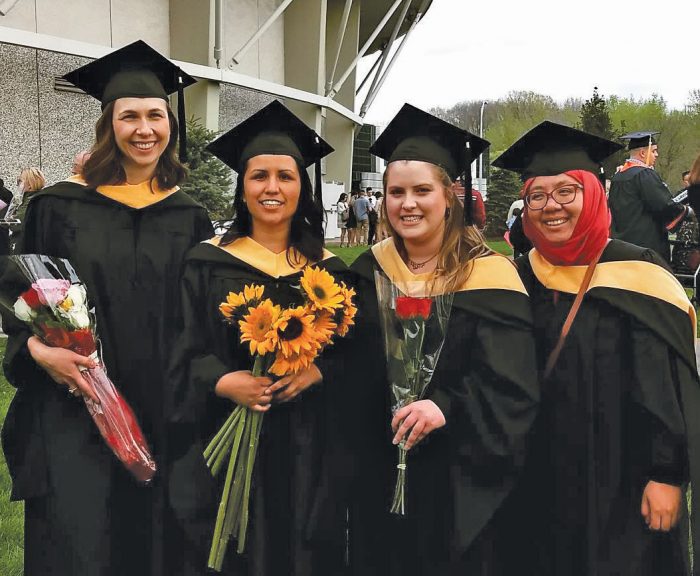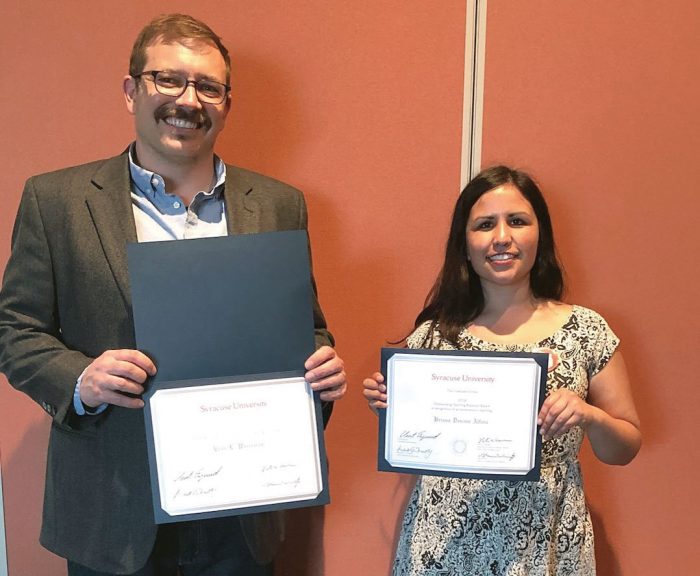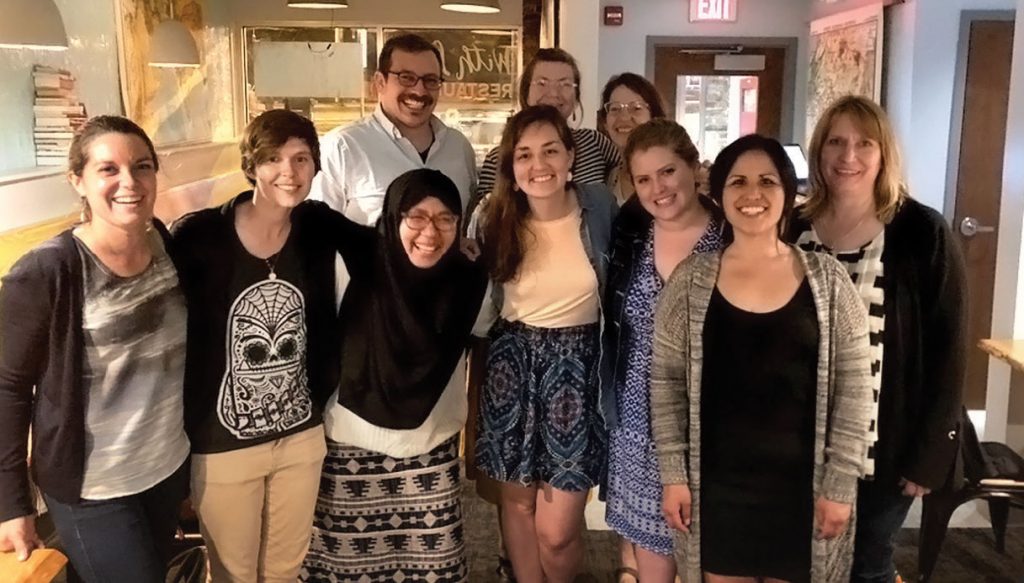 Learn more about Food Studies
Browse our academic programs
Learn about our excellent faculty
Meet our students
Read about research our students are engaged in
Contact us