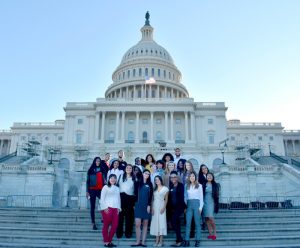 Falk College's Office of Career Services brought 22 Falk students from five different majors to Washington, DC on a Career Immersion Trip October 27-30, 2019. Before departing, Falk Career Services hosted a prep session on networking fundamentals and practice, as well as an etiquette dinner, to prepare students for the trip.
Arriving in DC on Sunday, October 27,  students were welcomed by staff at Syracuse University's Greenberg House. Social Work alumna Jane Bloom spoke about her experience establishing a career in DC, answered student questions, and provided insight into different agencies and organizations that the students would visit. Then, a workshop focused on employer research tips, best practices for resumes, maintaining network connections, and more was held.
Students began their employer visits on Monday at the Food Research and Action Center, where President of FRAC, James Weill, spoke about nationwide food and nutrition statistics and the role of FRAC. They also met Syracuse University alumna Diane Girouard, Child Nutrition Policy Analyst. Alison Maurice, MSW commented that "people love social workers, but they also love social workers who know how to use Excel" to highlight the importance of data in what she does. Lauren Badger, Senior Government Relations Associate, with background as an RD, said she was honored to be advocating against hunger/poverty. Geraldine Henchy, MPH, RD spoke last, and said it "lifts [her] spirits" to see the students, hear their degrees, and hear how they will apply themselves to issues.
At USAID, Syracuse University alumna Heather Freitag discussed several programs, including Humanitarian Assistance, Disaster Assistance Response Team (DART), and technical teams that employ public health specialists and nutritionists to support the field.
Next was a visit to PeacePlayers International, where students participated in successive team-building exercises used by PeacePlayers staff, followed by an engaging discussion of the role of this organization both overseas and in the United States.
Tuesday's visits started at Bread for the City, where Sonya Springfield, Volunteer and In-Kind Manager, gave an overview of the nonprofit's work to address issues related to poverty and housing prices, including the food pantry, clothing, medical and dental, legal, and social work support.
At the U.S. Department of Health and Human Services, students met Syracuse University alumna Cheri Hoffman, Ph.D., the Director of the Child and Youth Policy Division in the Office of Human Services Policy. She described their office as a "think tank" for the HHS Secretary. Cheri's colleague, Laura Vale, described their role as "anticipatory research" that aims to predict future policy questions. Students also heard from Lindsay Hutchinson, who works in the office of Head Start.
Next, students were introduced to the federal-, state-, and city-level work of DC Health. Emily Woody, RD, gave a presentation on the DC WIC program, followed by Rebecca Bailey, MPH, who spoke on the Nutrition and Physical Fitness Bureau. Emily Putzer spoke about the "Healthy People 2020" effort focused on population health status and improvement, and showed students a sample of their work to publish the results in was accessible and digestible to the public online. Finally, Kenan Zamore, MPH, the Senior Research Epidemiologist, spoke about his work collecting and analyzing overdose data, including through autopsy, work with hospitals, and reports from fire and emergency medical services.
Students benefitted from a panel discussion at the Children's Defense Fund, which included four CDF employees: Zach Tilly, Policy Associate, Teri Hatch, Digital Communications Manager, Mina Dixon Davis, Policy Associate, and Yasmin Cespedes-Zaman, "Beat the Odds" Program Associate.
The day concluded with an alumni networking event, during which students heard from alumni about their career paths and their work in Washington, DC.
The Homeless Children's Playtime Project was the first visit on Wednesday, where students met with Volunteer Program Manager Nicolien Buholzer in the Turning Point Center for Women and Children, where she gave an overview of the program and the staff and volunteer roles there. She shared statistics on the nature of homelessness in Washington, D.C., one quarter of which are families or children, and discussed the impact that a lack of play has on child development, optimism, and resiliency. She presented their efforts to build emotional and social skills through access to toys and opportunities to play.
The last visit for the trip included two Baltimore sites of the Living Classrooms Foundation where students met with Meg Ward, the Managing Director of Education. Students toured the Fresh Start program and heard from William Holmes about the program's work with adjudicated and out-of-school youth, and from Aljanan Campbell, Director of the BUGS (Baltimore Urban Gardening with Students) program, which works with 2nd through 5th grade students in an after-school program that helps them grow food and explore interests in STEM and the arts, in addition to providing opportunities for area field trips and camping. Students then toured the UA House facility, and spoke with Chas Ackley, Chief Program Officer, and Travis Street, Director of Family and Community Engagement. The students toured the athletic field, basketball court, music studio, kitchen, dance studio, marketing studio, and computer lab available to the community through this site.
The Career Immersion Trip was made possible by Falk College Career Services. Falk Career Services helps students and alumni connect to impactful career opportunities that match their skillset and interests. See photos of the Career Immersion Trip on Falk College's Facebook Page.