Falk College is proud to announce Amelia Dome and Gursimar Singh are among 35 students named 2020-21 Remembrance Scholars.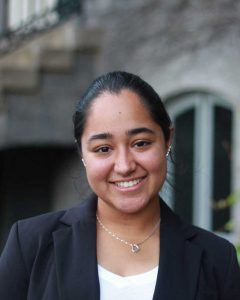 Singh, who is studying public health, is inspired by who the Remembrance Scholars represent. She feels it's an honor and a responsibility to build on the legacy of the Remembrance Scholars who came before her.
"They personify the type of role model who cares about the greater good and less about their own personal interests," Singh says. "Over the years, I've had the great pleasure to know many of them on a deeper level, and have seen the impact they have made on the student body, including myself, as well as others in need."
Singh is involved in OrangeSeeds, an organization on campus that focuses on uplifting the surrounding Syracuse community through service work. Her experiences with OrangeSeeds led her to intern for a local non-profit, Refugee and Immigrant Self-Empowerment (RISE), where she worked with children after their school day fostering their emotional intellectual and physical development.
"This journey has allowed me to implement the principles of my faith, helping others and putting their needs before my own," Singh notes. "As a cohort, my hope is that we can shine the light on those whose lives were taken, rather than on our own personal achievements. Being a Remembrance Scholar is less about us as individuals, but more about acting forward in the memory of those lost."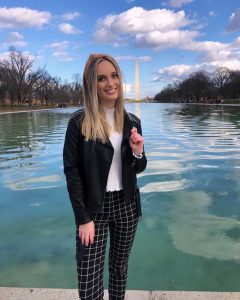 Amelia Dome is studying public health in Falk College and policy studies in the College of Arts and Sciences and the Maxwell School of Citizenship and Public Affairs. Dome recalls her freshman year at Syracuse University when she became aware of the incredible role of a Remembrance Scholar and knew she wanted to become one. She is extremely honored to be selected and attributes her public health education from Falk College as inspiration to improve the health of those who have had traumatic experiences.
"As a Remembrance Scholar, I would like to raise awareness about the impacts of trauma on health. I believe that I was selected as a Remembrance Scholar because of my commitment to community service in the Syracuse area over the past three years," Dome said. "My experiences at Syracuse have led me to pursue a career as a nurse practitioner and clinical nurse leader to further dedicate my life to improving the health of others."
Dome said she is looking forward to working with the other Remembrance Scholars during the 2020-2021 academic year.
"I hope that we can work together to give back to communities and continue to educate Syracuse University students about the Pan Am Flight 103 attack," Dome said. "I would like to thank all of my professors and specifically, Dr. Maureen Thompson who has always encouraged and helped me to achieve my goals."
The scholarships were founded as a tribute to—and means of remembering—the 35 students who were killed in the Dec. 21, 1988, bombing of Pan Am Flight 103 over Lockerbie, Scotland. Those students, who were returning from a semester of study in London and Florence, were among the 270 people who perished in the bombing. The scholarships are funded through an endowment supported by gifts from alumni, friends, parents, and corporations.