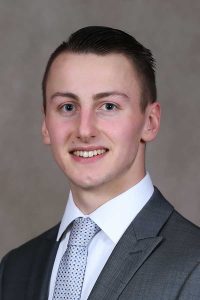 Ten members of the Class of 2021 are among the recipients of the highest honors awarded by Syracuse University and Falk College. Jonathan Bosch, a sport analytics major in Falk College and mathematics major in the College of Arts and Sciences is one of 12 graduating seniors from across campus named a 2021 Syracuse University Scholar.
The Syracuse University Scholars Selection Committee, a University-wide faculty committee, selected the 2021 scholars using criteria that included coursework and academic achievement, independent research and creative work, evidence of intellectual growth and/or innovation in their disciplinary field, a personal statement and faculty letters of recommendation.
"Jonathan is a young scholar-researcher who continues to impress professionals in the sports industry with the breadth and depth of his research interests and abilities," notes Diane Lyden Murphy, dean, Falk College.
Additionally, ten students were named Falk College Scholars from the Class of 2021. Falk Scholars represent undergraduate students who display academic excellence, exceptional campus and community engagement, independent research and creative work, innovation in their disciplinary field, and personal integrity. Designation as a Falk Scholar is the highest academic award conferred by Falk College on graduating seniors. Class of 2021 Falk Scholars include:
Jonathan Bosch, Sport Analytics
Seth Dawicki, Public Health
James Hyman, Sport Analytics
Katherine Koehler, Social Work
Samuel Marteka, Sport Analytics
Caitlin Murphy, Nutrition Science
Alejandro Pesantez, Sport Analytics
Symone Roberts, Public Health
Kushal Shah, Sport Analytics
Mackenzie Swanson, Nutrition Science
"The combination of our scholars' academic success and dedication to sharing their knowledge and experiences outside of the classroom to engage the world represents what Falk College is all about: social responsibility, social justice and service to others," says Murphy.