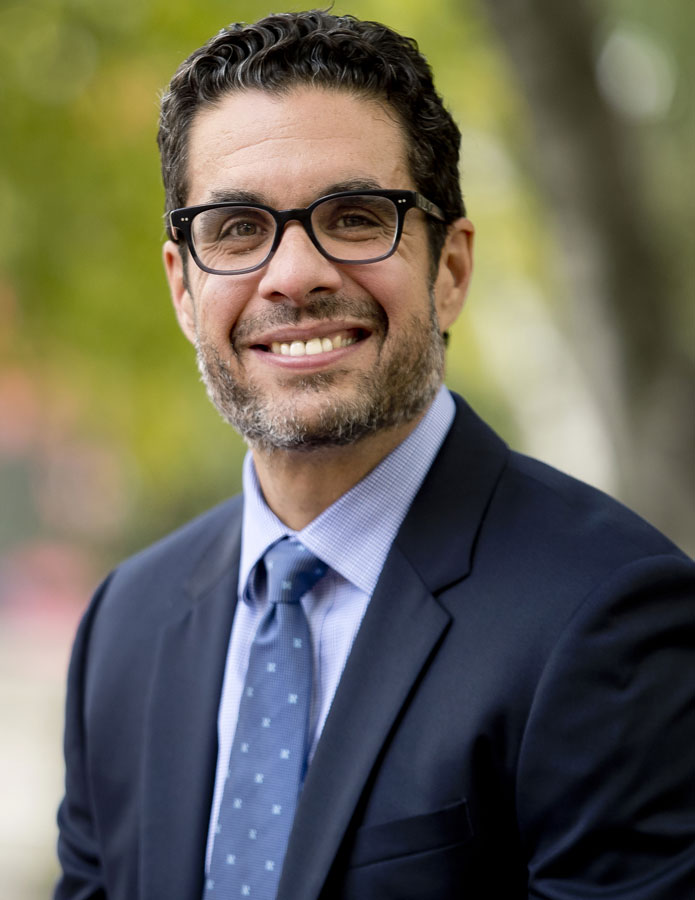 Dear Falk Students,
It is with great excitement that I welcome you to campus as we start the fall semester. Like many of you, I am new to Syracuse and look forward to learning all that I can about this amazing institution, I encourage you to do the same. A special welcome to the Class of 2027 and our new transfer and graduate students. We are thrilled that you have joined the Falk College family and we look forward to working with you as you pursue your academic and professional goals.
As classes begin, I want to remind you of resources on campus that will help you succeed.
Official Syracuse University Communications
Syracuse University email is the primary communication method at the University. Your professors and University offices will contact you with important information using your Syracuse University email address (ending in "@syr.edu"), not your personal email address. It's important to read your University email at least once every day so you're aware of the latest information that's essential to you.
Student Support Services
Falk College Student Services is an important resource in your support system at Syracuse University. Student Services counselors are here to provide you with academic advising and help you meet your requirements and goals. In addition, they are your resource for private consultation related to student social and emotional concerns. If you have any concerns throughout your academic career, please contact Student Services or visit Falk 330, Barclay Suite in the Falk Complex.
I encourage you to connect with the staff at Falk Career Services, who can help you prepare for life after college through career exploration, internship and job searching, professional networking, and more. They are also located in Falk 330, or you can search for opportunities through Handshake, the University's job search and professional events portal.
In addition, you can connect to spiritual life on campus at Hendricks Chapel, as well as health and counseling services in the Barnes Center at the Arch.
Student Spaces in Falk College
The Student Lounge, located in Falk 216, is available to you anytime the Falk Complex is open. The lounge has a microwave, refrigerator, and vending machines for student use. Across the hall is the Falk Café on 2, open 8:00 a.m. to 3:00 p.m. Monday through Friday starting August 28. Visit the Food Services website for up-to-date operating hours for cafés and dining centers across campus. Just down the hall is Falk 229, the quiet student lounge.
There are several computer labs in the Falk Complex. Falk 113 is a PC lab, and Falk 229 is a quiet study area that has both PCs and Macs available for your use. Both spaces are available to students at any time. Falk 400 and 407 are PC labs that are also used as teaching classrooms. When class is not in session, they are open for student use. You may check their schedule of availability using the 25Live website. You may also use the quick-print stations in Falk 216 and 229 for printing and email. These stations log out automatically after 10 minutes of use.
Ways to Get Involved
The Student Involvement Fair will be held Thursday, September 14 from 11 a.m. to 2 p.m. on the Quad. There are more than 300 student organizations at Syracuse University. Be sure to explore organizations that might be outside your usual interests, too. Remember, this is a great way to meet new people and discover something new about yourself!
There are many exciting events planned for Fall 2023, including two signature Syracuse University events: Family Weekend November 3-5 and Orange Central, Syracuse University's annual homecoming and reunion weekend, September 28-October 1. You can discover activities and events on campus by visiting the Syracuse University Calendar.
There are countless ways to get involved at Syracuse University, and these are just a few suggestions to get you started. I encourage you to visit syracuse.edu/life/students for more resources and opportunities to make the most of your Syracuse experience.
All Falk students are invited to join me and Falk College faculty and staff for refreshments in Falk 335 during meet-and-greets on Wednesday, September 6 from 10 a.m. to 12 p.m. and Thursday, September 7 from 10:30 a.m. to 1 p.m. We hope to see you there.
I wish you every success on your journey here at Falk College. I am eager to see all the ways in which you will become part of—and add to—the Syracuse community.
Go Orange!
Jeremy S. Jordan, Ph.D.
Dean, Falk College