A veteran guard anchors a women's basketball team that's laden with talent.
When Falk College sport venue and event management master's degree student and Syracuse University basketball player Tiana Mangakahia '19, G'21 returned to the court this season, she scored a major personal victory.
For Mangakahia—a two-time All-ACC First Team member and a 2018-19 All-America honorable mention selection—it was a moment she'd worked hard to reach after overcoming the stage 2 breast cancer that she was diagnosed with in June 2019. Ever the competitor, she endured round after round of chemotherapy and a double mastectomy before being declared cancer-free in November 2019. Throughout the process, Mangakahia stayed close to her teammates, supporting them from the bench as she recovered.
"It's been difficult to get back into how I used to play, but it's been such a blessing to even be able to play," says Mangakahia, a native of Brisbane, Australia. "I have to remind myself that just being out there was my goal. When I first got back, all my emotions were crazy. I was happy, nervous, anxious—I couldn't believe that the day had come. I couldn't believe what I had to go through to get there."
Through it all, basketball served as a welcome refuge—a happy place, she says. When she was able, she played pickup and stayed connected to the game, saying it gave her something to look forward to. "I've always loved the sport, and the passion and competitiveness I have for it," she says. "It helped me stay hopeful."
A Talent-Laden Team
As the 2020-21 season unfolded amid the COVID-19 pandemic, Mangakahia found herself in good company on the court. Coach Quentin Hillsman's nationally ranked Orange feature four returning starters from 2019-20 and a highly touted group of first-year recruits. National media have described the team as "dangerous," and one reason for that is the dynamic backcourt duo of Mangakahia and Kiara "Kiki" Lewis '20, G'21, who played point guard last season, leading the team in points, assists and steals while earning All-ACC First Team honors. "This is the best team that I've played on at Syracuse," Mangakahia says. "We have so much talent. We just have to learn to play together—understand how talented we are as a team and how far we can really go."
Mangakahia can tear a game wide open with explosive play, and is widely recognized on preseason watch lists for national awards. She was named to the Wooden and Naismith lists for most outstanding player; Mangakahia was nominated for the third time to the Nancy Lieberman Award list as a top point guard.
Lewis appreciates that her hard work throughout her career has paid off with recognition, and says that just being able to play during the pandemic has been rewarding. She has looked forward to the whole team coming together and winning games. And with Mangakahia as a backcourt mate, she has embraced shifting from point guard to playing off the ball and shooting. "It's great playing with her," Lewis says. "It makes my job easier."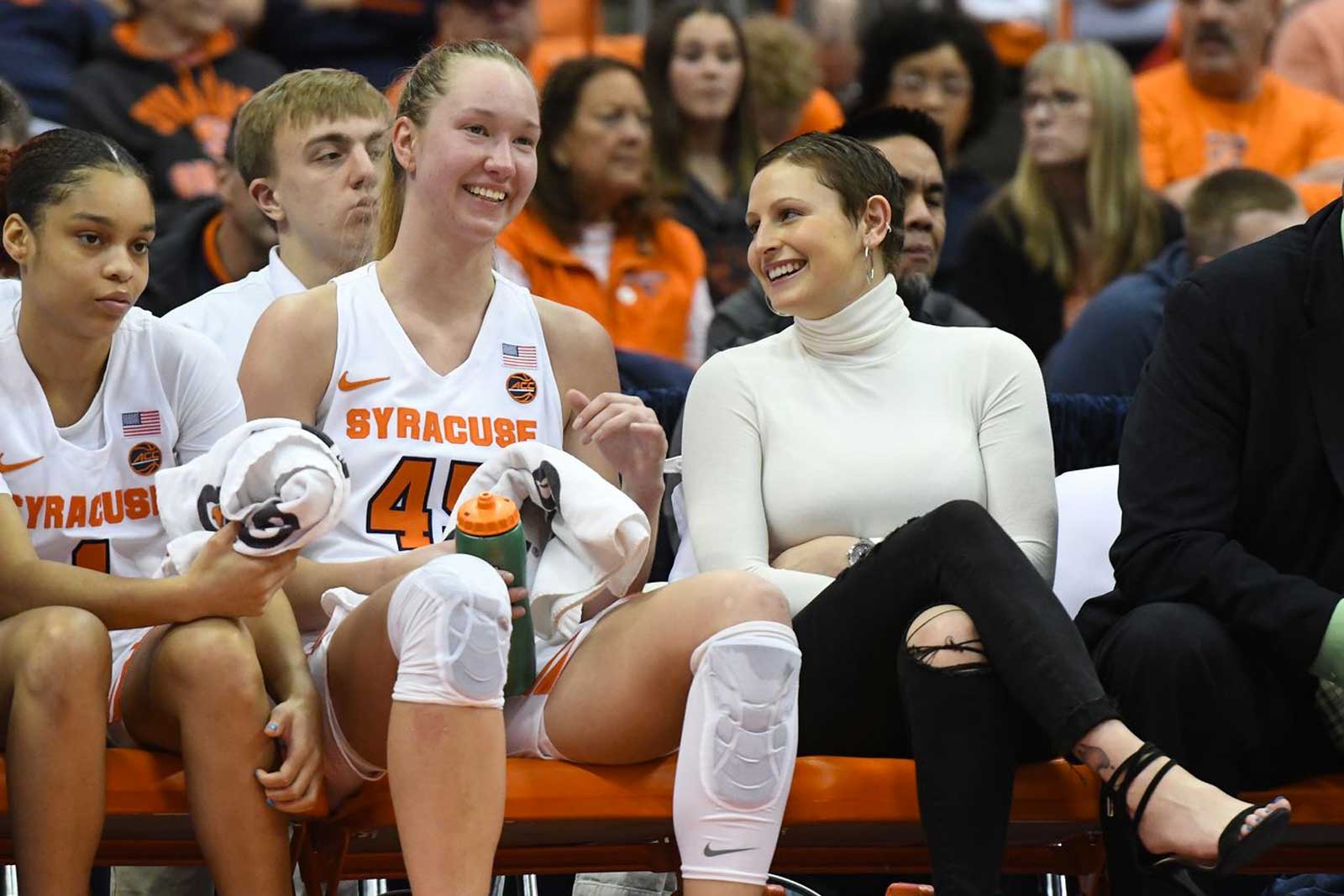 The Fighting Spirit Heritage
Mangakahia has played basketball competitively since she was young. Her mother was a club basketball president—and with five brothers, there was no shortage of competition. She also may have inherited the fierce fighting spirit of her great-great-grandmother, who is considered one of the most influential Maori women in New Zealand history. She was the first woman to address the country's Parliament, stood up against alcohol abuse and domestic violence, and advocated for women's right to vote and hold legislative seats. "She was such a strong woman," Mangakahia says. "Her name's Meri Te Tai Mangakahia. I'm named after her; my middle name is Meri."
When asked about her court vision and passing, she remembers being captivated by her uncle's passing when the family played pickup games. "It was so cool," says Mangakahia, who was named to the Australian Senior National Team in July. "I've just always been a passer. If it helps get everybody involved in the game, it makes me feel good."
Those assists piled up quickly at Syracuse as she led the nation in assists (304) and assists per game (9.8) in her sophomore season (2017-18) and became the program's all-time assist leader in the 2018-19 season. That season, she also surpassed the 1,000-point mark faster than any player in the program's history. While Mangakahia has always viewed herself as an assist point guard, she credits Coach Q with turning her into a scoring point guard.
Support From the Orange Community
When Mangakahia was diagnosed with cancer, she shared a public statement saying, "This is beatable, and I will fight and win." She cited the tremendous support she received from the local community and the 'Cuse family. Her family was there for her as well, she says, noting that her brothers shaved their heads in solidarity as she went through treatment. She's thankful for all the support—including the proceeds from the Tough4T warm-up shirts, which helped her family make the trip from Australia to be with her. Mangakahia was also touched by all of the cards and letters she received, especially from other cancer patients sharing their struggles and calling her an inspiration. "It helped me stay strong for those who were going through it also," she says. "And the coaching staff and my teammates were amazing through it all."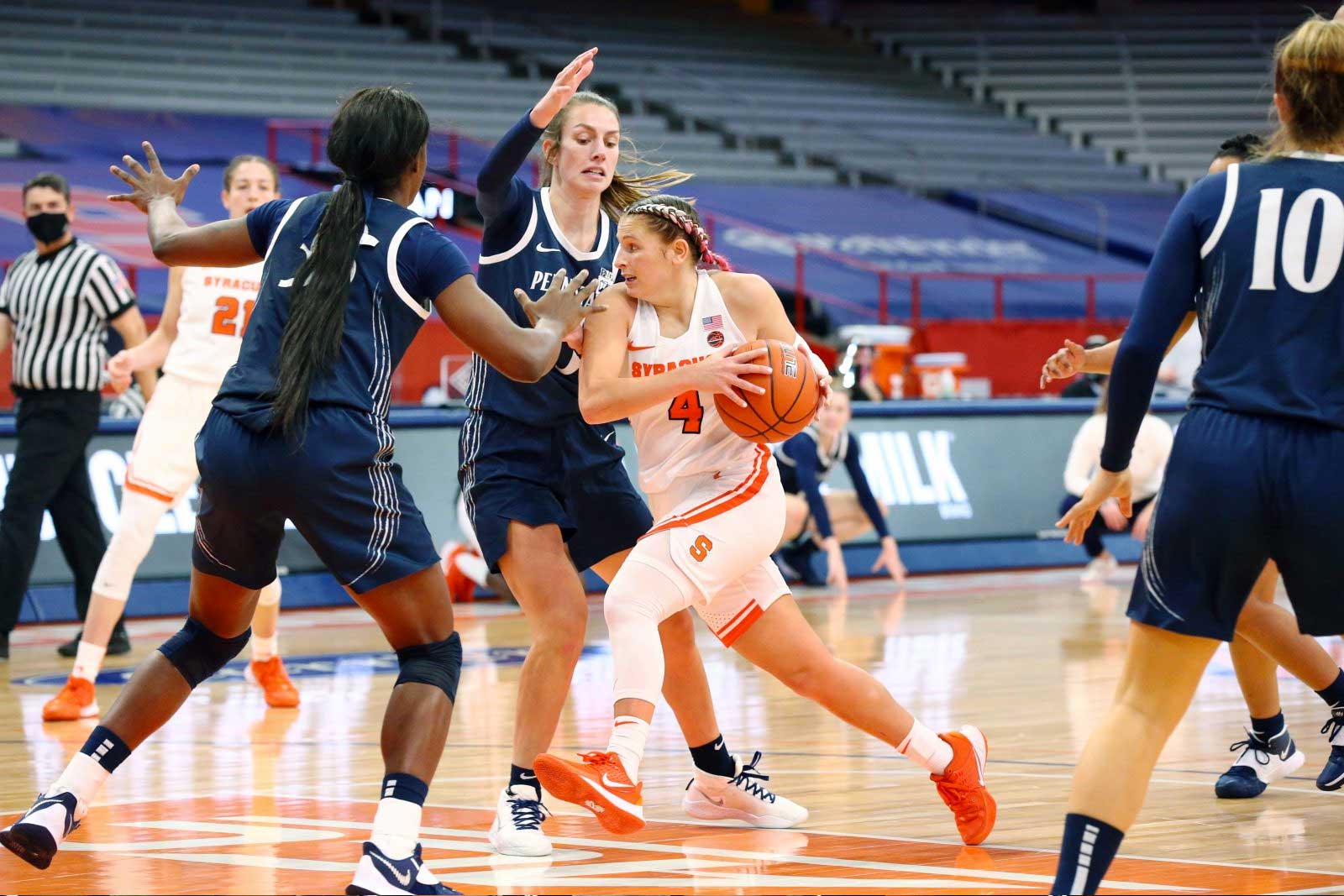 Gearing Up for a Long Season
This season's goal is to win the national championship. But the Orange go game by game and must reach the goals that Hillsman sets for each one. If they fall short, they run and run and run. To execute Coach Q's up-tempo offense and pressure defense, they have to be in prime physical condition.
Under Hillsman's guidance, Mangakahia has polished her skills to reach the next level and play professionally. As a veteran player and graduate student, she also recognizes her role as a leader and wants to help the team reach its potential.
Mangakahia says being sidelined on the bench last season helped her become a more vocal leader. She knows her teammates respect her knowledge and says that's given her the confidence to lead. She likes to talk to teammates individually and encourage them to stay focused, especially amid the challenges of playing during the pandemic. "We have so much depth in our team, and we can go so far. I always remind them that we need every single person," she says. "With COVID-19 going on, we have to stay engaged and understand that this is a temporary situation for a lifetime goal—winning a national championship."
~ Adapted from a Syracuse University Story by Jay Cox originally published on January 12, 2021.