New Course Introduces Students to Emerging Field of Sport Social Work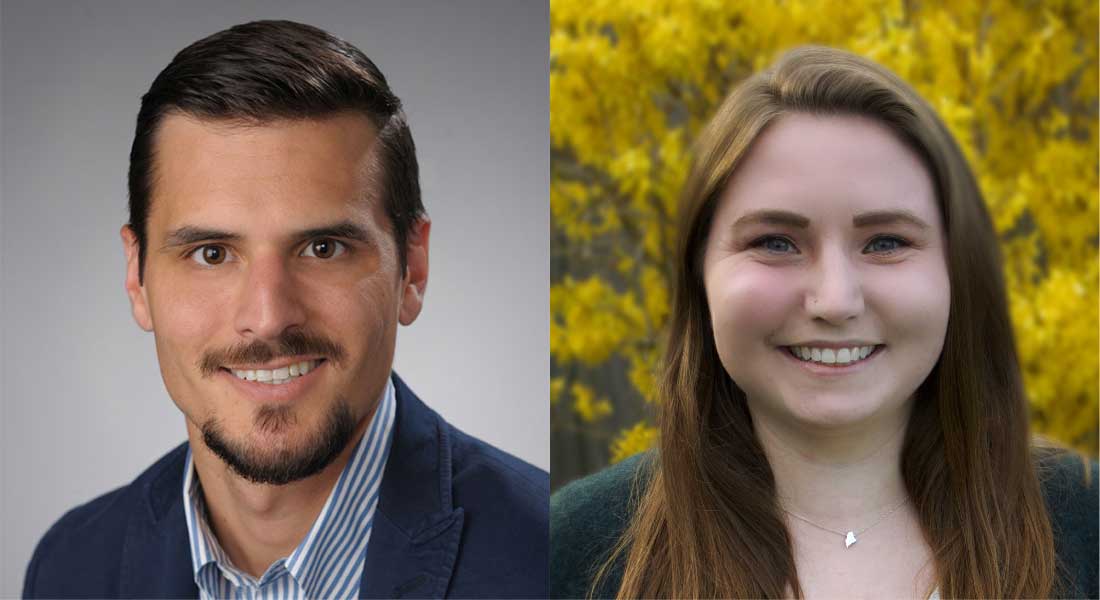 Professor of Social Work Ken Marfilius (left) and master's of social work student Rachel Hamilton collaborated to create the new Introduction to Sport Social Work course.
The idea of merging social work principles and practices with the sports industry is an emerging field, and Syracuse University is at the forefront with a new undergraduate course scheduled to start in fall 2024 in the School of Social Work at the Falk College of Sport and Human Dynamics.
Introduction to Sport Social Work is an elective course created by Associate Teaching Professor of Social Work Ken Marfilius in collaboration with Rachel Hamilton, a master's of social work student who's currently interning with the Syracuse Athletics Department. Marfilius will teach the course and Hamilton will be his research assistant, and here's an excerpt from the course description:
Introduction to Sport Social Work: Applying a strength-based perspective to promote the health and wellbeing of student-athletes through a social justice framework. Through course readings, students will learn about sport social work theory, interprofessional collaboration, and understanding well-being issues of athletes. Course assignments will help students gain knowledge in applying strength-based perspectives within engagement, assessment, and interventions with athletes.
In recent years, more professional and collegiate sports teams have added mental health professionals to their staffs. But a professional with a social work degree provides teams with what Hamilton describes as a "macro and micro mix."
"You've got an individual who can see something from the micro level of the individual who's right in front of them, but also can zoom out and look at the societal trends, the trends within athletics, and the policies in place to evaluate what can be done to improve those policies and make it easier for athletes to feel supported in their mental health and well-being," Hamilton says.
"With social workers, it's that vast scale and scope of skill sets that makes the difference," Hamilton adds. "It's not just a clinical degree. It can be, if that's what you want it to be, but as an advanced clinical student, I'm also having to take classes like social welfare policy that are more organizationally based and macro-based. With that knowledge, even if I do just want to work one-on-one with an individual, I still have the ability and the skill set to look at it from the macro perspective."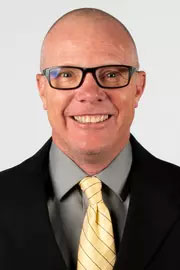 Jon Mitchell joined the Syracuse Athletics Department in the newly created position of senior associate athletics director, sports medicine, in October 2022. Mitchell oversees sports medicine, strength and conditioning, nutrition, and mental health, and he says he's learning from Marfilius and Hamilton the many ways in which social work principles benefit student-athletes.
"It's never been a part of our program before, and Rachel and Ken are educating me about utilizing it because we want to have as many tools in our toolbox as possible," Mitchell says. "In college athletics, we are continually challenged to identify new ways to best serve our student-athletes, and this program has the potential to provide us with another resource to help serve the bigger purpose."
'Mental Health Linchpin'
Marfilius and Hamilton are both former athletes; Marfilius was a member of the rowing team at Syracuse University, and Hamilton was a member of a varsity cross-country team in Maine that won multiple high school state championships. Hamilton's husband is former Syracuse football player Macky MacPherson, who went on to play for the NFL's Buffalo Bills and coach Division I college football.
"We have many dinner conversations about the effects of college sports on student-athletes," Hamilton says, smiling.
Hamilton, a student member of the Alliance for Social Workers in Sport and the Association for Applied Sport Psychology, is the first social work student to intern in the Athletics Department. Marfilius, an Air Force veteran whose primary research focus has been on military populations and veterans, had started building a course on social work and sports and was assigned as Hamilton's field placement supervisor for her internship with athletics.
Together, they refined the course that Marfilius had started to build by incorporating that "macro" strength-based view that goes beyond general mental health support.
"It could be a student-athlete who comes from a challenging background with adverse childhood experiences and what we find, just like with the military, is that at 18 years old those experiences aren't left behind," Marfilius says. "They bring those with them–in addition to the pressure and the competition and the academics–and we look at both individual needs and systemic and structural needs of student-athletes and organizations."
Marfilius says social workers can serve as a team's "mental health linchpin," helping directly with mental health-related issues or making referrals to other mental health professionals when appropriate. Mitchell says he views social workers as another potential source of education for student-athletes who don't know what resources are available or have tried to cope privately with their problems because they didn't want to seek help.
"We want to build trust by educating them and letting them know we have their best interests at heart," Mitchell says. "If they can trust us when everything is going great, it increases the trust when things are not going as well."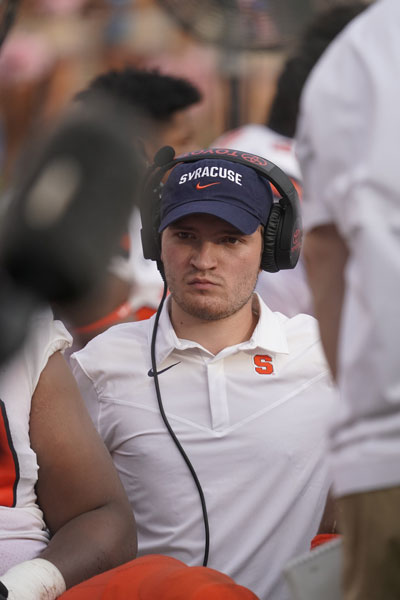 A Growing Demand
In addition to student-athletes, Marfilius says the new course is ideal for any student across campus who's interested in sports administration, coaching, or working in some way with athletes from high school through professional. Falk College is a natural fit for the course because it houses the School of Social Work along with sports-related programs such as sport management, sport analytics, health, and exercise science, and starting in 2024, esports.
"I was interested in working with student-athletes, but there were not a lot of universities, if any, that have a social work program that's so heavily integrated into a school that offered sport management and sport analytics and all those things," Hamilton says. "I believe that's why I was able to break into the athletics department for my internship hours."
Hamilton says her internship started with her interest in working with student-athletes on their mental health challenges but has evolved to look at how student-athletes can be supported from a systemic level. With a guest speaker list that includes athletics administrators and coaches from inside and outside the university, Marfilius says the Sport Social Work course will provide students a similar opportunity to explore both sides.
"Just that exposure alone, and to have that understanding of what sport social work really is at a macro level, allows them to then look at their career trajectory in a different way," Marfilius says. "But also, as a career choice, we have more folks who are entering this niche of a field."
Indeed, the marriage of social work and sport may be the next frontier for the sports industry, which is always seeking a competitive edge. Hamilton says her long-range goal is creating a sport social work program at Syracuse that will meet what will eventually be a growing demand for social workers in the industry.
"Sports acts like a microcosm; there are leadership positions and administrative positions where you can utilize your social work skills to perform well," Hamilton says. "There are support roles, mental health roles, and your traditional counseling roles, but also this skill set is invaluable to help navigate personality dynamics and group dynamics, and understanding the ways in which you can integrate and use those skills."