First-Generation college graduate integrates Marriage and Family Therapy with Women and Gender Studies for dissertation
By Emma Henzes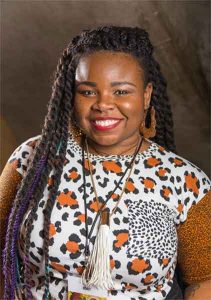 Montiniquë McEachern, Ph.D. realized that activism and relational therapy are not separate matters. McEachern says her approach to therapy—and the reason why she gravitated towards becoming a therapist—is that queer women of color, specifically activists, need representation in the psychological world. The feminist movement, she says, needs therapists to sort through active trauma and PTSD. Her Ph.D. studies grew from the lack of research about queer women of color. "It's really important for me to write lesbian, bi, trans, and queer women into history while they are alive because we so often get their stories after they are murdered or have died or they have to write it themselves," McEachern says.
Combining women and gender studies (WGS) with marriage and family therapy (MFT), McEachern's dissertation was on Queer Women of Color Activist Couples. McEachern said it was an easy collaboration to merge the two disciplines. "WGS literature, specifically black feminism, is theoretical and personal, but not in a relational way. I realized adding MFT would have clinical implications, healing implications."
"When we work from the very basic black feminist idea that the personal is political, that all oppression is connected; therefore, all liberation is connected, freeing the most marginalized population then everyone else is freed in the process."
McEachern's dissertation crowned the title 'Revolutionships' to richly describe the experience of queer women of color who are organizing, resisting, and protesting while maintaining an intimate relationship. She created a model reflecting on 'Revolutionships' to give therapists an oriented approach and the necessary tools to work with queer women of color. "I really wanted to figure out their experiences in order to figure out an approach to working them in therapy."
Identifying as a queer woman of color herself, McEachern says she did not conduct her research from an objective perspective and that was included in her dissertation literature. Part of including women and gender studies in her approach to therapy is admitting that humans are subjective people making research subjective. "It's just whether we want to admit it," McEachern said. "Everything we do is informed by who we are, the political time we are in."
Dr. McEachern just completed her Ph.D. in Marriage and Family Therapy with a Certificate of Advanced Study (CAS) in Women's and Gender Studies. She passed her dissertation with distinction becoming the first person to pass with distinction in her program's history. She completed her undergraduate degree and master's degree at Auburn University. McEachern is a first-generation high school graduate, college graduate and Ph.D. graduate.
She wants people to read her research and see not only the opportunities but the need for people from different backgrounds to conduct research in the therapy space. McEachern makes sure her language is comprehendible for people to read beyond the academic community. "I want people who need my research to benefit from it and I want my research to be an example of what queer women of color in graduate programs at Syracuse University can produce when given the support and opportunity to do so." McEachern's dream is to teach and train future therapists in gender studies classes and maintain a vibrant private practice seeing clients.
As a doctorate student at Syracuse University, McEachern has been active in movements advocating for marginalized groups, both on-campus and in the local Syracuse community, as well as producing a podcast, 'Queer Women of Color,' that connects an international community. In 2016, McEachern won the Diane Lyden Murphy Bread and Roses Award for Activism on Behalf of Women, honoring a member of the Syracuse University community whose work or scholarship exemplifies the spirit of Dean Murphy's activism.