Congratulations Graduates!
Congratulations to the Class of 2019! The Falk College celebrated our students and their accomplishments with their families and friends during the Falk College Convocation for graduating students on May 11, 2019 at 4:30 pm in the Manley Field House. Tickets are not required for this event, all guests are welcome. The College's Convocation ceremony gives students the opportunity to celebrate graduation in a smaller setting. Family and friends who are unable to attend in person, can watch the convocation live online.
Syracuse University Commencement also took place on Sunday, May 12, 2019, at 9:30 am in the Carrier Dome. Additional information about this commencement is available on the University's Commencement website, commencement.syr.edu. Family and friends who are unable to attend in person, can watch the commencement live online.
2019 Convocation Speaker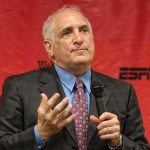 Brandon Steiner '81 addressed Falk College's Class of 2019 at the school's Convocation ceremony on May 11. Steiner has continued his commitment to Syracuse University—and in particular, its students—through service to Falk College and its Sport Management Advisory Council, which he currently chairs.
"Every semester, Brandon is in our classrooms working with students and providing them first-hand guidance from his experiences. His genuine mentorship to students in Falk College, and across Syracuse University, illustrates the ongoing commitment of an alumnus who continues to make it his priority to give back to his University and its students," says Falk College Dean Diane Lyden Murphy. "Brandon has always found a way to stay connected—and committed—to our Syracuse University family. We are deeply privileged to work with him."
Read more about Brandon Steiner
Prepare for Graduation
If you are you planning to walk this May watch your email. You'll be notified of when to:
File the mandatory Diploma Request Form through MySlice
Pick up your cap and gown
Attend the Falk College Senior Meeting
Will you have family and friends in town for graduation weekend? If so, don't wait! Now is the time!
Make travel reservations
Ensure that they have lodging
Make

dinner reservations

Be sure they are clear on the dates and times when they'll be part of your celebration
Share the link to commencement.syr.edu for more information
Falk College 2020 Convocation:
Date:
Saturday, May 9, 2020
Site:
Manley Field House
Time:
Students should arrive to Manley at 3:30pm

Family members/guests should also arrive at 3:30pm

Convocation will begin promptly at 4:30pm and end at 6:30pm

Tickets are not required. Parking is free.
SU 2020 Commencement:
Date:
Sunday, May 10, 2020
Site:
Carrier Dome
Time:
9:30am – 12:00pm
Seating:
Seating at the Carrier Dome is on a first-come, first-served basis.
Tickets are not required. Parking is free.
Important Security Procedures for Commencement Weekend: To accommodate security screenings during Commencement Weekend, Falk College graduates and families/guests should allow for extra time to enter Manley Field House and the Carrier Dome. Each Commencement attendee entering into the Carrier Dome is allowed one clear bag and one small clutch or purse. Attendees will be asked to return non-approved bags to their vehicle prior to Carrier Dome entry. There will be no check-in location for prohibited bags at the Carrier Dome. Approved clear tote bags will be available for purchase at all Syracuse University merchandise locations and inside the Carrier Dome, as well as at the SU Bookstore.

Cap & Gown
As graduation is nearing, the individual departments across campus have received inquiries regarding caps and gowns. Please visit Syracuse University's Commencement website for information specific to this aspect of graduation. In almost every case, the answers to any question you have specific to that weekend, can be found in the Commencement website. This should always be your first source for answers.
The SU Bookstore also coordinates all aspects of your regalia and will be very helpful in addressing any questions that you might have.
Citron
At the request of the Falk College, we are using the Citron (maize yellow) tassel for all Falk bachelors and the Citron velvet for all masters. Any PhD's would use the Royal PhD velvet on their hood.

Accessibility
Students or guests with accessibility needs are asked to please fill out the form located at Syracuse University's Commencement website. Any questions, please do not hesitate to contact Alex Snow in the Syracuse University Special Events office at 315-443-9073.

Additional Information:
Syracuse University Commencement Website
Frequently Asked Questions
Useful Information for Parents, Families and Friends
Cap and Gown Information
Commencement Housing
Commencement Accessibility Requests form
Class of 2020 Giving: Be a Class Act!
Support Your Passion, Share Your Spirit!
Just $20.19, donated to the program, scholarship or fund of your choice will leave your mark on Falk College. Future students will benefit from the scholarships, study abroad and speaker opportunities that your gift will afford.
As our "thank you," you'll receive a special Class Act cord to wear at Commencement along with other VIP benefits. Learn about why giving makes a difference and see some of the ways giving makes a difference: