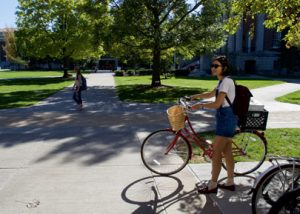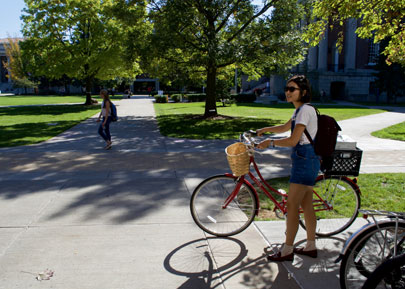 Veg Out: By connecting students with local farmers, BrainFeeders makes it easy to get your daily serving of greens
By Megan Falk '19. Courtesy of Baked Magazine
As the sun rises over the boundless field, drops of dew shimmer atop rows of lettuce, tomatoes, and radishes. A farmer swiftly harvests the vegetables one by one and gently places them in boxes with red and green type. Within an hour, the packages are en route to 13 different locations throughout Central New York, including Syracuse University. As they arrive, a young woman rides across the SU campus on her vintage blue bicycle and picks up her small box of vegetables from the farm, as she does every week. She piles the generous amounts of potatoes, kale, fennel, leeks, and delicata squash into her wire basket and pedals off with enough vegetables to last her the next seven days. Throughout the next two hours, 37 additional Syracuse University students and faculty will arrive to gather their share of produce.
Each Thursday, Common Thread Farm, located in Madison, New York, delivers local, organic produce to the University for members of a CSA (community supported agriculture) program. According to the United States Department of Agriculture, members of a CSA program pledge to contribute to the anticipated costs of running a farm and the farmer's salary for the growing season, which provides a sense of financial security for the farmer. In return, members receive shares of the farm's produce, but they run the risk of receiving poor harvest due to detrimental weather or pests.
The CSA program at Syracuse University is the product of the SU organization BrainFeeders.
In the spring of 2015, then-seniors Lindsay DeMay and Imelda Rodriguez created BrainFeeders after they realized the only way for students and faculty to buy fresh produce on campus was by taking the bus to the Central New York Regional Market. The duo then decided to partner with Common Thread and begin their own CSA pickup location at SU, which they launched in the fall of 2015. The program now boasts 40 members.
"When you hand people veggies, they go nuts," says President Will Cecio. "They love it. This club is actually starting to make an impact on campus, trying to get people to cook more, eat healthy, eat more local and seasonal vegetables." Throughout the nine-week program, members receive a box full of various seasonal vegetables. They choose between small boxes, which contain four to five types of vegetables and cost $150 for the nine weeks, and large boxes, holding eight to 10 kinds of vegetables for a price of $280. Felice Ramallo, secretary of BrainFeeders, says that although the prices seem steep, members may get five of each type of vegetable, which ends up being a bargain. "If you were to go to the grocery store and get this many veggies, it would be like, 50 bucks for a small box because these are organic," she says. "In fact, this is probably less than if you were getting non-organic as well."
Though Common Thread is not USDA certified as organic, it is recognized as organic by the Northeast Organic Farming Association of New York. Cecio explains that becoming USDA certified is often an extra expense to the farmers. Individuals who visit the farm can see they practice organic and sustainable techniques, such as using compost fertilizers or natural pesticides, he says. Besides providing fresh, naturally-grown vegetables to students, the boxes introduce the program's members to new food and allow them to expand their cooking savvy. Participants may learn to cook healthy and tasty alternatives to classic dishes, or get creative with their ingredients—pumpkin pancakes, anyone?
"We want to increase people's awareness in general of what they're putting into their bodies," says Ramallo. "Not just their health, but where it's coming from, and who it's impacting other than themselves."