Sport analytics major champions power of data to improve performance and is inspired to create a more inclusive society.
Alison Gilmore '24 has a deeply heartfelt passion for baseball and softball. Diagnosed at 2 ½ years old with cerebral palsy, she never had the opportunity to compete on the diamond, but she sure embraced the game. The Pennsylvania native, who has a twin sister, settled in on the sidelines, rooting for her siblings, tracking statistics and joining her dad as a longtime dedicated fan of the Baltimore Orioles. "The baseball and softball fields were kind of my home growing up," says Gilmore, a
sport analytics
major in Syracuse University's Falk College. "I looked forward to the early morning games. I loved interacting and watching them play—and my love of sports grew from that."
Today, that love is evident. Gilmore relishes tuning into ballgames, soaking up stats and building her knowledge base. She's a Dean's List student who's enhancing her education with a minor in sport management and one in information management and technology from the School of Information Studies. All of this supports her focus on developing her programming and data analysis skills with the goal of landing a front-office analytics position with a Major League Baseball team after graduation. "I think data is really powerful," she says. "To uncover extra information that could help a team or an organization improve its performance excites me."
Gilmore recognizes her identity as a disabled woman is a rarity in the male-dominated sport industry, and she is motivated by the idea of being a role model for others, carrying that drive with her beyond the playing fields. "I have always realized the importance of educating others in order to create a more inclusive society," she says.
As a disability advocate, she shares her story to help other students with disabilities navigate their journeys. She does that, in part, as a student assistant at the Intercultural Collective and Disability Cultural Center, where she welcomes students at the front desk and serves as a peer mentor. "I always say that my disability doesn't define me, but it's a huge part of my identity and who I am. Obviously our society was built for able-bodied individuals, and so I often have to overcome the inaccessibility and ableism that's deeply rooted in society," she says. "I'm faced with that every day, and I have a huge compassion for individuals with disabilities, so being able to engage with them as a mentor is really important to me."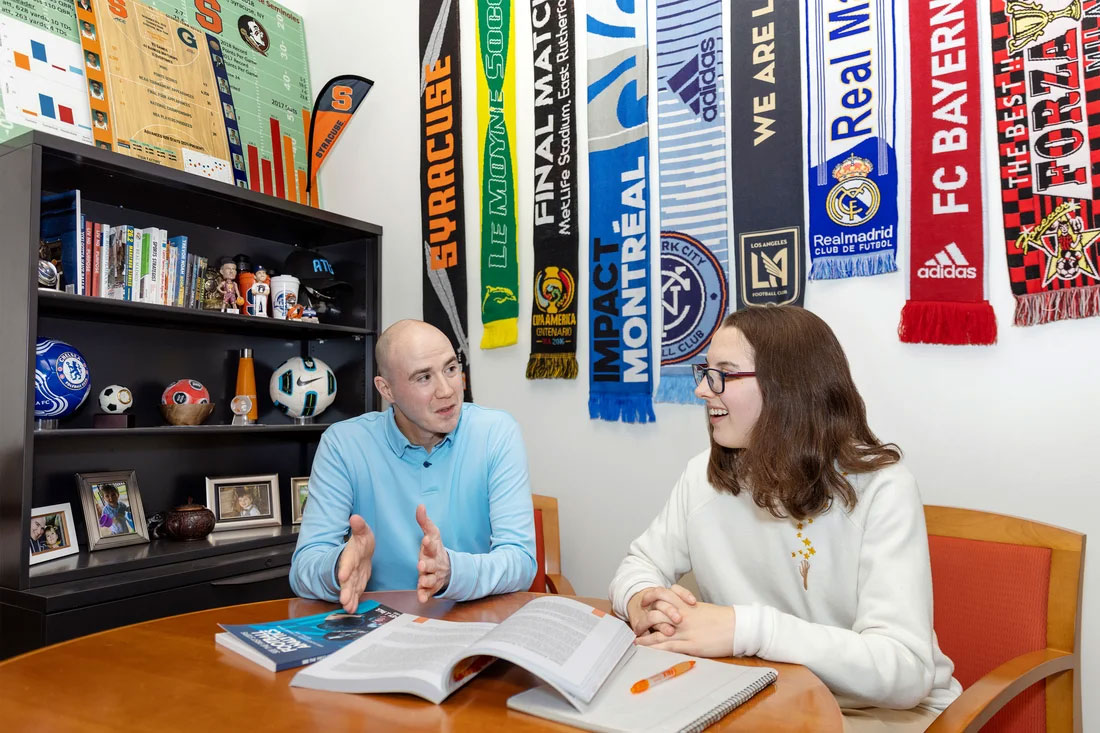 Finding the Right Fit
Gilmore saw sport analytics as a perfect way to combine her math and statistics skills with her love for sports—and she credits her father for first learning about the Syracuse University program and knowing she'd love it. "I looked into sport analytics and from that day I knew I wanted to come to Syracuse," she says. "I'm so grateful to be here and forever grateful to my family for encouraging me."
Once on campus, Gilmore needed little encouragement to get involved. While facing some difficult challenges during her transition to college life, she appreciated the support she received from the Falk College community, especially sport analytics program manager Francesco Riverso G'05 and academic counselor Matthew Yager. Riverso has seen Gilmore blossom throughout her time at Syracuse, noting her determination and that she "has never shied away from an opportunity to grow, personally and professionally," he says.
For instance, Riverso recalls Gilmore speaking to her peers in the Sport Analytics Living Learning Community at an event focused on diversity, equity, inclusion and accessibility (DEIA). "Alison was candid about her journey as a disabled woman studying in sports, and it was incredibly inspiring," he says. "She captivated the audience with her honesty, sharing her experiences in an effort to educate and inspire the first-year students. This was quintessential Alison, a young woman who is dedicated to impacting her community through her advocacy, insight and passion. To say that we're lucky to have her as part of our program would be understating her importance. She is a role model and one of the most motivated students I have worked with in over two decades in higher education."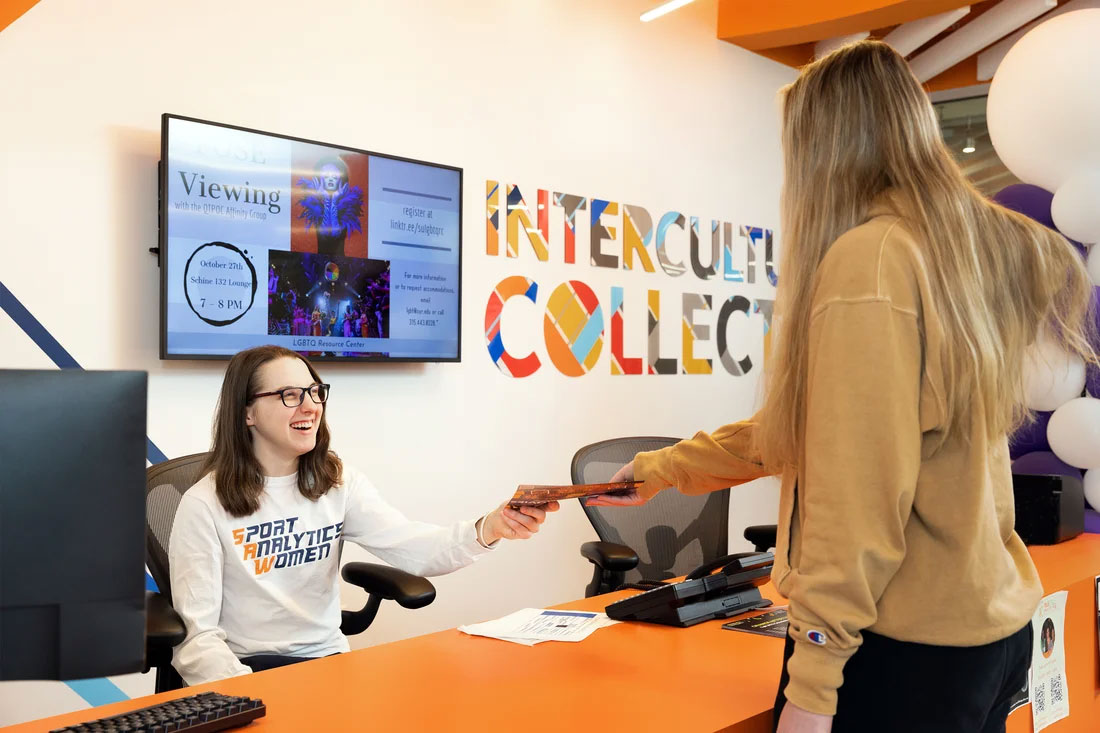 Digging into Data-Driven Performance
Right off the bat, Gilmore joined the Sport Analytics Women club and currently serves as vice president of the student organization, which conducts research and networks with women leaders in the field. She also became a member of the Baseball Statistics and Sabermetrics Club, which does research and competes in Diamond Dollars Case Competitions hosted by the Society for American Baseball Research (SABR). Her devotion to analyzing baseball stats was rewarded when she received an Anthony A. Yoseloff Foundation scholarship to attend SABR's 50th anniversary convention in August in Baltimore. Not only did she enjoy the convention and attend an Orioles' game, but she met members of the team's front office, including Sig Mejdal, vice president and assistant general manager, analytics, who shared advice with her on building her technical skills. "I learned so much and engaging with those individuals was super meaningful," she says.
That wasn't Gilmore's only valuable experience last summer. She was also the recipient of a Women in Sports Tech Inc. Fellowship, which placed her at Zoomph—a sport analytics platform that tracks sponsorship, media-value exposure and audience behavior—as a social intelligence analyst intern. The highlight of her work was analyzing social media data and engagement and content value of the 2022 NCAA Women's College World Series and publishing a blog entry on her findings. "My internship at Zoomph was a really valuable experience in terms of being able to analyze data in the sports realm," she says.
As a Berlin Scholar at Falk, Gilmore is among an elite group of students in the sport analytics program who receive scholarship and financial assistance, participate in competitions and symposiums, and conduct research with a faculty mentor. Under the guidance of Professor Rodney Paul, director of the sport analytics program, she plans to explore the effectiveness of the changing roles of pitchers in Major League Baseball. "I really look forward to engaging in the research," she says.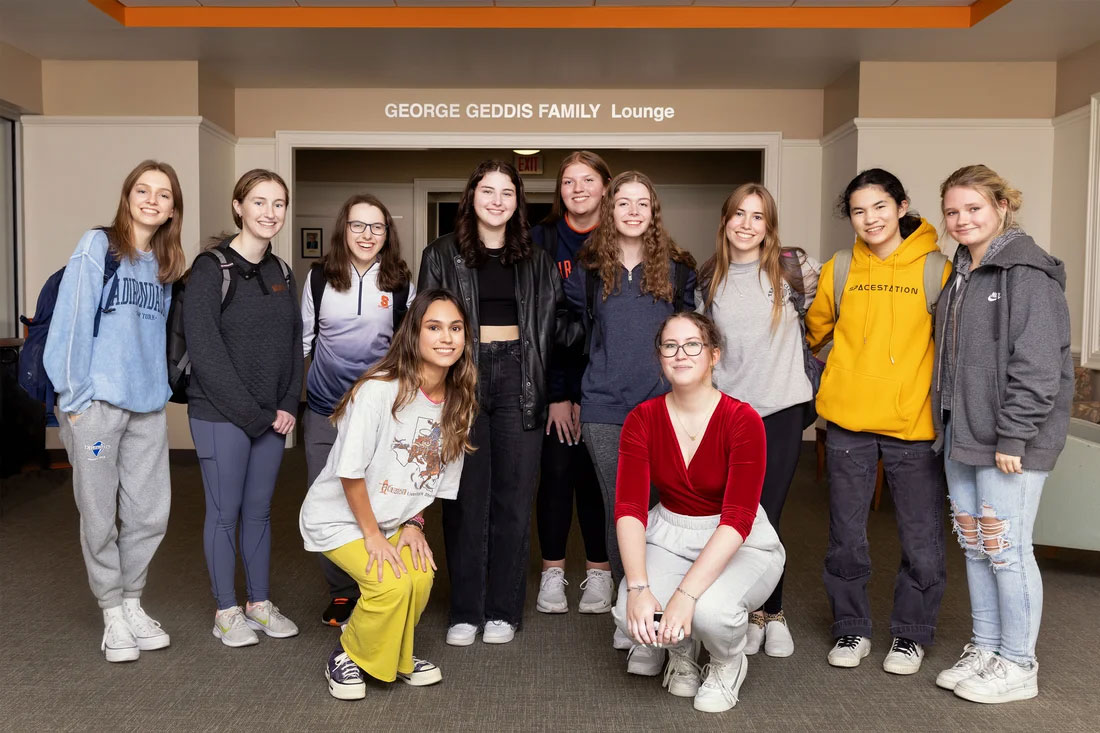 Spreading Passion and Inspiration
When Gilmore needs inspiration, she keeps in mind the work of acclaimed sportscaster Jason Benetti '05, whose broadcasts she's admired for years, long before she even knew he was a Syracuse alumnus or that they shared the same disability. Through the Falk College network, Gilmore connected with Benetti, who's now with Fox Sports. He serves as a mentor to her—his hard work, dedication and success showing her that "you can do anything if you put your mind to it," she says. "Jason is someone I greatly appreciate. His willingness to interact with me is something I truly value."
Outside of the sports world, Gilmore is passionate about making a positive impact on other students and helping them succeed, giving back for the support from faculty and staff that means so much to her. She meets prospective students as a Falk admissions ambassador and serves as a First-Year Seminar peer leader, facilitating DEIA discussions. She's been active in OrangeSeeds— the University's first-year volunteering and leadership empowerment program—as a participant, mentor and member of the executive and membership boards; and has served on the Goon Squad and as a committee member of OttoTHON, the University's dance marathon that raises funds for the Upstate Golisano Children's Hospital.
Gilmore cites her experiences at Syracuse University for helping her build leadership and public speaking skills and gain self-confidence, and she says the sport analytics program "has done wonders in preparing" her for the work she wants to pursue. "The resources at Syracuse University are just incredible and there's no shortage of opportunity," she says. "That truly means a lot to me and has had a major impact on the person that I am."