Class of 2023 Honored with School of Social Work Awards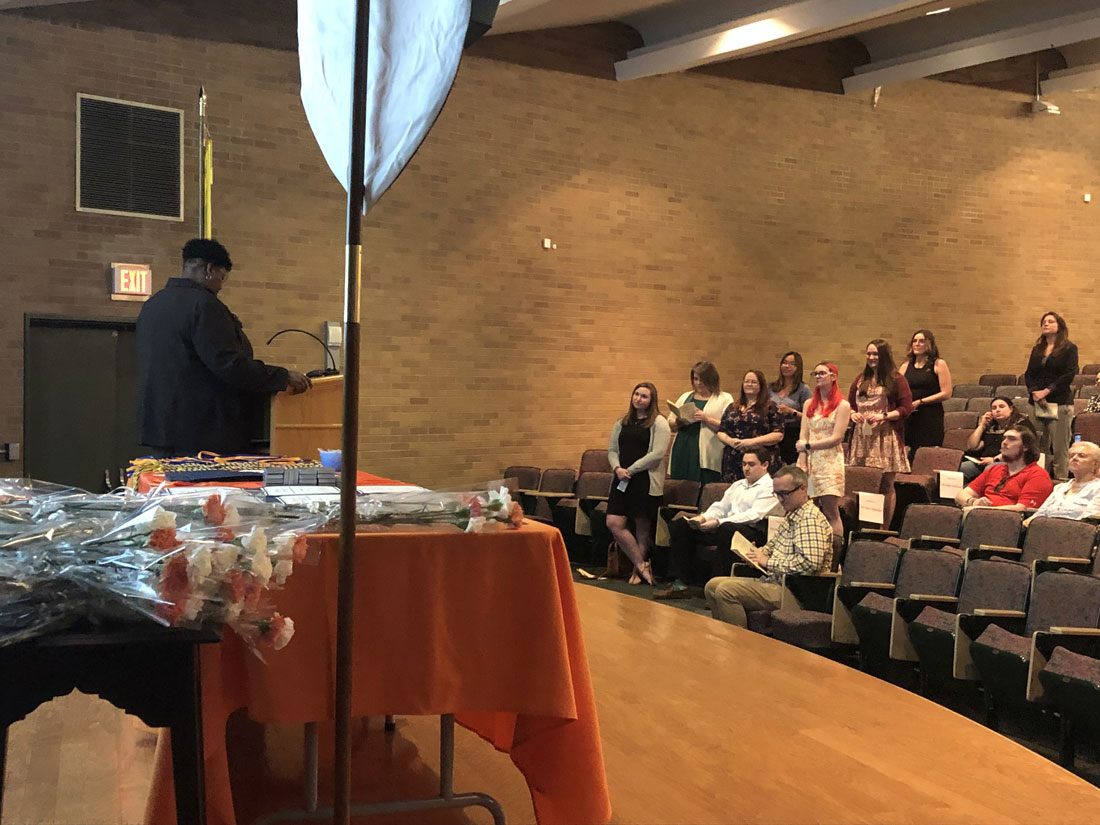 The School of Social Work in Falk College would like to recognize and congratulate its Class of 2023 undergraduate and graduate award winners! Here's a list of the winners, a description of the award, and comments about the awardees from Social Work faculty:
Keith Alford Diversity and Inclusion Award – Khin Aung and Ashley Homer
The Keith Anthony Alford Diversity and Inclusion award is named in honor of Dr. Keith Alford, formerly the Syracuse University Chief Diversity and Inclusion Officer (2018-2021), M.S.W. Program Director (2016-2018), B.S.S.W. Program Director (2008-2012), and Director of the School of Social Work (2016-2019).
Khin Aung (undergraduate)
"Khin came from a Thai refugee camp. Her native country is Myanmar (Burma), and she now lives with her family in Syracuse. Khin is doing her social work internship at Interfaith Works to gain work experience and serve the immigrant and refugee populations. Her goal is to make the best of her education and use the skills she has acquired to best serve the immigrant and refugee populations as a social worker."
Ashley Homer (graduate)
"Ashley, a native of Syracuse, is focusing on clinical practice. Ashley currently works as a social work intern at Corcoran High School in Syracuse, where she attended. Ashley intends to work in a position that will enable her to continue supporting youth who face social challenges and serve as a liaison between this population and community resources."
Elizabeth Brown Thoreck Undergraduate Student Achievement Award – Chevon Janczuk
Awarded to a non-traditional aged undergraduate student who is in good academic standing in the academic arena and field placement setting.
"Chevon is currently employed with Liberty Resources in its developmental disabilities department as a direct support professional who provides community habilitation. She is also employed with Community Action Partnership in Canastota, New York, as a housing facilitator who supports the homeless population. Her interests in the social work field are within the criminal justice system and military population. Chevon will complete her M.S.W. at Syracuse. She will intern at the Veteran Justice Outreach program in Auburn, New York, where they provide services to veterans within, and recently released from, the criminal justice system."
Bachelor of Science in Social Work Award – Alexandra Vroman
Awarded to a School of Social Work graduating senior in good academic standing who is involved in social work activities, serves the community, and makes meaningful contributions to Syracuse University.
"Alexandra has loved spending her senior year interning at Webster Elementary School and discovering her passion for school social work. After graduating with her B.S.W. and bachelor's in psychology, she will attend Syracuse University's Advanced Standing M.S.W. program and intern at SUNY Upstate's Child and Adolescent Outpatient Psychiatry Clinic. She is excited to continue her social work education and work toward clinical licensure."
Scholastic Excellence Award, Undergraduate – Emily Clapper
Awarded to the student with the highest cumulative GPA among graduating seniors.
"Emily is a current intern at Toomey Residential and Community Services, where she spends most of her time engaging with clients in the Children's Community Residence program, a residential facility for children and adolescents with significant mental and behavioral health diagnoses. Upon graduation, Emily will continue her education at the Boston College School of Social Work in their Advanced Standing Master of Social Work program with a concentration in children, youth, and families."
Catherine Mary Esposito Achievement Award – Emily Schaefer and Kallie Minarik
The Catherine Mary Esposito award is presented to outstanding undergraduate and graduate students who have demonstrated a commitment to clients with developmental disabilities and are in good academic standing, but more importantly have had success working with people with developmental disabilities.
Emily Schaefer (undergraduate)
"Emily is a social work intern at the Jowonio School, an inclusive preschool serving children of all needs. Upon graduation, Emily will continue her education at Fordham Graduate School of Social Service in their Advanced Standing Master of Social Work program. Emily is extremely passionate about creating a more inclusive environment for all children."
Kallie Minarik (graduate)
"Kallie took part in the behavioral health department for her field placement. She worked with clients individually, with families, and with groups. Kallie currently wants to work with clients and families between infant mental health and veterinary social work. She states that although this will be working with 'two completely different areas, that is the beauty of social work.'"
Rhonda B Cohen Prize in Gerontology Award – Jacob Handanyan and Peter Hernandez
The Rhonda B. Cohen Prize in Gerontology is named in honor of Rhonda Cohen, who graduated from the M.S.W. program in 1983 and passed away at a young age. She was an advocate for the elderly. The award criteria include cumulative GPA, community service, and an interest in working with older adults.
Jacob Handanyan (undergraduate)
"Jacob is currently completing his undergraduate field placement at Syracuse Jewish Family Services, working with the aging population and differently abled individuals, and conducting group and individual visits. Jake intends to continue his education at Syracuse University to complete his master's in social work."
Peter Hernandez (graduate)
"Peter's first placement was working with the elderly at an assisted living home, and his second placement was working with children with disabilities. He has worked with high-needs children and on suicide prevention with veterans. Peter is currently the Social Services Director for a nursing and rehabilitation home, and his future plans involve pursuing his L.C.S.W. and providing services to adults."
Virginia Insley Award – Andrew Carroll (graduate)
Awarded to an outstanding Social Work M.S.W. Health Care Concentration student who is interested in maternal and child health.
"Andrew is currently interning at the Upstate Child and Adolescent Psychiatry Clinic. This pertains to his interest and goals and has been very helpful in cultivating an enriching learning environment that he intends to use in clinical practice going forward. Andrew has found this to be an invaluable experience and plans to apply the plethora of knowledge he has gained to his future work, always striving to identify and implement unique treatment modalities to best meet the unique needs of his clients."
Carrie Jefferson Smith Social Justice Award – Kathryn Scully (graduate)
Awarded to a student who has demonstrated a commitment to social justice, particularly in improving the lives of victims impacted by the continuum of domestic violence.
"Kathryn is currently interning at Elmcrest Family Transitions (EFT), a program that is a specialized sexual abuse service. Kathryn works with youth in the community who have a history of problematic sexual behaviors and those who have been victims themselves. She recently interviewed for a full-time position at EFT, where she hopes to begin working after graduation."
Mary Pat Cotter Remembrance Award – Malika Nobles (second-year graduate student)
Awarded to a School of Social Work graduate student for contributions to substance abuse and HIV/AIDS.
"Malika works at ACR Health, where she has held many different positions working with high-risk individuals with infectious diseases such as HIV/HCV. She currently interns at Credo Community Center in Watertown, New York, where they provide outpatient treatment services for individuals struggling with addiction. Credo's mission, values, and philosophy on client-centered care spoke volumes to Malika and resonates with the type of social worker she hopes to become. Malika would like to one day open her own women's safe haven, a nonprofit organization that epitomizes the lessons and experiences that both ACR Health and Credo Community Center have provided."
Kenneth J. Marfilius Student Veteran Award – Jazmin C. Avila and Robert Ryan
The Kenneth J. Marfilius Student Veteran Award is presented to a graduate student in good academic standing who is a military veteran. The award is based on grade-point average, community involvement, and contributions to Syracuse University contributions.
Jazmin C. Avila (undergraduate)
"Jazmin completed her field placement at a therapeutic crisis response program that worked with youth who did not meet the criteria for inpatient but needed additional support navigating anxiety, depression, and other mental health concerns. Jazmin is an U.S. Army veteran hoping to work with adolescents who have experienced trauma, more specifically youth that are victims/survivors of sex trafficking."
Robert Ryan (graduate)
"Robert is a U.S. Coast Guard Auxiliarist and U.S. Marine Corps veteran, and he is completing his M.S.W. internship at Confidential Help for Alcohol and Drugs (C.H.A.D.). He is president of Social Workers United, a member of the Student Veterans Organization, and a member of the University's Diversity Committee. Robert is employed as the Cayuga County Democratic Deputy Elections Commissioner, and has future goals of becoming an L.C.S.W., earning a doctorate, and working in higher education."
Interested in a career in social work? Visit the School of Social Work to learn more about its academic programs, experiential learning, and career opportunities.