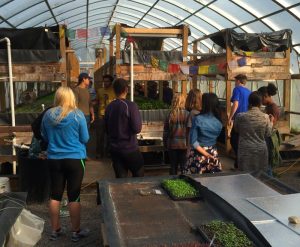 Senior food studies major Sierra Endreny '20 plans to take her career path in many different directions. "I am passionate about the environment, social justice, health, and food. The food studies program allows me to combine all my interests, and also gives me a broad array of skills and experience when looking for prospective employment," she says.
As part of her food studies program, Endreny took the Climate Change in the Food System course with professor Rich Welsh, Ph.D. "I wanted to learn more about climate change on a scientific level and how it affects the food system," she says. "I hope to incorporate environmentalism into my work and this course gave me the tools to do that."
Professor Welsh is an expert on food and agricultural policy, technological change in agriculture, and the livestock industry. "The course helps students understand the substance and history of climate change research and the scientific consensus that human activities are the primary source of greenhouse gas emissions and global warming," he says. "In addition, there is substantial material on how global warming will impact food production and food security; and, how agriculture can adapt to a changing climate and mitigate global warming."
Through the course, students are exposed to a wide variety of topics and issues, from climate-smart agriculture to technological innovations to address climate related-issues in the food sector. "My biggest takeaway was the methods that are used to mitigate and adapt to climate change. I didn't know that urban gardens could sequester carbon in the atmosphere and lower surface temperatures, while also feeding people and providing community," says Endreny.
"The issues presented in this course affect all of us," she adds. "No matter what career path I take, the knowledge from this course will stay with me throughout my life because climate change and food affect everything."