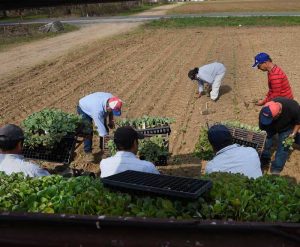 The following is based on a commentary published on Apr 06, 2020 by Syracuse.com submitted by faculty and staff of the Department of Nutrition and Food Studies at Syracuse University: Anne Bellows, Rick Welsh, Evan Weissman, Mary Kiernan, Lynn Brann, Kay Stearns Bruening, Nichole Marie Beckwith, Chaya Charles, Elissa Johnson, Laura-Anne Minkoff-Zern, Tanya Horacek, Sudha Raj, Jessica L. Garay, Nancy Rindfuss, Jane Uzcategui, Margaret Voss and Jennifer Wilkins.
The faculty of the Department of Nutrition and Food Studies recently submitted a commentary to The Post Stanard showing how the COVID-19 pandemic lays bare important contradictions within the modern food system. Faculty expounded how critical the food system is, with its workers, managers, business owners, and firms. However, the inequalities in the system have become apparent during this crisis: Workers in the food system are precarious, lack adequate pay and health benefits, and yet are asked to take risks to ensure food is available so we all can eat.
Professor Mary Kiernan asked her students in a sustainable food business course: "How do you think the COVID-19 pandemic will change the supply chain in food and foodservice purchasing in the future?" To answer this question her students needed to examine the entire food system including, agricultural production, cross-border food networks, labor relations and rights, immigration policies, food manufacturing and distribution, and nutrition science and education. We take the food system for granted as we shop, prepare our meals or purchase our food. This might change after the pandemic eases.
Understanding how the crisis affects the food system begins by looking into the vast U.S. farm system, from industrial-scale farms to many small- and medium-sized family farms. These farms rely on workers from other countries, largely from Mexico and Central America. These workers, as well as those who prepare our food and stock the shelves, drive and load and unload the trucks etc., are continuing to work and put themselves, and family members, at-risk.
The Department of Nutrition and Food Studies has always appreciated the important role of the food system and all who make it function so well; and, they hope that the current emergency situation will highlight how important this system is to our elected officials, policy-makers and to the public in general.