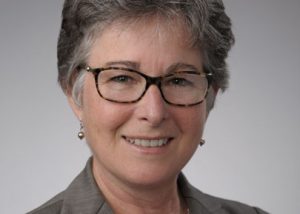 At the Academy of Nutrition and Dietetics Food and Nutrition Expo, Daina Falk Endowed Professor of Nutrition, Jennifer Wilkins, Ph.D., R.D., attended a presentation that prompted her to take action with exciting implications for Syracuse University students.
Presented by the chair of the nominating committee for the Society for Nutrition Education and Behavior, the presentation, "Cooking Skills: This Missing Ingredient in Health Eating?" focused on how food and cooking skills can be empowering, and the important role a food systems approach plays in health and dietary change. Of the presentation, Wilkins notes, "the presenter gave a clear call to action to professionals to become involved to create meaningful food system and policy change."
And so, Wilkins ran for—and was recently elected—vice president of the Society for Nutrition Education and Behavior (SNEB). Her three-year term will guide the organization's mission to promote effective nutrition education and healthy behavior through research, policy and practice. This role may offer exciting opportunities for students to get involved as well. "I can foresee a strategy for engaging nutrition and food studies students in ideas for program content and modes of program delivery. Engaging students as session organizers and speakers could be another way to provide exciting leadership opportunities and professional experience," says Wilkins.
Outside of her new leadership role in SNEB, key projects Wilkins is currently involved in include a master's project focused on revisions to the Thrifty Food Plan to include a sustainability criteria and analyzed to assess impact on price of the market basket and availability of specific foods in it. She is currently working on a nutritional analysis of the first regional food guide in the United States, the Northeast Regional Food Guide (now updated as MyPlate Northeast) that she created. This guide promotes healthy eating, sustainability, and local food systems. She continues development of a transdisciplinary approach to recommendations for animal food intake based on a maximization of the services farm animals can provide in an integrated farming system.
Dr. Wilkins joined Falk College in 2014 from the Division of Nutritional Sciences at Cornell University where she remains a visiting professor scholar. Her applied research includes: consumer and food system implications of regional dietary guidance.