Falk Graduate 'Tobi' Joshuasville Working His Way to Top of Sports Industry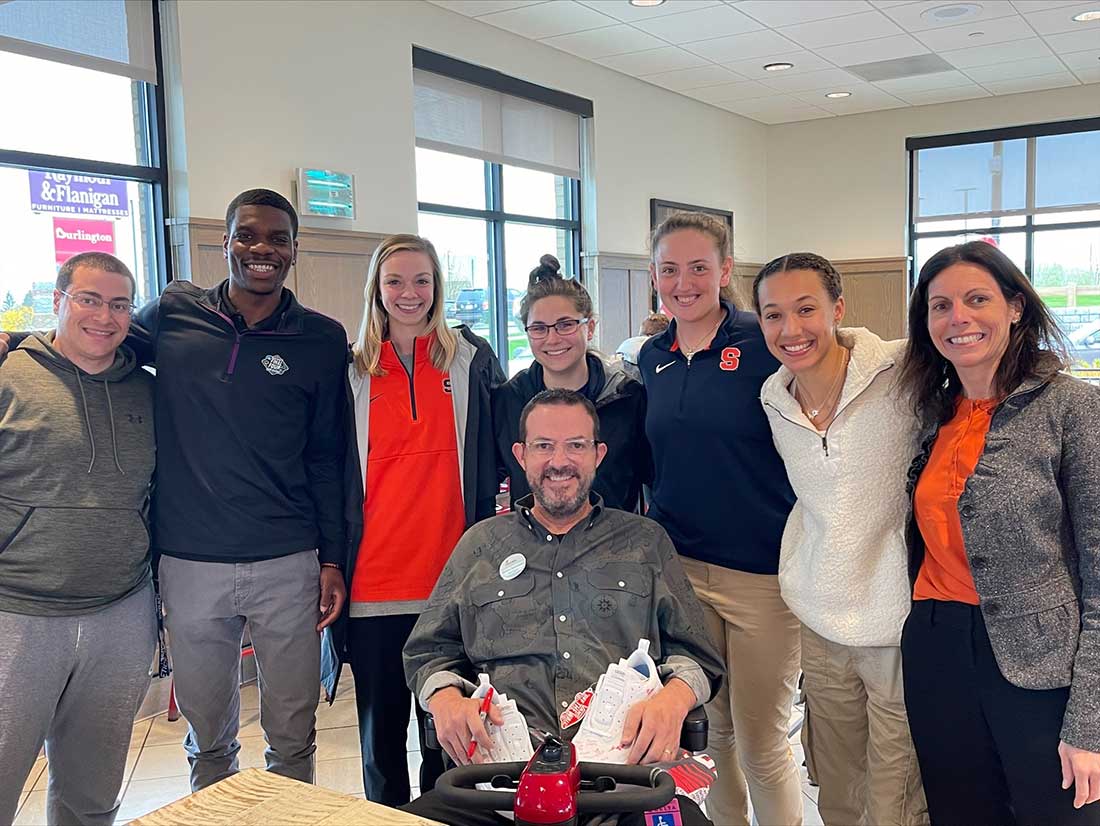 When Oluwatobiloba "Tobi" Joshuasville was in sixth grade, he didn't tell his mother about a school dance because he was shy about mingling with his classmates.
But his mother, Bolanle Onikosi, found out about the dance from Joshuasville's younger brother and persuaded Tobi to go.
"When I asked him, he said he didn't want to bother me about the money (for the dance), but no, he just didn't want to mingle," Onikosi says, laughing. "When he came back, he was really excited. Being sociable was something he picked up because he wasn't that kind of kid."
Indeed, that would be the last time Joshuasville would need a push into anything. As he grew older, there wasn't an internship he wouldn't apply for, an opportunity to help others he wouldn't take on, or a challenge to improve his skills that he wouldn't accept.
At times working and going to school 22 hours a day, Joshuasville realized his dream of attending Syracuse University as a graduate student in the Sport Venue and Event Management (SVEM) program in Falk College. He graduated from Syracuse this past spring and is now a postgraduate intern with the NCAA, an extension of a spring internship when he worked for the NCAA's men's basketball championship staff.
In that role, one of Joshuasville's many duties was handing the 2022 championship trophy to University of Kansas coach Bill Self. That presentation ended the NCAA Tournament, which is also known as the "Big Dance."
When it comes to dances, Joshuasville has come a long way.
"My idol is (basketball legend) Kobe Bryant, and even if he knew something was going to be difficult, he was going to find a way to see it through and make sure it came out in his favor, no matter what," Joshuasville says. "That's something I take into account when I do anything.
"If I'm supposed to be at work at 8 o'clock, I'm coming at least 15 minutes early. I'm doing things that probably nobody else wants to do. If I can't sleep, I can't sleep, I'll find some time to sleep later on," he adds. "If you want to be successful, you have to sacrifice some things and that's what I've learned."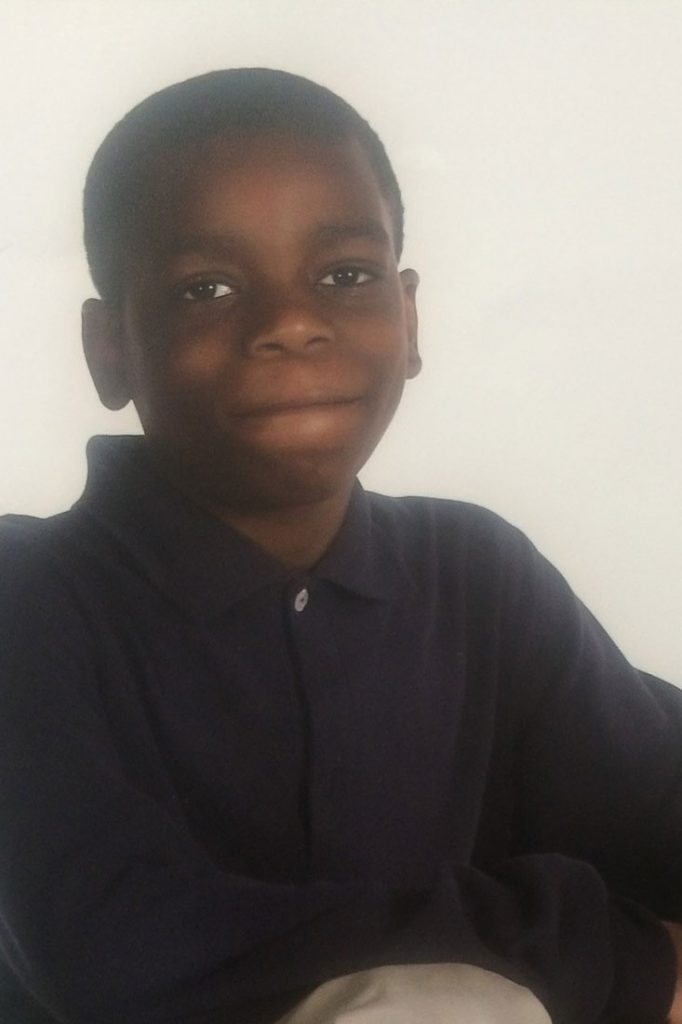 'Make Her Smile'
Joshuasville learned about sacrifice from his mother, who moved her family from Lagos, Nigeria, to the United States for "better pastures" when Joshuasville was 18 months old and Onikosi was pregnant with her second of three boys. They initially moved to Queens in New York City before settling outside of Philadelphia in Upper Darby, Pennsylvania, where Onikosi found a job as a bank teller and worked other jobs to help make ends meet (she now works in risk management for WSFS Bank).
"I made an investment in myself going to school and I want to make sure that it pays off because my mom sacrificed so much and put so many things on the line for me," Joshuasville says. "I want to be successful and continue to make her smile."
Joshuasville is a huge basketball fan and watching Syracuse University's run to the 2016 Final Four cemented the Orange as his favorite team. He wanted to attend Syracuse following high school, but his grades weren't strong enough, so he enrolled at Delaware County Community College in Media, Pennsylvania.
From there, he transferred to Rosemont College in nearby Rosemont, Pennsylvania, in large part because a friend who was playing basketball at Rosemont encouraged Joshuasville to try out for the team. Joshuasville had been cut from his high school team for four years and didn't make the team at Rosemont on his first try, but in a sign of what was to come for him at Rosemont he became the team's first-ever walk-on player in his second year at the school.
In the fall of 2018, Joshuasville was taking a sport management class taught by Professor Christine Hagedorn, who made her students aware of an internship that was available in the Rosemont athletic department. Joshuasville says his "eyes lit up" and he eagerly volunteered for the internship because he wanted to find out if a career in sports was for him.
It was.
'Let Me Try That'
With Hagedorn as his advisor, Joshuasville continued to learn about other internships and eventually landed his next one with the Villanova University athletic department from August through December 2019. And in January 2020, he was one of about 400 students–out of thousands of applicants–who were selected to participate in the NCAA Division III Student Immersion Program for minority student-athletes in Anaheim, California.
Next to his mother, Joshuasville says Hagedorn has been the biggest influence in his life. He sat in her office for hours and asked questions as they brainstormed any opportunity–from volunteering to internships to fellowships–that would put Joshuasville in a position to gain skills and knowledge.
"I offer these opportunities to every student in the class, but he's the one that always said yes, let me try that," Hagedorn says. "Tobi applied for things that were real stretches, but what's the worst that can happen? They can say no, but enough people said yes."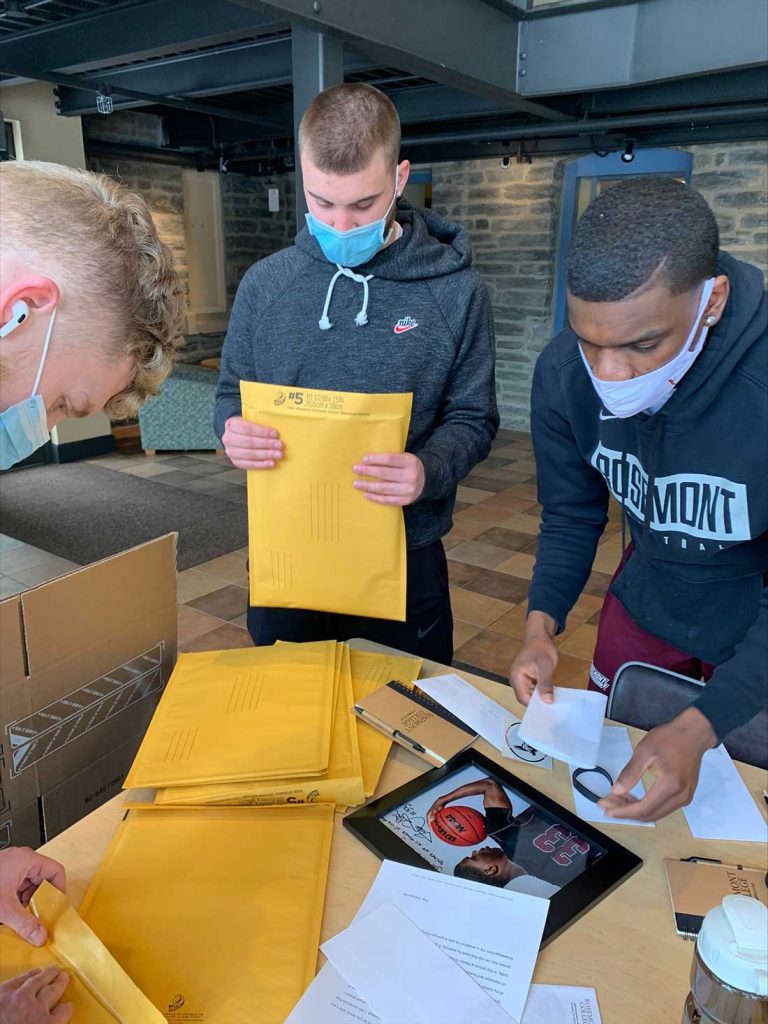 While he was interning at Villanova from 5 a.m. to noon, Joshuasville was a full-time student working toward his sport management degree, playing on the basketball team, and working at Insomnia Cookies until 1 or 2 a.m. every day. He says there were nights he wouldn't sleep at all, or sleep in a chair so he wouldn't fall into a deep sleep.
Through it all, Joshuasville found time to create what he called "Operation Smile" to benefit cancer patients at Children's Hospital of Philadelphia. The mission, he says, was to make the children smile by collecting hand-written notes of encouragement from current and former Rosemont basketball players; deliver stickers, water bottles and other souvenirs from Rosemont to the children; and raise money for the hospital. Joshuasville did his part by raising $1,000 through the sale of his sneakers ("I'm a big sneaker guy," he says).
Not surprisingly, Joshuasville was awarded the 2021 Patti K. McClatchy Award that is presented to the Rosemont student who shows the upmost spirit and courage.
"Tobi's not trying to do things for himself to be great at something. Everything he does he's trying to do to help people along the way," Hagedorn says. "Sports is a vehicle for which he can do what his heart is being called to do, which is to be of service and bring smiles and ease suffering for others because that's what's really important to him."
'Hysterically Happy'
On a snowy day in the winter of 2021, Joshuasville called Hagedorn to see if she was in her office, but she was heading to a meeting across campus. As she went outside, Hagedorn spotted Joshuasville racing through the snow in shorts and a T-shirt, waving his phone.
He had applied to Syracuse University for graduate school and the emailed answer was on his phone, but he was too nervous to open it. He handed the phone to Hagedorn, who read the email and told Joshuasville he had been accepted. They both started crying tears of joy, and Joshuasville called his mother.
"The day he got admitted to Syracuse was the happiest day of his life," Onikosi says. "Oh my gosh, the phone call was like, 'Mom, you won't believe it.' He couldn't speak he was so excited and shaking. I've never seen him that hysterically happy."
As he had done at Rosemont, Joshuasville made the most of his year at Syracuse. Although he would later fulfill his practicum requirement with the NCAA in the spring, Joshuasville spent a great deal of his time at Syracuse working for the athletic department as an athletic facilities and event operations graduate intern.
In that role, Joshuasville assisted the planning of the ACC Field Hockey Championship and College Hockey America Championship, and was involved in game management for field hockey, tennis, men's soccer, and men's lacrosse.
"From day one, Tobi has been an active participant in the SVEM program," says Jeff Pauline, an associate professor of sport management who served as director of the SVEM master's program from 2016 until recently. "He has a passion for working in the sport industry and this is very apparent as he seeks out internships and in his work ethic."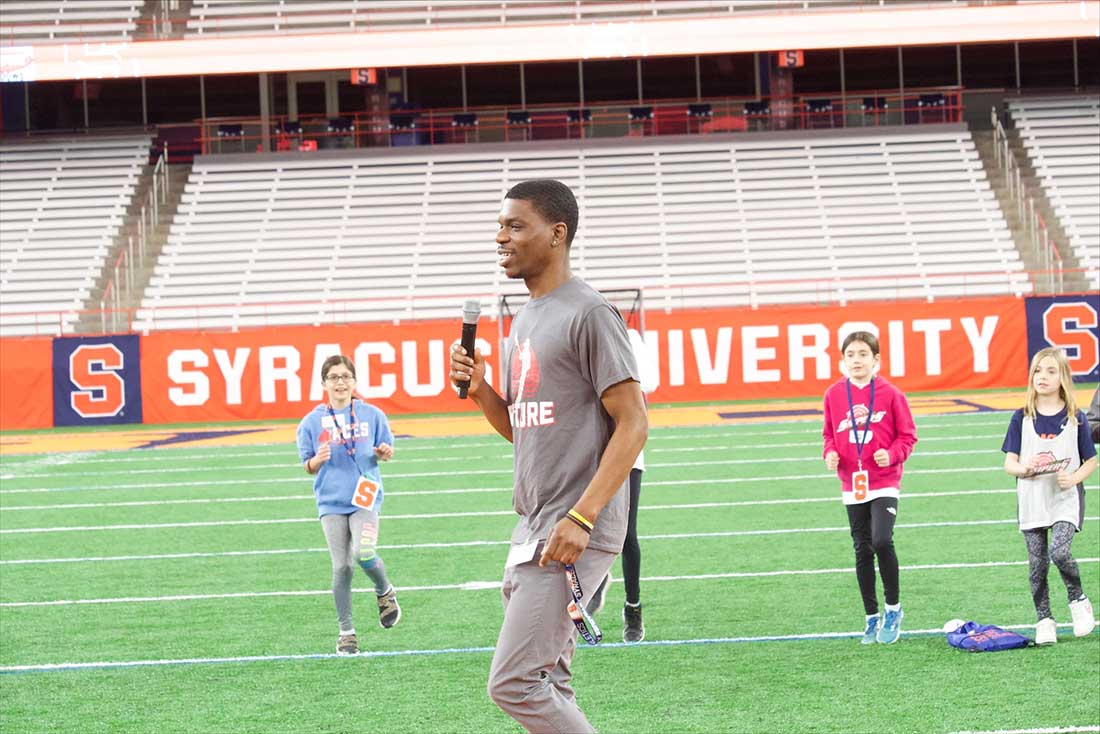 As part of SVEM program, the graduate students are required to organize a charity event and this past spring they hosted the "Future's Lax Bash" at the JMA Wireless Dome. More than 100 female youth lacrosse players from local clubs participated in activities on the Dome turf and the event raised $5,000 to benefit Tackle ALS, an organization dedicated to finding a cure for the neuromuscular disease Amyotrophic Lateral Sclerosis (ALS), commonly known as Lou Gehrig's disease.
The students chose that charity because of the University's relationship with local businessman Jimmer Szatkowski, who owns two Chick-fil-A restaurants in the Syracuse area and is an ardent supporter of Syracuse women's lacrosse. Knowing Szatkowski likes Vans sneakers, the students purchased a pair of white Vans for him and asked all the young lacrosse players and their parents to sign their names in red "so it looked like a Chick-fil-A sneaker," Joshuasville says.
"I feel like you should always have time to do something for someone else," Joshuasville says. "I know how I grew up with people actually believing in me, and I think why not give that belief, that faith, to other people."
'Stay Determined and Stay Motivated'
In December 2021, Joshuasville learned he had received the NCAA internship that he had applied for in September. And in late March, he flew to New Orleans in advance of the Final Four and assisted with a variety of events, including tours and meetings for future Final Four hosts, basketball committee alumni meetings, basketball committee family hospitality events, and the championship trophy presentation.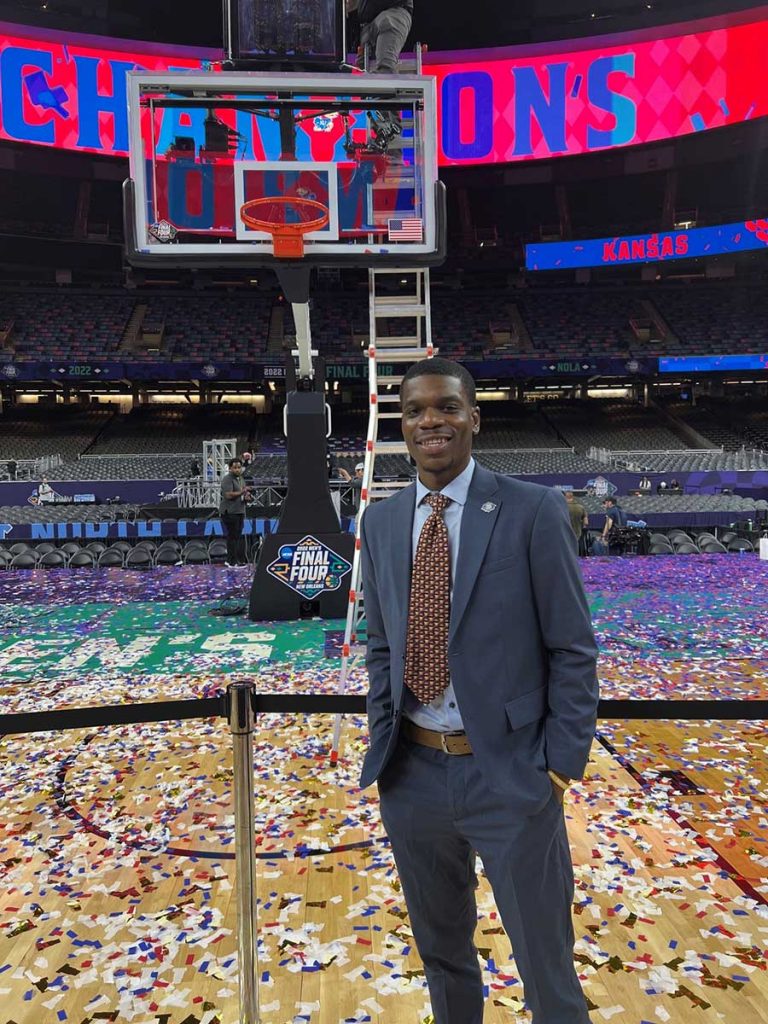 As a postgraduate intern for the NCAA, Joshuasville is now working from the national office in Indianapolis, Indiana, where his next projects include the 2024 Final Four logo launch in Phoenix later this year and a Final Four student-athlete family brunch that the NCAA will host at the 2023 Final Four in Houston.
While he's in Indiana, Joshuasville is hoping to land a job with the NBA to get a feel for what it's like to work for a professional team. He intends to go back to school to get a sports law degree and to help realize his ultimate dream of working for Kobe Bryant's former team, the Los Angeles Lakers, Joshuasville is planning to take an NCAA professional development trip to Los Angeles before his internship ends.
And in the little spare time he might have, Joshuasville is continuing a podcast he started in July 2020 amid the pandemic and social unrest following the murder of George Floyd. He calls the podcast Kicking it with Tob.
"I saw that people were on edge, and I wanted to speak on how everyone should keep a positive mindset, stay determined, and stay motivated," Joshuasville says. "Bad things are only temporary; you need to stay strong and fight through it."
Clearly, Joshuasville has practiced what he preaches. Through his positive attitude and determination, he has worked himself into the center of the dance floor of life.
"He is a good son, a good brother, a good friend," says his mother, Onikosi. "He's really worked so hard to get where he is today, and I hope and pray he's able to live a good life and achieve his dreams."