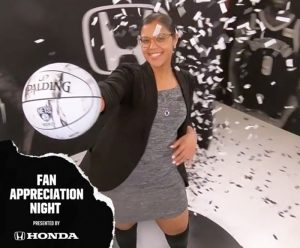 Completing my senior Capstone in the community relations department with the Brooklyn Nets during the spring 2018 semester allowed me to combine my passion for sports, children, and education, as well as give back to my hometown of Brooklyn. This community has played a vital role in shaping me into the woman I am today. The internship has been a blessing, and working in the community was one of the most fulfilling aspects of the experience.
During the Capstone, I participated in countless events, including Brooklyn Nets games, community events, and basketball academy clinics. These events included current players such as D'Angelo Russell and Spencer Dinwiddie, and Nets' legend Albert King. My favorite events were the basketball clinics we hosted at local community centers and schools.
My experience with the Brooklyn Nets taught me that I must take on a career path that will allow me to positively make an impact on other's lives. It showed me there are countless ways to do this, and no impact is too small. I was fortunate to sit in on planning sessions, take the lead on projects, and was even asked to assist post-Capstone with summer events/initiatives.
I am proud to say that I have accepted a full-time position with the New York Mets' Inside Sales Department. I will still assist the Brooklyn Nets when time allows, and have submitted a proposal of an event the Nets' organization is working toward activating next season.