Food Studies Graduate Students Getting Their Hands Dirty at 'Living Agroecological Lab'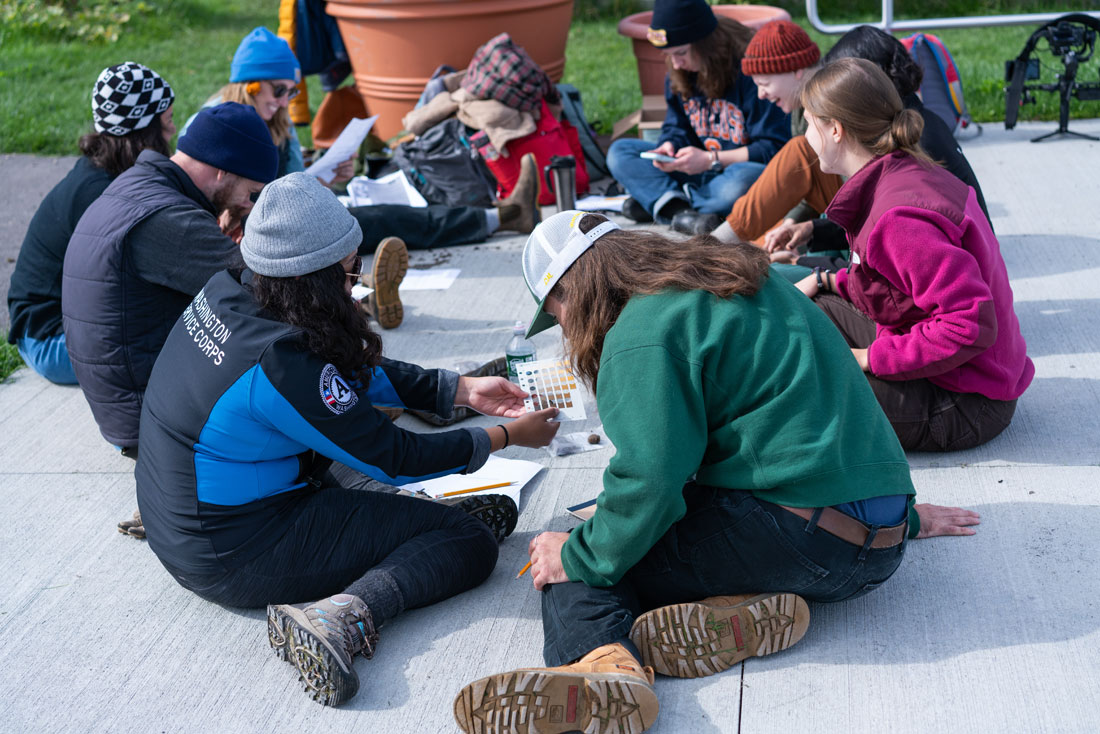 On a cool but sunny early October morning on Syracuse University's South Campus, eight graduate students from the Food Studies program at Falk College sit in a circle at Pete's Giving Garden and talk dirt.
No, not gossip about their professor, Estelí Jiménez-Soto. Actually, she's right there with them, sharing her thoughts occasionally but mostly listening as student Michelle Tynan leads a discussion about their understanding of soil, why soil composition matters, and even if they've considered the type of soil that surrounds their homes or apartments.
Eventually, the students split into two groups and collected soil samples from the garden, the lawn, and the bordering forest. Literally getting their hands dirty, the students compared the properties of soils and applied what they had learned about agroecological practices to what they observed and measured that day.
Welcome to the graduate-level agroecology course, where students "discuss soil, food sovereignty and regenerative agriculture, and learn how agricultural systems can be designed in a way that meets ecological and social sustainability goals," says Jiménez-Soto, an assistant professor in the Department of Nutrition and Food Studies at Falk.
And what did the students find in the soil in and around Pete's Giving Garden?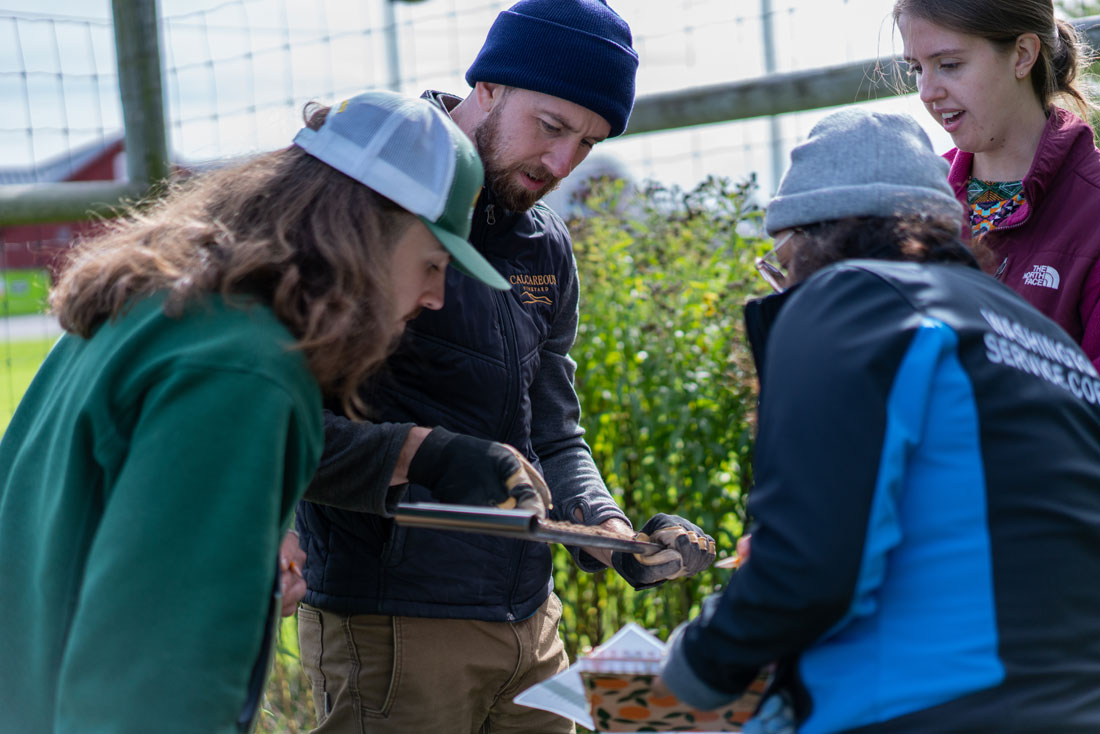 "We found many more microarthropods (small invertebrates that act as decomposers) in the forest soil than we did in any other sample," Tynan says. "The forest soil was much darker, indicating a higher level of organic matter. Agroecological theory teaches us to learn from natural processes–like how soil is generated and how nutrients are cycled in a forest–and apply this to agricultural systems like a farm or garden."
For the agroecology students, Pete's Giving Garden provides an ideal space to test the concepts they learn in class. The garden is also the epicenter of a series of collaborations across the Syracuse University campus that involve Falk and the Food Studies program.
For example, two of the agroecology students–Gabriel Smith and April Lopez–work on issues involving food insecurity on campus as the garden has provided more than 600 pounds of produce for the Hendricks Chapel food pantries. Smith is the manager at Pete's Giving Garden, and he and Food Studies graduate student Ethan Tyo appeared in a recent Spectrum News story about how the garden is bringing national attention to Indigenous agriculture.
"The work of these students highlights the tremendous importance of food access and gardens for our campus community," Jiménez-Soto says. "These gardens are hotspots of biodiversity and are so important as we address climate change, biodiversity loss, and food insecurity."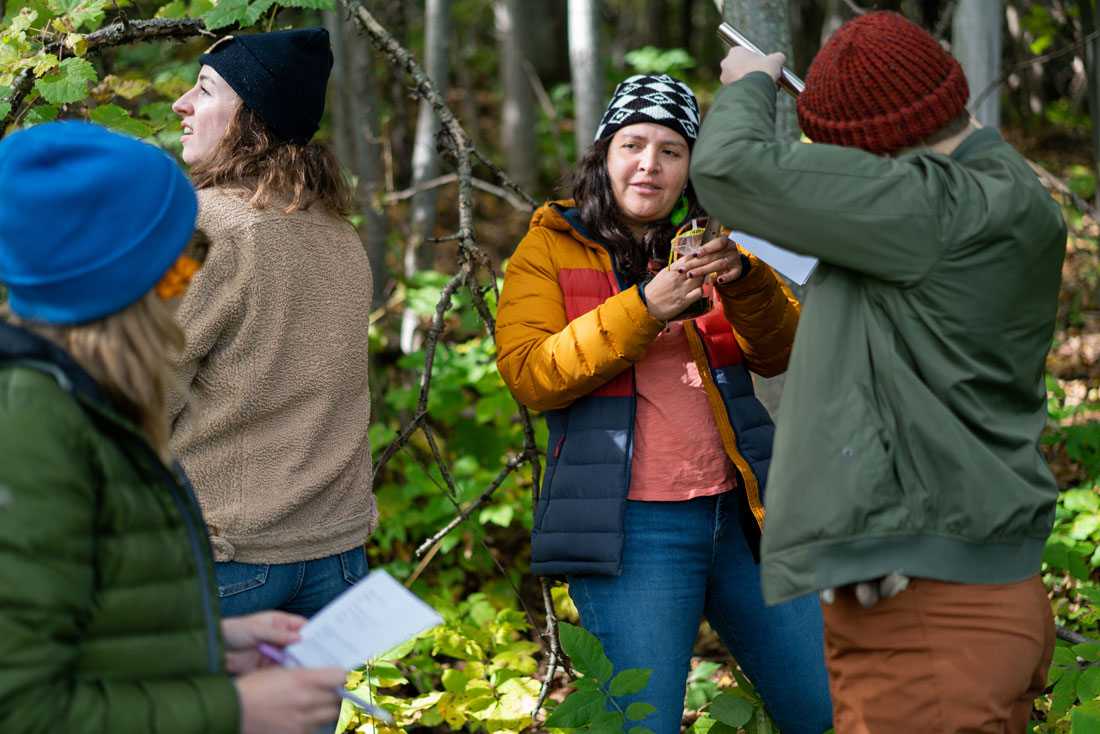 Led by Pete's Giving Garden faculty representative Chaya Lee Charles, Falk's Nutrition and Food Studies Department also partners with the University's Office of Sustainability Management, which oversees day-to-day operations of the garden and helped facilitate the agroecology lab for the Falk students.
"This is the first class from Falk that has really imbedded– yes, pun intended–the garden and Sustainability Management with students who are getting their hands in the dirt and using the garden as it was intended to be used as – a campus lab," says Melissa Cadwell, the University's sustainability coordinator.
"I hope that collaborations between Nutrition and Food Studies, Sustainability Management, and the Hendricks Chapel Food Pantry help reduce the stigma around asking for help," Lopez says. "Students deserve a space that enables them to acquire food in a dignified way."
To learn more about the agroecology class, we talked to three students: Michelle Tynan G'23, who's from Olympia, Washington, and received her undergraduate degree in environmental studies from Lewis & Clark College in Portland, Oregon, in 2012; April Lopez G'23, a graduate assistant from Bridgeport, Washington, who received her undergraduate degree in business administration and communication studies from Gonzaga University in Spokane, Washington, in 2019; and Ryan Fitzgerald G'23, who's from Sandy Hook, Connecticut, and received his undergraduate dual degree in biology and anthropology from SUNY Oswego in 2019. Here's that discussion:
Q: Why are you taking the class and what are you learning in it?
Tynan: Agroecology is more than just the meeting of ecology and agriculture; it's a theory of interconnectedness between living beings and a systems approach to understanding our surroundings. Our readings go beyond how to amend soil and grow healthy plants; they show us that it's not possible to separate agriculture from social, economic, or political forces. It teaches us a "farmer first" approach–treating farmers as scientists with deep knowledge of their land and practices.
Much of the modern history of Western agriculture has been marred by the green revolution, corporate capture of the food system, and creating generations of agronomists who believe that short-term solutions (like pesticides, synthetic fertilizers, and fossil fuel reliant machinery) will solve problems like global hunger. Agroecology teaches us to zoom out and learn from ancestral knowledge of agricultural communities around the world.
Lopez: As someone with a limited ecology background, I was drawn to this course to gain a deeper understanding of the ecological foundation necessary to the study of agroecology. Drawing from my background in agricultural labor and my cultural roots has facilitated my understanding of agroecology and many of the sociopolitical topics (such as the conservation of traditional knowledge and Indigenous agrarian culture) that we discuss in class have resonated with my own experiences.
Fitzgerald: In our agroecology seminar we are learning the science, theory, and practice of integrating ecological systems thinking with agricultural environments, as well as ways in which industrial agriculture limits our vision of an affective, reciprocal agriculture (an agriculture that cares for people the same way that people care for it).
I'm taking the class because work on my thesis is undergirded by agroecological principles, but also because I want to familiarize myself with the topic more generally. I love gardening but I'm still a novice; the coursework and discussion is helpful for coloring my thumb green.
Q: What are you learning at Pete's Giving Garden that you can't learn in the classroom?
Lopez: Many classes in the Food Studies program tend to be theoretical, so they never require leaving the classroom. With a course like agroecology–a multi-pronged discipline that emphasizes the importance of Praxis–it's important to have spaces where we can apply the concepts we are learning. Pete's Giving Garden is a space that allows for a local and accessible understanding of agroecology.
Fitzgerald: Having the garden available to the class brings everything down to earth, literally. You can't learn what soil smells like, how to plant onions, or the texture of the earth in a sterile lecture hall. You wouldn't go to a doctor who has never seen a patient and only read the textbooks! Same with gardeners. There's a reason they say never trust a skinny chef.
Tynan: Without a garden, we would not have access to a living agroecological lab. We can apply what we are reading about to what we can see, feel, and measure in the garden. For example, we learned how soils are healthier when there is a high level of species biodiversity present. We can then go to the garden and compare the soil in places where there is little species biodiversity to areas of the garden that have lots of different plants growing.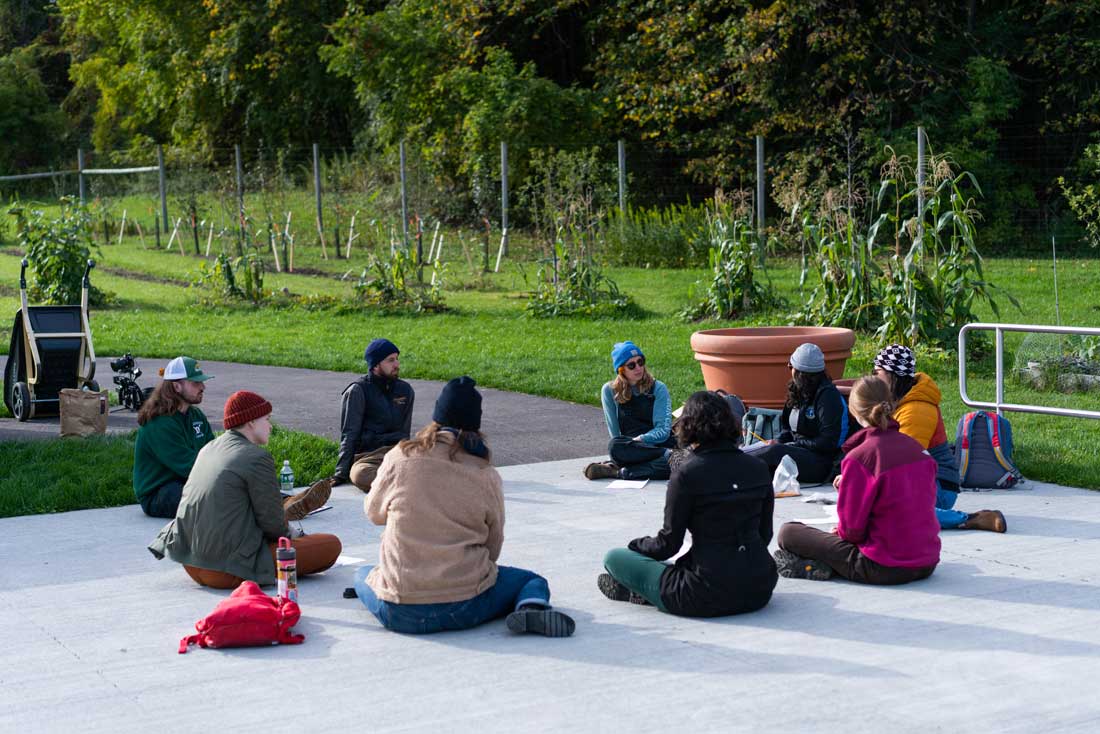 Q: Why is this topic–and by extension this class–important to you and your future career?
Fitzgerald: I hope to work in urban and community agriculture for a while in Syracuse. There is such a rich tradition of home gardens in this city, and I want to be part of a team that provides space for people to exert some agency in the food system instead of being dependent on massive supply chains and subject to the arbitrary, reactionary whims of a global marketplace. This class and its related topics touch on the need to have a robust, community-oriented food system that is environmentally and culturally attentive in its agrobiodiversity.
Tynan: I have experienced the dairy industry from many sides and feel strongly that dairy farmers and farmworkers deserve our utmost respect and support. I am currently on a multi-institution, USDA grant-funded project called "Coast-Cow-Consumer" that focuses on the benefits of feeding seaweed to dairy cattle to reduce their methane emissions. My role on the project, along with (Falk Family Endowed) Professor Rick Welsh, is to connect the seaweed, greenhouse gas, and animal science occurring within the project to the reality of the dairy industry.
We use a "farmer-first" methodology, interviewing farmers and dairy nutritionists about why they do or do not feed seaweeds, what benefits they observe, and what would help them implement seaweed supplements on a regular basis. Agroecology teaches us that excluding farmers from agricultural studies is a mistake and misses out on cocreation and sharing of knowledge–a core tenet of agroecology–as well as opportunities to approach agricultural issues from a socio-economic viewpoint.
My goal after graduating is to find meaningful work that improves rural livelihoods, including farmers, farmworkers, livestock, and the surrounding ecosystems.
Lopez: Food studies, despite sounding incredibly narrow, is a broad discipline. I was interested in food studies primarily to do work related to labor and food security, but I believe for me to approach a career in food I should look at the whole system. Agroecology's principles are fundamental to developing systems-thinking that will inform how I practice food justice going forward.
Q: What would you say to prospective Nutrition and Food Studies graduate students about taking this class?
Tynan: This is a foundational course for reframing our understanding of agriculture. It is not possible to fully understand our food system without learning how food is grown, and how it can be produced more equitably. I also think the opportunities this class has provided for hands-on learning are unique. Most of our other core courses are reading and writing heavy and provide a strong foundation for food studies, but this class gets us outdoors and out of the campus community. Visiting farms and learning from farmers about issues they face and visiting the Syracuse garden and getting our hands dirty provides opportunities to engage with the material in an embodied way.
Lopez: As people, we play a major role in our food system. We are not separate from the system and as participants, the more we know, the more appropriate actions we can take in improving and sustaining our food system. Prospective students interested in learning more about the food system broadly should take a course like agroecology to gain a more holistic understanding.
Fitzgerald: It's a great crowd of people, and it really demystifies deeply embedded conceptions of the food system. In this program, you learn to "stay with the trouble," as Donna Haraway puts it (said like a true academic!). As for the agroecology class, get your hands dirty, but also be prepared to say that gardening isn't for you. Just because you might hate dirt, or laboring in the hot sun, or bugs, or worms, or waiting months for harvest, doesn't mean that you will be disconnected from these beings or systems. If that revelation comes to you, there's plenty of space in the food system to accommodate you.