Falk alumna advocates for equity through beauty, culture writing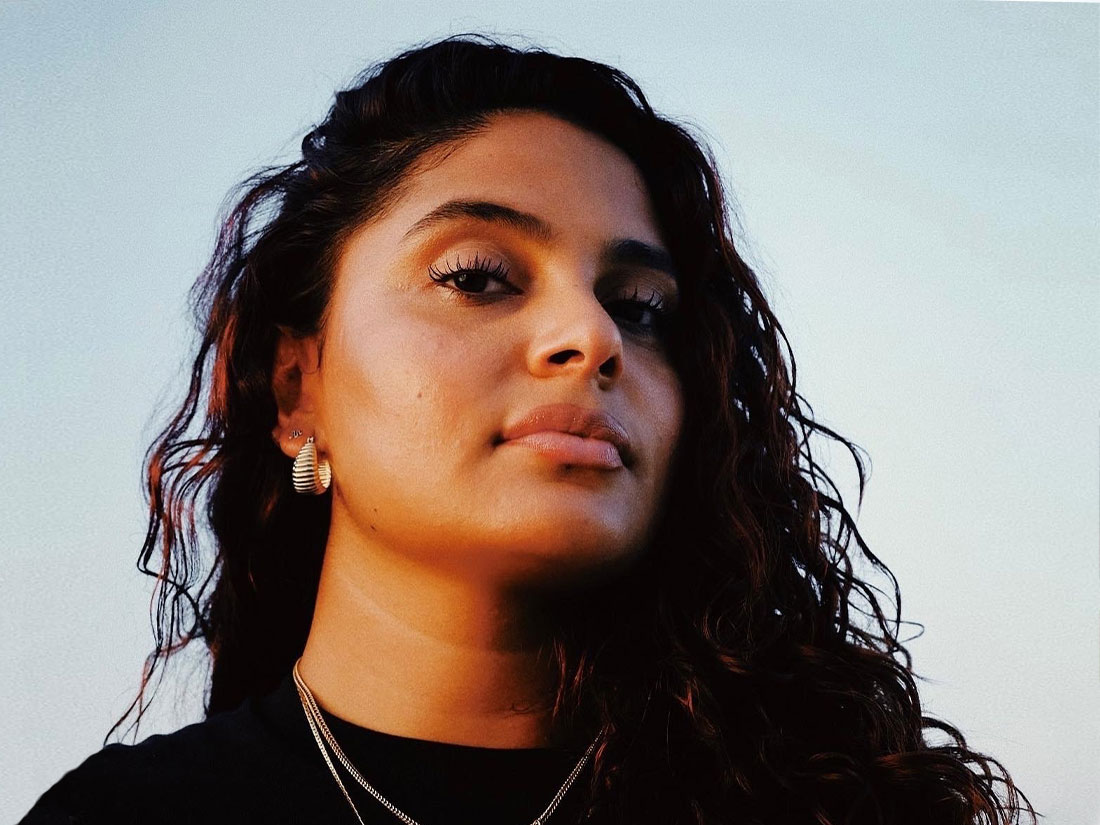 Thalía Henao found her voice through writing. As a freelance beauty and culture writer, she advocates for equity by celebrating and empowering diverse identities and cultures. "In my writing I am able to add elements of advocacy for marginalized communities because of my educational background and I am extremely grateful and recognize how much more impactful it makes my writing," Henao says. She is published in Allure, WMagazine, and Latina Magazine.
Before her career in writing, she started her journey at Falk College—a first generation student—majoring in child and family studies, now known as human development and family science. During her time at Syracuse, Thalia traveled to Trinidad and Tobago with Professor Jaipaul Roopnarine and to South Africa. "I went to Falk College because I wanted to have a deep understanding of both my community and the global community we are a part of," she says. "I majored in Child and Family Studies because I knew that getting a degree in this field would provide me the educational background to advocate for marginalized communities, and I can confidently say that this is true today."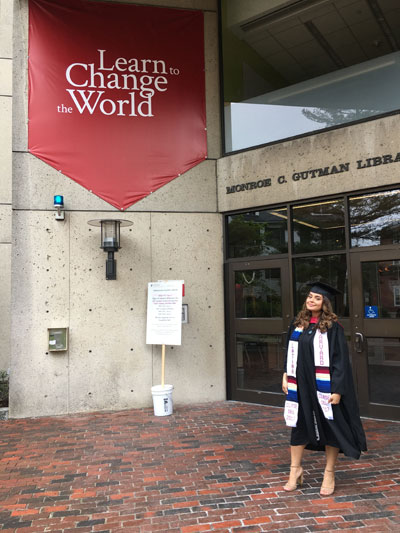 After graduating from Syracuse University in 2016, she went to Harvard University, where she completed a master's degree in prevention science and practice with a minor in community engagement. While at Harvard, she traveled to India.
Today, Henao uses her global education and experiences to fuel her writing. We recently had the opportunity to speak with Thalia and hear more about her personal journey:
Q: Can you tell me a little bit about where you are from, where you grew up, or where you consider "home"?
A: I'm from Cambridge, Massachusetts, but my parents are from Medellin, Colombia. Growing up in Cambridge was kind of like a dichotomy because the city is home to some of the biggest universities in the world like Harvard and MIT, but it also has small pockets of low-income communities that exist within public housing buildings.
I grew up in Newtowne Court, a project development across the street from MIT and in the 90's there was a lot of violence in this part of the city. I think this gave the area a really bad rep even though it was mostly targeted crime. Despite this, I'm really grateful to have been raised there. I was exposed to so many different cultures and backgrounds. My neighbors were from all parts of the world like Haiti, India, and Puerto Rico.
At home, my parents were really intentional about passing on Colombian traditions and making sure it was a part of my identity. I'm grateful to have grown up very well-rounded and connected to my culture.
Q: What are one or two of your favorite memories from your time at Syracuse?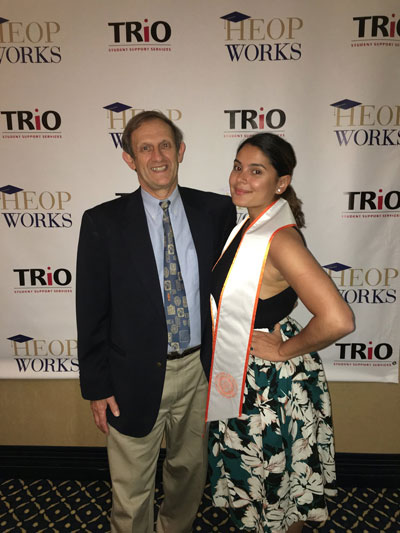 A: Two of my favorite memories of Syracuse University were being a part of the TRIO program, Student Support Services (SSS), and working with my guidance counselor Robert Wilson. After being accepted to Syracuse, SSS reached out to me about applying for the program since I had been a part of another TRIO program, Upward Bound. Deciding to go to Syracuse was made easy by SSS, because it meant that I had support while being at SU, both financially and academically.
I have many favorite memories with Mr. Wilson, but my ultimate favorite one was during the accepted students' weekend when my family and I met him. It's a memory that's ingrained in my, and my family's, mind forever.
We were walking into the Schine Student Center as Mr. Wilson was walking out and he immediately recognized me and said "Thalia!" At this point, I hadn't met him in person yet and I had no clue who he was. He introduced himself to my family and I and it was such a warm welcome.
I'm a first-generation college student who didn't get to visit any schools and this moment was comforting to me since at this point Mr. Wilson was really the only person I knew. Being a first-generation college student was very hard. Nobody in my family had navigated the college education system, much less even lived on a campus, but Mr. Wilson was there for me the entire four years. I am very, very grateful for that.
Q: When did you decide to pursue writing and what was it that drove that decision?
A: I think writing was always in me, but I really stepped into it last year. During high school, my best friends and I had blogs where we would share poetry, fun images, and random stuff. I also took photography throughout my four years of high school and I unknowingly, but definitely, was telling stories about beauty and culture through my photography. I even won a gold key for my photography portfolio for the 2012 Boston Globe Scholastic Art Awards.
I also did some community service in a small rural town in the Dominican Republic that ultimately inspired me to pursue a degree in youth and family development. But even throughout college, I would write here and there about beauty and culture in my free time, and of course many research papers on human development and cross-cultural contexts for my classes at Falk.
After my master's program at the Harvard Graduate School of Education, I moved to Los Angeles to work on an early childhood research study at UCLA and at one point even took an internship with a fashion stylist. But by this time, I felt pretty lost, like I wasn't fulfilling my purpose. I thought maybe I could pivot into the corporate world and figure out my path there, so I moved back to my hometown and took a role in human resources at a youth sports company.
Unfortunately, the youth sports company went bankrupt during the pandemic, but my then-manager had been communicating with us that this would likely happen. So, a week before the company went down, I saw a position in HR at a company where a friend was working and she referred me. I applied on Monday and had two interviews that same week. On Friday, my current company went bankrupt and by the following Monday I had an offer for my new position.
When I accepted the offer and got my new hire package I realized the company, Condé Nast, was a big media powerhouse that is home to some of the brands that I grew up with like Vogue, Allure, and Vanity Fair. I joined the board of the Latin Employee Resource Group and for a year worked on programming for employees and advocating for Latin representation within the company.
There was a voice that kept calling me to explore writing more, but for a while I was too afraid to listen to it until I finally gave in and pitched my first published story focused on the intersection of beauty and culture to Allure, which went live last year, and things have been pretty organic since then. It feels very full circle for me. I think it's a testament to the fact that you can't outrun your purpose.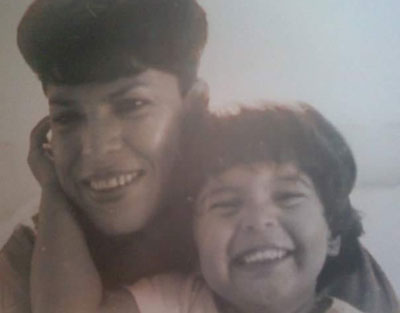 Q: Who or what are some of your sources of inspiration for your writing?
A: My mom is my biggest source of inspiration in my writing. She inspired my first article for Allure about the 90's dark lip liner-light lipstick look. Unfortunately, I grew up with a lot of shame around brown aesthetics. I really wanted to assimilate into "American" culture when I was younger and often asked myself why my family couldn't be "more American." I know I wasn't the only one who felt this way while growing up.
As an adult however, Latin culture is my biggest source of pride and inspiration, and through my writing I reclaim that power and am driven by what once felt like shame. Belonging to a "minoritized" community has meant that our aesthetics have been made fun of, called "cheap," and been discarded. In the last decade, we have seen these aesthetics become mainstream, but unfortunately, with no credit to the communities that inspired these trends. My work is centered around reclaiming and celebrating the contributions of Black and brown communities and individuals.
Q: Why is writing about beauty and culture important?
A: Writing about beauty and culture through an intersectional lens is so important because it acknowledges the people who have succumbed to erasure within mainstream media. I think about young generations who are growing up and seeing trends in mainstream media and they should know that their moms, grandmothers, aunties, tias, etc., took so much pride in and were incredibly brave to wear their natural hair, line their lips, and wear big hoops.
The people in these marginalized communities unknowingly created a legacy that challenged Eurocentric standards of beauty and have ultimately laid the foundation for the more inclusive beauty culture we enjoy today.
Q: What impact do you want to have through your writing? What is your goal?
A: My goal is that people feel seen in the work that I do that goes beyond just writing. I want marginalized communities to feel empowered, find comfort, and heal from the impact of racism and discrimination. That's a really big goal, but even if one person can see their beauty and feel empowered in the work that I do, that's enough for me.
You can find Thalía Henao's work in Allure, WMagazine, and Latina Magazine. Learn more about the Department of Human Development and Family Science.