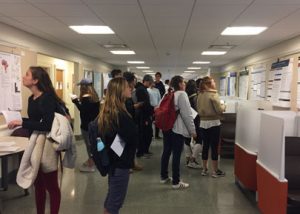 The Falk College Research Center promotes a robust, collaborative research community in which students play an active role. At Falk, graduate and undergraduate students have the opportunity to work directly with faculty to collect data, analyze findings, and draw conclusions in relevant topics surrounding public health, food studies, nutrition, sport management, human development and family science, social work, and marriage and family therapy.
To highlight Falk students' research work, the College hosted the inaugural Falk Student Research Celebration in April of 2017. The students are able to add presentation experience to their resumes, and also benefit from peer-to-peer feedback across disciplines. The celebration hosted a panel of student researchers who share insights on how to get involved with research, present at conferences, and other research-related topics.
"The Falk Student Research Celebration provides an opportunity for students to share their research interests with the campus," says Amy Dumas, Grant Development Specialist in the Falk College Research Center. "Students are able to exercise what they have learned in class, in the lab, through mentoring, and through peer-to-peer exchanges to submit a poster of their project results for juried review. Students compete for travel funds to present their posters on a larger stage or to attend a conference to gain further insights into their respective fields. This entire process builds critical skills that are necessary for careers in research."
Woosang Hwang, Ph.D. candidate in the Department of Human Development and Family Science, was one of 5 winners in the 2017 celebration, alongside Yue Zhang in Human Development and Family Science, Erica Kokoszka and Terynn Young in Public Health, and Evan Weiss in Sport Management. "The Falk Student Research Celebration gave me a great opportunity to present research projects with my advisor and colleagues," says Hwang. "Also, I received valuable feedback regarding research projects from professors and students across majors in Falk College. Consequently, it was very helpful to revise and submit our manuscripts for publication in academic journals."
This event inspires students to get involved in a wide variety of academic research projects available to them throughout Falk and across campus. For active student researchers, it helps them discover new interests and opportunities, as well as new applications for their work. Hwang strongly recommends students get involved in the 2018 Falk Student Research Celebration, which will take place March 26-30, 2018. "I believe it will be a big motivation to start research projects with your advisor and colleagues," he says.