The Falk College School of Social Work commemorated its 60th anniversary at a celebration event Friday, April 21 at Drumlins Country Club in Syracuse. Guests were welcomed with remarks from Keith Alford, director of the School of Social Work, as well as Diane Lyden Murphy, dean of Falk College. Xenia Becher, internship placement coordinator in the School of Social Work, presented a special selection from Michael Carrera's Lessons for Lifeguards.
In recognition and appreciation of their commitment and dedication to the profession of social work, "Excellence in Service Awards" were presented to three alumni: Madalyn Smith '78, clinical social worker, convener, round table of faith leaders, InterFaith Works; Pedro Abreu '02, school social worker, Seymour Dual Language Academy; and Patricia Moore '85, discipline chief of social work, outpatient clinic coordinator, Hutchings Psychiatric Center.
"As an alumna of the School of Social Work, it is a special privilege to celebrate the School of Social Work and its sixty years of contributions to social work education and practice at both Syracuse University and in the surrounding community and region," says Diane Lyden Murphy, M.A., M.S.W., Ph.D., dean of Falk College. "The school's leadership and dedication to the embedded mission of social responsibility, social justice and advocacy, in many ways, are what make it the heart of Falk College. Through its 60-year history at Syracuse University—from the early days of civil rights activism, community work in the Great Society years, to involvement with veterans at Fort Drum and the Watertown region, to the extensive and complex issues of our present era—the school has developed true partnerships both in the City of Syracuse, Onondaga County, New York State and beyond, where more than 6,000 alumni continue to bring assistance and change in an expansive number of settings such as social service, behavior health and healthcare agencies, refugee sites, political settings, schools and the academy."
"Collectively in celebrating 60 years of social work education, we brought together campus colleagues, students, alumni, and community partners on one special evening," says Keith Alford, Ph.D., A.C.S.W., director of the School of Social Work "The charge for the next 60 years is to continue the quest of our anniversary theme: Embracing the dignity and worth of humankind. This theme embodies a strengths-based perspective, identifying the positive attributes of people. Given such national challenges as racial divisiveness, citizenship struggles for undocumented immigrants and political polarization, the need to uplift one another seems more necessary now than ever before. The value of humanity is priceless."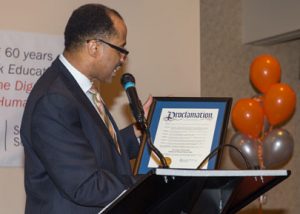 A proclamation from Joanne M. Mahoney, county executive, declared April 21, 2017 "Syracuse University School of Social Work Day." Mayor Stephanie A. Miner proclaimed the date "Syracuse University School of Social Work Community Recognition Day."
Karen Kirkhart, professor in the School of Social Work, spoke on the school's history. Social work at Syracuse University dates back to the 1930s, when students were offered undergraduate courses in social work through the department of sociology and College of Home Economics. It wasn't until 1952 that the American Association of Schools of Social Work decided Upstate New York was in need of a separate school of social work, specifically at Syracuse University.
With a grant from the Rosemond Gifford Charitable Corporation, the Syracuse University School of Social Work was founded, the 61st school in the country to be accredited by the Council on Social Work Education in 1957, and the first such school in New York State outside of Buffalo and New York City. About a decade later, the school began to attract international students from nations such as India, Egypt, Korea, Canada, and the Philippines.
The school exclusively offered a master's degree program until 1971 when it admitted its first undergraduate class. In 1975, it became one of the first Council of Social Work Education accredited social work bachelor's degree programs in the country, and the very first to be accredited in Upstate New York.
In 1972, the School of Social Work established one of the nation's first programs focused on aging research: The All-University Gerontology Center, which allowed students across the University to pursue a concentration in aging. Today, it exists as the Syracuse University Aging Studies Institute, established in 2011 and co-directed by the School of Social Work and the Maxwell School of Citizenship and Public Affairs. Today, the ASI is includes more than 40 faculty affiliates.
Over its history, the school has established a number of signature learning experiences that students enjoy today, such as Legislative Policy Day, an annual event that started in the late 1990s that exposes students to pressing policy issues and the importance of advocacy, now sponsored by alumnus James Stone '64 MSW, who attended the anniversary celebration. In addition, the annual Alan B. Mirken immersion trip to New York City, which since 2002 has exposed students to historical social work sites and provided one-on-one engagement with human services agencies. The school continues to enrich its well-established study abroad program in Strasbourg, France, as well.
The school was first housed at 400 Comstock Avenue, and moved to South Crouse Avenue, Brockway Hall, and Sims Hall before finding its current home in White Hall, part of the Falk College Complex. In 2001, the School of Social Work became part of the College of Human Services and Health Professions, which in in 2007 was renamed the College of Human Ecology, and in 2011 was renamed the David B. Falk College of Sport and Human Dynamics.
Today, the School of Social Work exists as a perfect example of Falk College's comprehensive educational approach: theory-to-practice learning, the combination of a rigorous classroom curriculum and intensive internship requirements. To date, the school has 180 internships in 53 agencies across 8 counties. Many of the school's current field placement sites represent long-lasting relationships with community organizations, where social work students have been placed for internships and field placements since the 1950s and 60s.
The school boasts 6,586 total alumni. It expects to add roughly 130 from the Class of 2017.