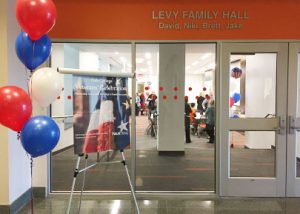 Dean Diane Lyden Murphy and Falk College hosted a Veterans' Celebration on Wednesday, November 8 in the Falk Complex. In addition to the many faculty, staff, and students in attendance, there were a number guests from the SU Institute for Veterans and Military Families, including J. Michael Haynie, Vice Chancellor for Strategic Initiatives and Innovation and IVMF Founder & Executive Director. Guests had the opportunity to meet and thank veterans and military families for their service and sacrifice.
"The Veterans Celebration was a truly meaningful event for our College. We are so very fortunate and honored to have veterans and military families as valued members of our campus community," says Murphy. "With deepest gratitude, we thank them for their courage and service to us all."
The celebration included cake and refreshments, a commemorative frame on which guests wrote messages of thanks, a display in which guests could honor their veteran(s) by name, as well as thank you cards that Falk College will deliver to the VA Hospital.