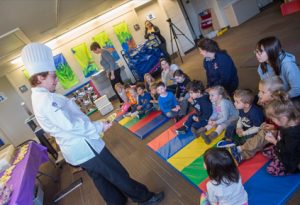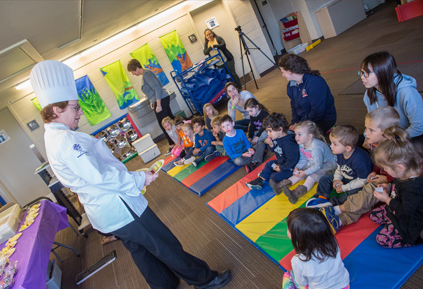 What do you get when you put a bell pepper and a carrot together with corn niblets, green beans, blueberries and eggplant?
A rainbow.
This multi-colored food kaleidoscope supports a deliberate effort known as "eating the rainbow" to help children make healthy food choices. Thanks to a grant from the American Culinary Federation (ACF) in support of Child Nutrition Day in October, associate teaching professor and ACF chef Mary Kiernan, presented a mini food demonstration and tasting of the rainbow with children at the Bernice M. Wright (BMW) Lab School.
Childhood Nutrition Day celebrated on or around Oct. 16 each year focuses on fostering and promoting awareness of proper nutrition. Recently, children at the BMW Lab School, a part of Falk College's Department of Human Development and Family Science (HDFS), worked in small groups led by Chef Kiernan and Falk nutrition major Mary Mik, who is also a Susan R. Klenk Learning Assistant. The demonstration engaged children ages two through four on such topics as how many taste buds a person has and why the foods they sampled that day are important to good nutrition.