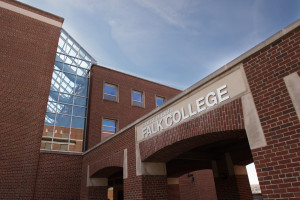 Falk College at Syracuse University shares in a legacy that spans a century. The Colleges and Schools that came before us have woven the values of human connection, civic service, and social justice into the very heart of Falk College, including Home Economics, Human Development, Human Services and Health Professions, Human Ecology, Nursing, and the School of Social Work. These same values shape and guide the College today.
We are deeply proud to share in the everlasting impact that these collective alumni have made in the world, alongside fellow Syracuse University alumni through the years. Together, they have been relief in times of need, change in times of injustice, and discovery in times of uncertainty—the very same things our students dream and strive to be. Thanks to alumni who paved the way for them, the good work continues.
It's no surprise that our academic programs, too, have been shaped by programs that came before them: that sport management takes from the business-savvy consumer studies, marketing management, retailing; that nutrition, nutrition science, and food studies benefit from such programs as the dietetics coordinated program, food systems management, restaurant & food service management, hospitality & food service management, and home economics; that human development and family science, formerly child and family studies, incorporates competencies from the distributive education and early child education N-6 programs; while public health takes clinical knowledge from programs in nursing, as well as health and wellness; and finally that social work and marriage and family therapy build on strong foundations of family & community services and social science programs. What might surprise you is Syracuse University programs in fashion design/merchandising, clothing studies, textile design/clothing, interior design, environmental design, and selected studies, some of which endure today in other schools and colleges, have also made an appearance in the evolution of Falk College.
It is because of this heritage of academic diversity that Falk students today engage in interdisciplinary work in the classroom, in research, and in the community. The Falk College name is well-known for its groundbreaking work in these settings, and for engaging different perspectives for the benefit of our future. And students, faculty, staff, and alumni of all points in our history can celebrate in this success together.
As we look to the future, we are excited to see our collective impact continue. We hope you will share in each moment as we continue to write our legacy. Here are some ways you can connect with Falk: