In collaborating with local organizations, 25 Food Studies students are helping transform Syracuse's food system.
Contributions by Megan Falk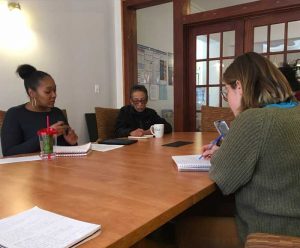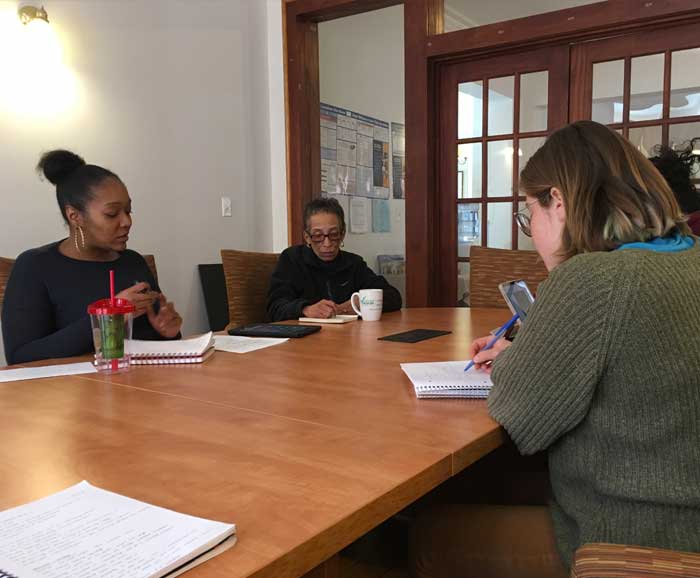 With the orange Pontiac's dashboard clock ticking closer to 11 a.m., Em Palmero and Mariah Bermeo race off the Syracuse University campus and into the southwest side of Syracuse. The Food Studies students have a tight window of time between their Monday classes to visit Jubilee Homes, the nonprofit with which they've partnered on a class project. Once they arrive at the two-story home-turned-headquarters, Palmero and Bermeo head into a warm conference room and take a seat at the wooden table.
Sitting opposite of Kristina Kirby and Twiggy Billue, the project managers, the students give a quick overview of their tentative food justice curriculum. For the last month, they've been working with three other classmates to develop lesson plans, which the organization will use for its youth urban farming program this summer. "This is great," Kirby says. "This is a very good starting point." Twenty minutes later, Palmero and Bermeo thank the partners, jump in the car, and head back to the university, ready to adjust their lesson plan that will benefit a dozen teenagers in just a few months.
This partnership between a group of college students and an organization working to improve the city's food system is one of many transcending the town-gown divide in Syracuse, New York. In January, 25 students from Syracuse University and the State University of New York College of Environmental Science and Forestry traded in their textbooks for semester-long partnerships with three local organizations and Syracuse University's Office of Sustainability to help carry out mutually beneficial projects. The community engagement projects, which are part of the Food Studies program's Urban Food Systems course, have distinct focuses, including conceptualizing a community kitchen, creating a marketing plan for an urban farm, launching a food pantry, and planning an educational curriculum, among others.
Launched in 2013 by Food Studies Professor Evan Weissman, Urban Food Systems is unlike any other course in the program, offering a hands-on learning experience. In 2014, the class began collaborating with local organizations to help students put the theories they explore in the classroom into practice, enabling them to develop tangible, transferrable skills while making an impact on the community. To Weissman, engaging in this community-based work and efforts toward social change is an important role of the university.
"A lot of Syracuse students don't get a good opportunity to get out in the community in a meaningful way," Weissman says. "Using the resources of the university — in this case, I'm thinking of the students, the knowledge they have, and their actual labor — putting those into the community is something to make qualitatively better the food system of Central New York."
These student-community collaborations enable students to gain a better understanding of course content and exposure to new career paths. Simultaneously, the organizations receive additional human resources to expand their services, as well as fresh ideas on operation improvements, according to research published in Teaching Sociology. Student participation can also allow a partner to focus on other work within the organization or test new business opportunities, Weissman says.
For the past 20 years, Jubilee Homes has run Urban Delights, a summer program dedicated to promoting youth development, as well as raising awareness and conquering issues of food insecurity. The 14 to 21-year-olds who participate in the program run a farm stand and oversee the entire process, from planting the seedling to marketing the produce. While Kristina Kirby, Jubilee Homes' fiscal manager, already uses an established curriculum for the entrepreneurial aspects of the program, she wanted to develop a set of youth-centric lessons delving into food justice and farming itself.
Covering topics like composting, planting, and agroecology, these lessons can have a positive impact on the teens in the community, helping to reinforce the STEM education they receive in school, says Twiggy Billue, the Build to Work Coordinator of Jubilee Homes who is helping Kirby oversee the project. "When young people really see how food grows, they become stewards of the earth," Billue says. "They take this knowledge back to school and have a stronger science grade and have a stronger math grade, so that to me has been one of the large successes, that it ties into their everyday life, including school."
By prompting students to head off campus and apply their education to the city of Syracuse, both Lyons and Kirby hope the projects not only provide students a chance to give back, but also help them gain a better understanding of their community. To Fry, these community engagement projects offer just that.