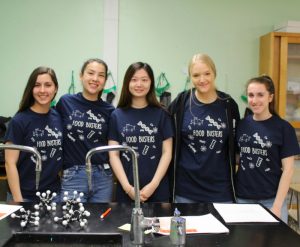 Food Busters, a nutrition program in the Shaw Center, is among the 2020 Orange Circle Award winners. Other winners include Lisa Gordon G'90, president and chief executive officer of Atlanta Habitat for Humanity, Marcelle Haddix, chair of reading and language arts and a dean's professor in the School of Education, and student organizations Black Reign Step Team and a Hand for Wuhan.
Food Busters strives to improve literacy skills and public health awareness of fellow students in the Syracuse community. The organization was created in 2014 by ShawFood Busters group photo Center nutrition volunteer coordinators Jennifer La '14 and Katelyn Castro '15 and Engagement Fellow Victoria Seager G'15. It sends Syracuse University volunteers from the Shaw Center into local schools to teach students to implement lesson plans designed around content they are learning in their school or college.
This year, Food Busters worked with Henninger High School students in hands-on, STEM-focused lessons designed to explore the relationship between food, nutrition, health and media, while also increasing these students' comprehension in the fields of literacy, mathematics and science. Along with nutrition students from the David B. Falk College of Sport and Human Dynamics, the Henninger High School students learned to perform their own food science experiments based on the lesson plans.