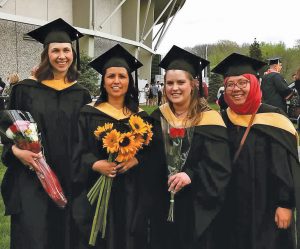 In 2010, one of the fastest-growing fields of study in North America was food studies. At that time, Falk College Dean, Diane Lyden Murphy, had a vision for future academic programs related to food focused on maximizing student opportunities in this area. In 2014, the college announced its new Bachelor of Science in Food Studies, which leveraged resources of the former hospitality management program, as well as intuitive academic collaborations with the nutrition and public health programs in Falk. The first graduate students enrolled in Falk's Food Studies master's program Fall 2015, and a Certificate of Advanced Studies following in 2016. New minors have also been established since that time, including the most recent in Sustainable Food Enterprises.
Food is universal. It impacts every aspect of life, both as a fundamental human need and as a primary component of society in business, culture, politics, and beyond.
Food studies at Syracuse University's Falk College focuses on the social, political, economic, and environmental contexts of food production, manufacturing, distribution, and consumption—locally, nationally, and globally. Students of the program gain a deep understanding of food policy and governance, gastronomy, health outcomes of food systems, human nutrition, and food access. They also hone marketable skillsets in research, data collection, and analysis, as well as food preparation, presentation and the business of food.
Careers for food studies alumni are as wide-ranging as the issues food studies seeks to address. Some major career prospects include employment with government agencies at all levels dealing with food and agriculture issues; food-oriented non-governmental organizations that work on sustainability and food security issues; the health and wellness industry and food processing, preparation, service and distribution firms.
Falk College food studies alumni employment records show that graduates of the program are succeeding in many different chosen career paths. Here are just some of the job titles held by Falk College food studies alumni:
Business Management and Marketing
Food Studies alumni apply their subject matter expertise in business roles such as sustainability, research and development, logistics analysis, retail, finance, purchasing, supply chain management, communications, marketing, and others.
Employment with food manufacturing, food marketing, restaurants and hospitality businesses are obvious options, but food studies alumni are prepared to work with business in a variety of sectors, spanning health and wellness to travel and tourism.
Alumni job titles:
Food Service Manager at a Fortune 200 global food and facilities services company (Aramark)
Catering Assistant for an Illinois restaurant chain (LYFE Kitchen)
Chef Consultant for a private university in New York State (Syracuse University)
Social Media for a luxury boutique hotel business operating in several major U.S. cities (The Standard)
Social Media and Communications Intern for a celebrity nutrition expert and author (Joy Bauer)
Influencer Marketing Associate for a major U.S. meal kit service (HelloFresh)
Restaurant Manager for a local farm-to-fork restaurant (3 Sisters Restaurant)
Kitchen Manager at Upscale Bakery in NYC (Blackseed Bagel)
Government, Policy, and Research
Climate change. Human rights and food access. New agricultural technology and science. These and other major world issues are shaping food career opportunities in government, policy, and research. Food studies alumni work in U.S. government agencies, international governing bodies, and other institutions to help shape legislation, trade, regulation, urban and rural planning and development, and more.
Alumni job titles:
Plant Protection and Quarantine Technician U.S. Department of Agriculture (USDA) Animal and Plant Health Inspection Service (APHIS)
Supervisor for U.S. Department of Agriculture (USDA) Special Supplemental Nutrition Program for Women, Infants, and Children (WIC)
Purchasing & Food Services Administrative Assistant for public school system in Massachusetts (Newton Public Schools)
Food Sourcing Manager at a major U.S. university (University of San Francisco)
Community Research Assistant at a university in Canada (University of Guelph)
Nonprofit Organizations
In the nonprofit setting, food studies alumni work in advocacy and service delivery to achieve important social objectives such as public health, environmental health, and fair trade.
Alumni job titles:
Assistant Youthmarket Manager for a major environmental sustainability organization in New York City (GrowNYC, formerly the Council on the Environment of New York City (CENYC))
Ocean Policy Associate at an international environmental protection and advocacy organization (Earth Law Center)
Nutrition Educator for a regional nonprofit public health institute in a major U.S. city (Public Health Corp)
Public Policy Intern at a statewide anti-hunger organization (Project Bread)
Intern for member of U.S. House of Representatives
Food Blogger for an international health foundation (International Bipolar Foundation)
Account Coordinator for a major U.S. city food bank (Greater Cleveland Food Bank)
Case Manager II at a statewide homelessness alleviation organization (People Assisting the Homeless (PATH))
Advanced Degree Programs
Some alumni have used their food studies undergraduate degree as a foundation to pursue advanced degrees in health professions, social sciences, legal and policy approaches to food, among others.
Alumni academic pursuits:
Nursing School (Southern Connecticut State)
J.D. Law School (Vermont Law School)
Masters of Public Administration (U Penn, Rutgers)
M.S. Food Studies (NYU, Syracuse)
M.S. Nutrition Science (Syracuse)
M.S. Marriage and Family Therapy (Syracuse University)
Master's Degree in Education (Clarkson University)