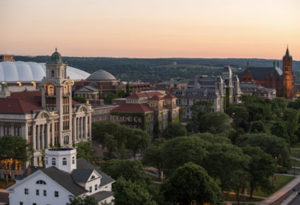 Syracuse University faculty, staff and current students will welcome potential graduate students interested in Falk College graduate studies in human development and family science, public health, marriage and family therapy, nutrition science, food studies, social work, and sport venue and event management during its Graduate Program Information Session on Friday, November 3, 2017 from 4:00 to 6:00 p.m. in Room 335 in White Hall, part of the Falk College Complex.
The presentation will provide detailed information on Falk College Graduate Programs in:
Human Development and Family Science, MA, MS, PhD
Marriage and Family Therapy, MA, PhD
Food Studies, MS
Global Health, MS
Nutrition Science, MA, MS
Public Health, MS
Social Work, MSW
Sport Venue and Event Management, MS

In addition, information and advising will be available regarding Falk's Certificate of Advanced Study (CAS) programs including:

There will be time for a question-and-answer session, as well as a time to meet with faculty, staff and current students. Light refreshments will be served. For more information or to register, call (315) 443-5555, email falk@syr.edu or Register to Attend Online.