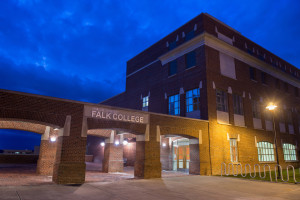 Alumni admitted to one of Falk College eligible master's program for 2020: All Syracuse University alumni can apply for a scholarship equivalent to 25% of tuition for one of Falk College's eligible residential master's degree (listed below). In addition, GRE tests and application fees waived.
Scholarship is for residential programs, only.
All students who are full or part-time Syracuse University alumni and do not qualify for the 50% Forever Orange discount are eligible for this scholarship; this includes students already admitted to a Falk master's program for 2021.
Falk graduate programs include:
Exercise Science M.S.
Food Studies M.S.
Food Studies C.A.S.
Applied Human Development & Family Science M.A.
Human Development & Family Science M.S.
Marriage and Family Therapy M.A.
Child Therapy C.A.S.
Trauma Informed Practice C.A.S.
Nutrition Science M.A., M.S.
Dietetic Internship C.A.S.
Integrative and Functional Nutrition C.A.S.
Public Health MPH
Addiction Studies C.A.S.
Global Health C.A.S.
Sport Venue & Event Management M.S.
Interested students should contact Falk Admissions, submit their application, and must formally matriculate. For more information, please contact the Falk College Office of Admissions at 315.443.5555 or email falk@syr.edu. Award is subject to change.