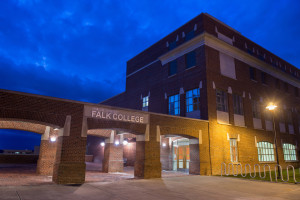 Graduate merit scholarships have been expanded for prospective students interested in matriculating into master's degrees, either full- or part-time, offered in Falk College effective Summer 2019 (includes MAYmester Summer Session I, Summer Session II, Combined Summer Session). Incentives include no application fee, GRE waiver where applicable, and a 25 percent tuition discount incentive, which is applied after any other scholarships, scholarship credits, assistantships and remitted tuition credits are applied.
Eligible matriculated students include:
All Syracuse University alumni applying to master's degree programs in Falk College (see list below), including members of the Class of 2019;
Children of current full-time Syracuse University employees (notarized supplemental forms required);
Any Advanced Standing MSW-enrolled student from any accredited BSW/BSSW program throughout the nation, and;
Current Falk master's program students who are Syracuse University alumni; children of current full-time Syracuse University employees are also eligible.
Falk graduate programs include:
Food Studies, M.S.
Global Health, M.S.
Human Development & Family Science, M.A., M.S.
Marriage and Family Therapy, M.A.
Nutrition Science, M.A., M.S.
Public Health, M.S.
Social Work, Advanced Standing Program, M.S.W.
Social Work, M.S.W.
Social Work and Marriage and Family Therapy Dual Degree, M.A./M.S.W.
Sport Venue & Event Management, M.S.
Interested students should contact Falk Admissions, submit their application, and must formally matriculate. For more information, please contact the Falk College Office of Admissions at 315.443.5555 or email falk@syr.edu. Award is subject to change.