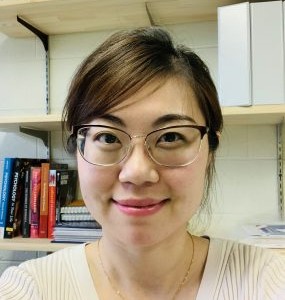 Graduate School Marshal Ying Zhang Credits Success to Syracuse University Support
Leading the graduate student procession and walking the stage at the University's 2022 Doctoral Hooding ceremony may be the culmination of her Syracuse University academic path, but that is only one of many significant journeys Ying Zhang has taken during her graduate training.
Zhang has been selected as this year's Graduate School student marshal. The University-wide honor is bestowed by the Graduate School to recognize outstanding academic achievement, inspired research, campus and community involvement and Orange spirit and pride.
"Ying Zhang is a fantastic representative of Syracuse University's Graduate School community and completely deserving of this honor," says Peter Vanable, dean of the Graduate School. "Her standout research skills, powerhouse academic achievements and diligent work ethic have accelerated her professional path. She has also persevered against life circumstances, including two COVID years, that might have sidelined someone of lesser fortitude. Her impressive research accomplishments and energetic spirit make her a natural choice for this special honor."
Zhang completed her dissertation in May 2021 and was awarded her doctorate in July. She joined Clarkson University's School of Arts and Sciences as an assistant professor of psychology in August. Her extensive qualifications helped her win the tenure-track role without completing a postdoctoral fellowship.
Zhang earned a bachelor's degree in pharmaceutical engineering from the University of Jinan, China (2008), a master's degree in applied psychology from China's Jilin University (2012) then worked for one year as a licensed psychological counselor. Desiring further learning, she enrolled in Falk College's Human Development and Family Science doctoral program in Fall 2014.
As her aspirations took her from one continent to another, Zhang encountered several potential obstacles. "I came here as an international student, a first-generation Ph.D. student, a woman of color, and someone speaking English as a second language. I also became a mother of two during my graduate studies," she notes. Throughout the COVID pandemic, she maintained her studies and research assistant position.
She credits her "extremely supportive" home department (Human Development and Family Science), the availability of assistance programs, the Graduate Student Organization and unending support from her advisor for helping her make it through. "I was able to take advantage of all the available programs from the very start and had the chance to work as a teaching assistant for three years. During the pandemic, the school support system was very much like family. My advisor, Dr. Rachel Razza, provided the structure and freedom to allow me to navigate this process and was a constant champion and support."
Enabling Early Intervention
Concerns about how family dynamics and home environments affect young children and teens are what prompted Zhang's advanced studies. As a counselor, she realized that preventing toxic conditions from affecting youth was a better course than counseling them for challenging behaviors or psychological disorders after the fact. "I went from a hard science engineering background for my bachelor's degree to studying family science here. In engineering and chemistry, I was learning how to make medicine to heal peoples' pain. But what I realized is that those medicines have their limits, and a lot of the pain people have is coming from social pain or psychological struggles," Zhang notes.
Her research focuses on how toxic home environments, including factors such as poor parenting practices, intimate partner physical and emotional violence and the impact of mothers experiencing postpartum or later depression affect children's self-regulation. She also looks at ways to promote family wellness before negative factors affect children's developmental trajectories. She has built a novel machine-learning based algorithm that could provide intelligent feedback regarding whether various behaviors are troubling. The website tool helps those wondering about relationship conditions to input data, obtain neutral assessments and find ready sources of help, such as first responders and domestic violence hotlines.
She is also studying how mindfulness practices can help children and adolescents improve mental health, reduce stress and boost self-regulation. "I see it as an intervention strategy because the practice is very useful as a tool to help people cope with their stress, no matter where that's coming from," Zhang adds.
'Greatest Honor'
Zhang's list of awards provides apt insight into her selection as graduate marshal. They include the 2022 All University Doctoral Prize, 2021 Graduate Dean's Award for Excellence in Research and Creative Work, 2021 Doctorate Award for Research Excellence in Human Development and Family Science and 2021 Strategic Poster Award from the Society for Research in Child Development. She also received the Falk Student Research Celebration Poster Award in 2019 and 2020, was first in the Three-Minute Thesis Competition (2019), won both the Outstanding Teaching Assistant Award and International Outstanding Teaching Assistant Award in 2018 and many others.
Being the Graduate School marshal is a true honor for Zhang. "I'm trying to be humble, but this is the greatest honor anyone could receive from the Graduate School, especially because Syracuse University has so many brilliant doctoral graduates every year," she says. "My experience here was the deepest and most meaningful one of my career and life. The Orange spirit is encoded in me and because of that, I always have the confidence to confront challenges that are waiting for me."
A Syracuse University News story by by Diane Stirling originally published on May 3, 2022.