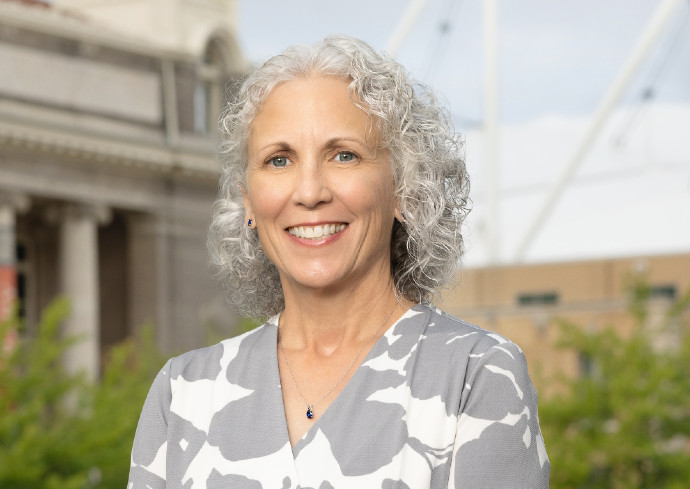 Mary E. Graham, professor of sport management in Falk College and an affiliated faculty in the Whitman School of Management, has been named Syracuse University's new faculty athletic representative (FAR), a critical role ensuring that the student-athlete experience reflects the University's ongoing commitment to academic excellence and overall student success. Graham was selected from a pool of talented and highly qualified faculty applicants.
"Mary stood out based on her academic research and deep understanding of equity issues in college athletics," says Chancellor Kent Syverud. "The depth and breadth of her professional experiences—from being a legislative aide, to her research in human resource management, to her advocacy work in the field of gender equity—uniquely qualifies her to be a trusted advisor to me on all things related to the student-athlete experience."
In her role as FAR, Graham will advise the Chancellor and provost on updates to legislation and policies of the NCAA and Atlantic Coast Conference (ACC) and represent Syracuse University as the voting delegate to the annual NCAA convention. The FAR also acts as liaison between athletics and academics, periodically reporting to the faculty and administration on the academic well-being of student-athletes. Graham will also be responsible for reporting out on the academic preparation and performance of student-athletes for each sports team to the administration, Board of Trustees, Athletics Compliance Committee and head coaches, among others.
"I am extremely honored to be the new faculty athletic representative at Syracuse University," says Graham. "As the liaison to Syracuse Athletics, the NCAA and the ACC, I will dedicate my efforts to enhancing the academic opportunities, learning and well-being of student-athletes. I look forward to working collaboratively with Chancellor Syverud, Provost Gretchen Ritter and Athletics Director John Wildhack and his team on these efforts."
Graham has been a faculty member of the Falk College since 2012. She teaches courses in research methods, managing the sport organization, human resource management and organizational behavior at the undergraduate, MBA and executive levels. She recently developed a new undergraduate course, Race, Gender and Diversity in Sport Organizations.
In 2018-20, Graham served as a Provost Faculty Fellow, working with the provost and University Senate to implement shared competencies that ensure all undergraduate students graduate with a defined set of competencies, skills and abilities. Graham and colleagues received national attention for research published in the Journal of Organizational Behavior that examines the relationship between the gender composition of executives among National Football League (NFL) teams and subsequent misconduct by players on those teams. She has completed other studies on the mistreatment of NFL cheerleaders, employment discrimination enforcement policy, and the use of formal pay systems and high-level accountability for reducing employment discrimination. Graham is a co-editor of the Seneca Falls Dialogues Journal and serves on the editorial board of the journal Human Resource Management. She is a member of the Academy of Management and the Labor and Employment Relations Association.
Graham succeeds Rick Burton, David B. Falk Endowed Professor of Practice in Sport Management, who served as FAR since 2014.
"I am grateful for Rick's hard work on behalf of our University, athletics program and student-athletes," says Chancellor Syverud. "He has done terrific work advocating on behalf of the Orange community and ensuring our student-athletes have access to the resources, services and opportunities to be successful, both in the classroom and on the playing fields."
Prior to her faculty appointment at Syracuse University, Graham held faculty positions at Georgia State University, George Washington University and Clarkson University. She has published extensively and has been widely cited in the areas of human resource management (HRM), public policy and employment discrimination, gender in employment and HRM in supply chains. Graham earned a Ph.D. in industrial and labor relations from Cornell University and a B.S. in accounting from LeMoyne College, where she played on the women's soccer team. She also earned her C.P.A. and worked for several members of the U.S. House of Representatives prior to her graduate studies.