Strength and Conditioning Internship Provided 'Real Life' Experiences for Exercise Science Students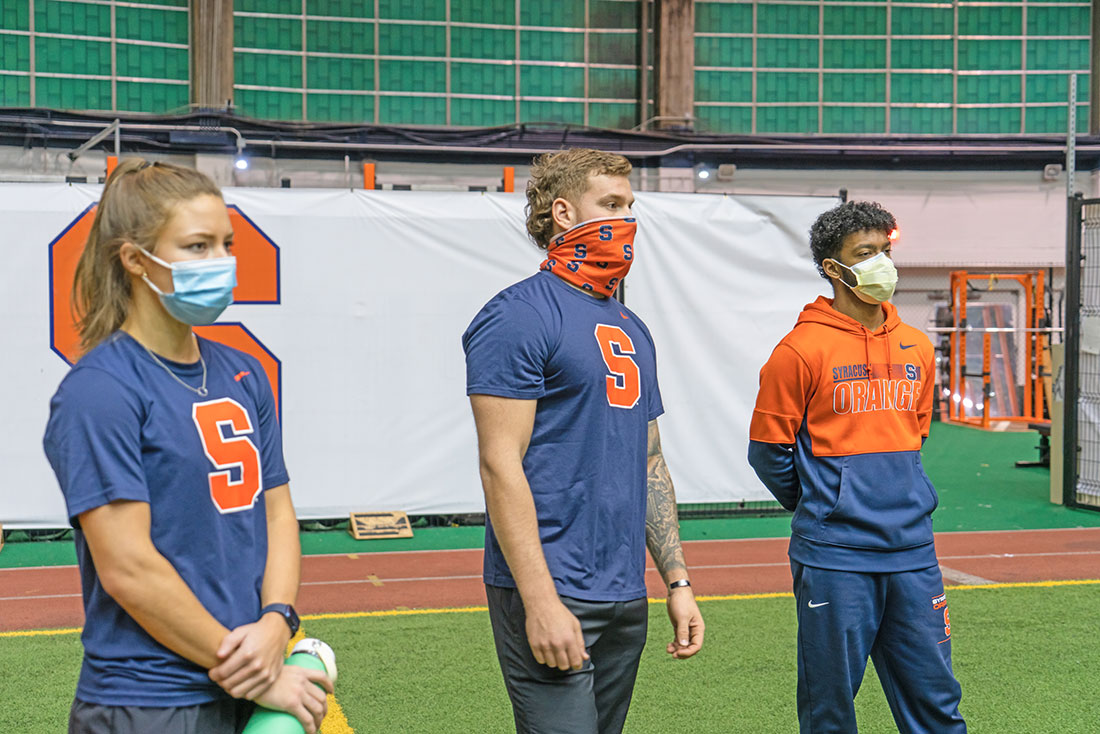 As the assistant strength and conditioning coach for the Syracuse University men's lacrosse, women's ice hockey and women's tennis teams, Mike Missen knows the key to thriving in his profession is the ability to take the intricacies of what you've learned and translate it for a team of student-athletes who simply want to improve their performance.
"This ability to speak to, teach and lead a group is often the separating factor of whether someone can be successful in this field or not," Missen says.
To develop those relationship-building skills in the field, three health and exercise science students from Falk College –Julio Fulcar '22, Caleigh Walklet '23 and Lucas Brey '22–spent this past fall semester working with Missen as strength and conditioning interns.
Designed to give the interns an understanding of how training athletes is different than other forms of exercise, the internship required Fulcar, Walklet and Brey to be present at team workouts, clean and maintain the weight room, attend education meetings and conduct research. Their curriculum included video and article reviews, lifting technique coaching sessions, group discussions and a programming project.
"Internships provide the opportunity for these students to experience life within the profession and understand the demands of the jobs before committing to one path," Missen says. "For collegiate strength and conditioning, especially, it is important for these students to learn the energy and time requirements that are unique to intercollegiate athletics."
For Walklet, the internship allowed her "to learn more than I thought was possible."
"By having this hands-on approach, new information was more easily cemented in my mind and even helped me in my other related courses," she says. "Without having this experience, I can guarantee I wouldn't be nearly as prepared for the remainder of my college career and the professional one that will follow it."
As the three Falk College students concluded their fall internships, they shared their unique perspectives and experiences with us. Here are their stories:
Julio Fulcar: 'Keep Learning and Growing'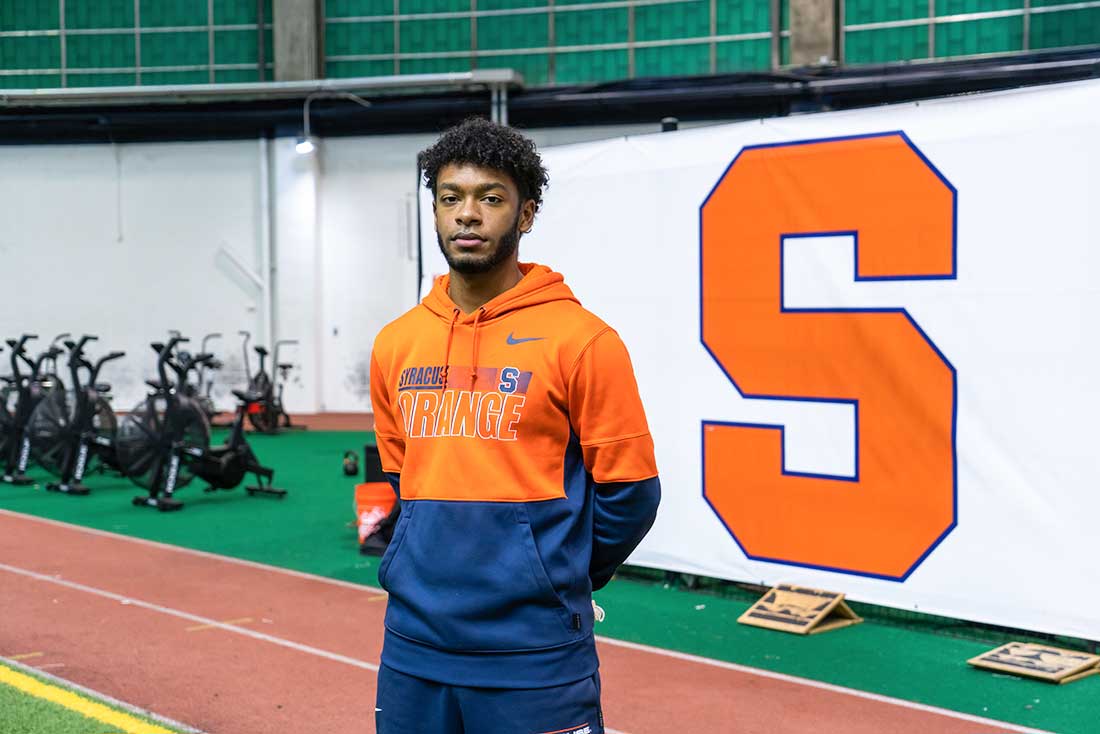 For Fulcar, a four-year member of the Syracuse men's soccer team, the internship gave him an opportunity to see training from the strength and conditioning coach's point of view.
"The best part about it for me was that I felt I was a part of something and that I was contributing," Fulcar says. "Mike (Missen) did a great job of educating us, allowing us to ask questions, and giving us responsibilities so that we could grow and learn."
Fulcar's family is from the Dominican Republic, and he grew up in Watertown, Mass., playing soccer, basketball and baseball in school and with his two older brothers. A midfielder, he was ranked as the No. 6 recruit in the Northeast by TopDrawerSoccer.com and chose Syracuse primarily to play soccer.
Fulcar gravitated toward Falk and exercise science because as an athlete, he has "always been interested in the human body as well as human performance."
"The one thing I can say that I have learned throughout my time in the program is that things in the field of exercise science are constantly changing, new ideas are being put out there and things are always evolving," Fulcar says. "It is a message that is conveyed by the staff in Falk and they are always cognizant of the real world when they are teaching, which is great for the students."
During his internship, the "real world" for Fulcar included leading drills, explaining exercises and providing strength-and-conditioning tips to the athletes. As an athlete and a member of the University's Diversity and Inclusion Student Athlete Board, Fulcar had already established relationships with many of the athletes he helped train.
As for what's next, Fulcar says he would like to pursue a career in professional soccer in some capacity and he's also considering more schooling to become a physical therapist.
"If I look at it in the short term then it would be to get into PT (physical therapy) school. If I look a little further down the line, then I hope to be the best PT I can and maybe stay in the sport of soccer through different mediums other than playing," Fulcar says about his future goals. "Most importantly for me would just be to keep learning and growing inside and outside of the classroom."
Caleigh Walklet: 'Improving Quality of Life'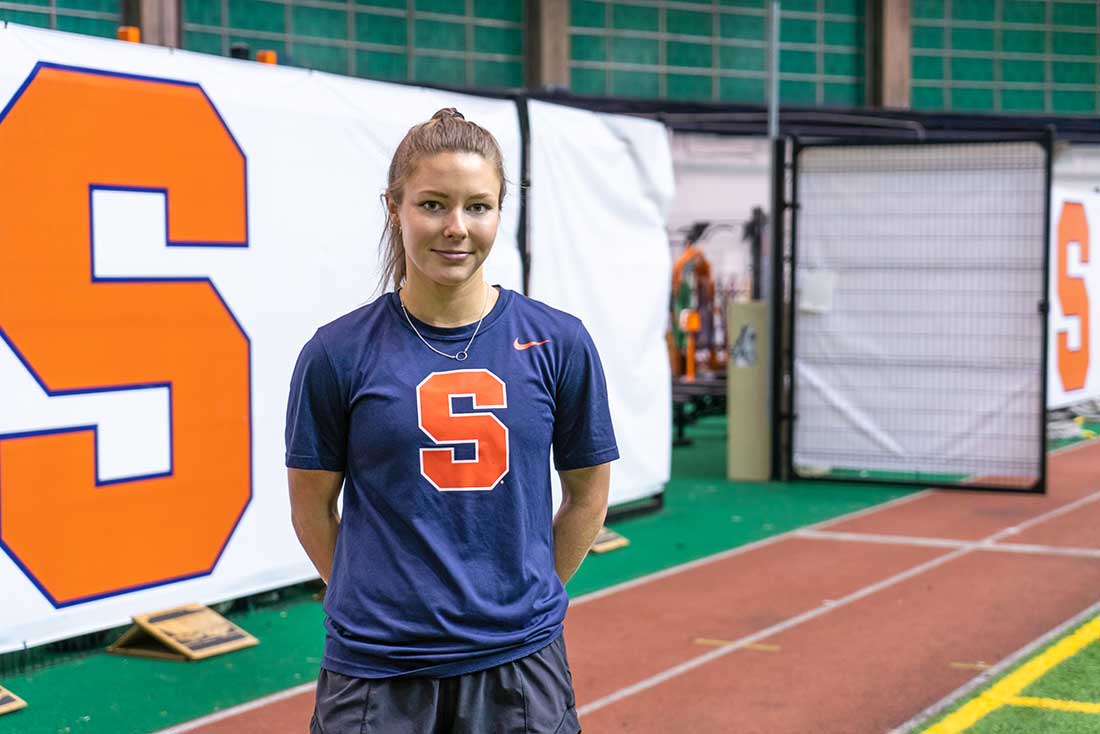 As a high school athlete in Fairfield, Conn., Walklet's serious interest in exercise science and physical therapy came about the hard way–she tore her ACL, MCL and lateral meniscus in a lacrosse game and then, after a year of intense rehabbing to get back on the field, she tore her medial meniscus in the same knee.
"I spent more time in PT, and while it was very discouraging, I wouldn't change anything about the injuries I experienced if I had the chance," she says. "I was given the opportunity to witness first-hand the challenges and beauties of the career I was interested in, and I was learning and retaining something new every day.
"I strongly empathize with anyone who has endured a similar obstacle, but that experience prompted my interest in resistance training and a greater focus on overall health, all of which has been bolstered by my education here at SU," Walklet adds.
Wanting to attend "a big school with an even bigger spirit," Walklet chose Syracuse and was particularly inspired by a Worksite Health Promotion class taught by sociology professor Mary Pagan, who acknowledged the struggles of her students during the pandemic and found ways to connect with them and motivate them. Initially "intimidated" the strength and conditioning internship because she was working with high-level athletes and coaches, Walklet met the challenge and found the environment "invigorating."
"Sure, things can get intense at Manley (Field House), but 20 girls yelling as someone lifts 225 pounds for the first time gives that word a completely different meaning to me," Walklet says. "It begins with the attitudes of the staff I've had the pleasure of working with, and it's evident that they genuinely care about the success of those they're training and working with.
"Likewise, each team has such a diverse collection of traits and attitudes that ensure there's never a dull moment," she adds. "The women and men I've spent time with this fall broke me out of my shell, and without fail, I'd always leave Manley in a better mood than when I entered."
As for her future, Walklet plans to earn a Ph.D. in physical therapy with an eye on opening her own practice that is connected to a training facility for athletes recovering from injuries. She's particularly interested in the division of physical therapy that focuses on neurological issues caused by conditions such as cerebral palsy, multiple sclerosis and Parkinson's disease.
"It's common for people to be unaware that our society holds the information and expertise necessary to help them get through any adverse circumstances they might be facing, and it's my goal to eliminate any feelings of helplessness that rise from that," Walklet says. "Whether it's in a physical therapy office or not, if I'm able to look back on a situation and feel as if I improved their quality of life somehow, I'll be happy."
Lucas Brey: 'Learning at the Highest Level'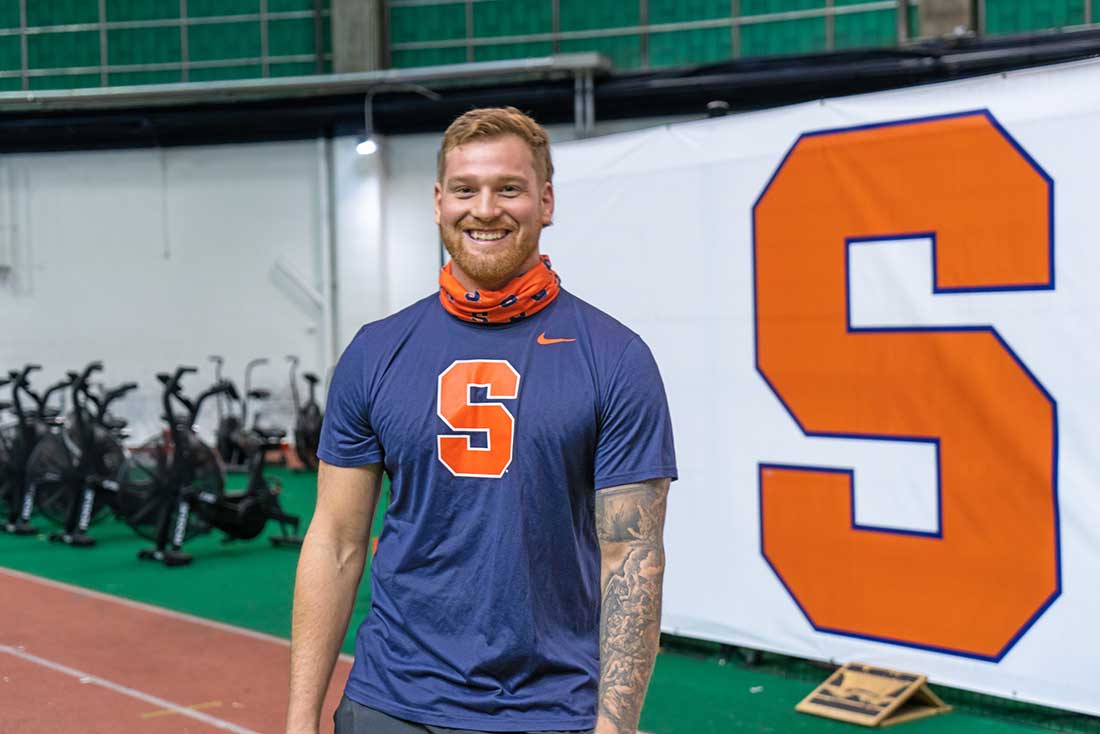 Physical fitness has always been a central theme in Brey's life, starting as a middle school wrestler in New York City and continuing during a five-year stint with the U.S. Marine Corps. The wrestling practices were rigorous and pushed Brey to his mental and physical limits for the first time, and being fit was essential to mission success during his stint in the Marines and his two overseas deployments.
"To me, exercise science is the union of people's endless curiosity and the amazing feats our bodies can accomplish," Brey says.
When he decided to leave the military to pursue a college degree and start a career that he was truly passionate about, Syracuse was the right choice because of its commitment to veterans, the exercise science program at Falk, and the opportunity to work with top Division I athletic teams.
"I came to Syracuse University because it stood out as an institution that was extremely veteran-friendly and that would make my transition out of the military into academia as seamless as possible," Brey says. "Since attending Syracuse as a health and exercise science major, I have learned that there is more to the science of fitness and strength than I could have possibly imagined while in the military."
Brey says the strength and conditioning internship has been the most important experience that he has had at Syracuse because it has put him in a better position to achieve his career goals. He spent a lot of time asking questions and found a parallel with the military in that every person involved with a sports team must constantly assess the ways in which they are contributing to the overall mission.
"The truly special part of this internship is when I think about the program and the teams I am working with and the feeling of pride of contributing to the success of these athletes," Brey says. "I feel honored every day to be able to work with athletes who are at such a high level, and I welcome the responsibility that comes with that.
"While I have studied many of the concepts of strength and conditioning through my coursework and my own independent research, there is nothing like actually being able to learn on the job, let alone learning at the highest level of collegiate strength and conditioning," he adds.
Brey is continuing his internship through the spring semester and looking forward to taking on new responsibilities. He says after graduation he'll set his sights on becoming a strength and conditioning coach, whether with a collegiate program or in the private sector, and his first choice is to stay in Central New York and remain close to Syracuse University.
"Right now, the most important thing for me to accomplish is to graduate from Syracuse and to make my family proud," Brey says. "I had no idea what to expect when I first applied to Syracuse, but I have loved every second of being a student here and am so happy I decided to apply when I was unsure what my next step in life would be."
—Matthew Michael
Originally Published February 3, 2022