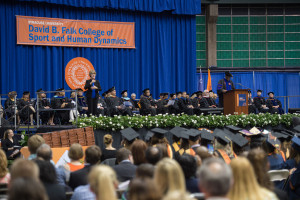 As summer approaches, the Class of 2018  looks forward to Syracuse University's 164th Commencement on Sunday, May 13, at the Dome. Additionally, Falk College will recognize its graduates at the Falk College Convocation May 12, 2018 in Manley Field House. Among the College's many soon-to-be graduates are four Ph.D. students from Falk College's Department of Human Development and Family Science: Dimple Vadagama, Kimberly Raymond, Robert E. Myers III, and Jason Chiang.
Dimple Vadagama
Dimple Vadgama's area of research is immigrant families and parent-child relationships. Her doctoral dissertation focused on the ecological (personal, co-parental, and contextual) factors influencing Asian-Indian immigrant fathers' involvement with school-aged children, wherein she found that father involvement is enhanced when both fathers' and mothers were well adjusted in their marriage, when fathers perceived themselves as being efficient in their parenting role and, had egalitarian beliefs about parenting. Crossover effects were found from mothers' marital adjustment onto fathers' reports of involvement. Also, fathers' parenting self-efficacy significantly influenced mothers' reports of fathers' involvement. These crossover effects reveal that fathers' involvement depend on how adjusted mothers were in their marriage, and mothers' perceptions of fathers' involvement depend on how efficient fathers were in their parenting role.
Dimple has been working on several research projects with professors in the department of Human Development and Family Science throughout her graduate studies. Dimple is a co-author on a publication that includes a comprehensive review about father involvement and it was published in Sage journal Psychology in Developing Societies. She has also presented at several conferences including International Conference on Aging families: Changing families held on June 3-6, 2015 at Syracuse University, Syracuse, New York and the National Council on Family Relations annual conference: Families as catalysts: Shaping neurons, neighborhoods, and nations, November 15-18, 2017 at Orlando, FL.
Kimberly Raymond
Kimberly received her undergraduate and graduate degrees in psychology and counseling, respectively, from the State University of New York College at Oswego before beginning her doctoral work in Human Development and Family Science at Syracuse University. Her doctoral work has focused on the exploration of cognitive and attentional biases as a mediational link between levels of mindfulness, self-compassion and social anxiety in college students. She is interested in further exploring the influence of mindfulness and self-compassion toward altering attentional and cognitive mechanisms as a means of promoting health, wellness and decreased levels of anxiety in adolescents.
Kimberly's interest in cognitive science has also expanded to her recent work as a qualitative scientist for Optum in their Patient Reported Outcomes (PRO) division. Her work there involves the use of qualitative approaches to incorporate the patient voice into healthcare and healthcare delivery. Specifically, Kimberly specializes in qualitative procedures used to gather patients' experience with various healthcare conditions, as well as the use of cognitive interviewing techniques to develop and validate clinical outcomes assessments (COAs) and survey instruments used to measure patient quality of life and treatment efficacy.
Kimberly has published across disciplinary borders and her work has appeared in various journals such as the Journal of Pediatric Psychology, Social Development, Journal of Family Studies, Journal of Patient Reported Outcomes, and Value in Health, as well as a book chapter pertaining to executive functions and school readiness in the Routledge International Handbook of Young Children's Thinking and Understanding.
Robert E. Myers III
Robert E. Myers III. MA-IR., MPA., Ph.D. is a non-profit executive with experience working in disability advocacy and support. His research interests are in the areas of disability policy, state and federal contracting, adolescent education and transition to adulthood. His dissertation analyzed transition of students with disabilities from high school to employment. Using tenets in a model developed by the National Longitudinal Studies (NLTS) and the bioecological model, his dissertation examined how programmatic supports, individual skills and strengths, and familial factors predict employment outcomes in individuals with intellectual disability. This study utilized a national sample of 270 young adults with intellectual disability who are from diverse ethnic and socioeconomic backgrounds. Logistic regression showed that supportive families who engaged with youth at school and at home were more likely to have youth who achieved higher levels of success after high school, and the skills that youth had or had acquired affected their employment related outcomes.
Dr. Myers has presented his research at a number of state and national conference including the American Association of Intellectual and Developmental Disabilities, TASH, The New York Alliance for Inclusion & Innovation and many others. He was appointed by New York State Governor Cuomo to the State Autism Advisory Board and has worked internationally in United Nations and International Organizations. In 2006, Dr. Myers helped launch a new non-profit, The Kelberman Center. He is the Executive Director of this regional nonprofit supporting people with autism. With offices in Utica and Syracuse, New York, the Center provides technical assistance and capacity building in 65 school districts, preschool, housing, a model clinic providing psychological and therapeutic supports, and self-directed supports through 200 highly trained professionals working across seven counties in Central New York.
Jason Chiang
Jason received his undergraduate and graduate degrees in psychology and Educational Psychology, respectively, from University of Toronto and the State University of New York at Albany before beginning his doctoral work in Human Development and Family Science at Syracuse University. His doctoral work examined links between shaming and training parenting strategies, and psychological and academic outcomes among children of Chinese immigrants living in the U.S. He is interested in further exploring the parental beliefs and practices among immigrant families, and acculturation and enculturation process in these families.
Jason has been teaching at University of Akron as Assistant Professor of Child and Family Development since Fall 2016. His work there involves teaching undergraduate and graduate on-campus and online courses, developing new courses, conducting research, and serving on various committees. He has been invited to be a guest speaker for preschool and Chinese language school in Akron and Columbus, Ohio.
Jason has co-authored a book chapter pertaining to the current state of early childhood education in Caribbean countries in the Routledge book titled Early Childhood Education and Change in Diverse Cultural Contexts. In addition, he has co-authored a manuscript investigating kindergartener's mathematics learning, which is currently under review at International Journal of Educational Research. His works have been presented in international and national conferences such as American Educational Research Association (AERA) Annual Meeting in Washington D.C, The Society for the Study of Human Development (SSHD) Conference in Fort Lauderdale, Florida, and The Ryerson Centre for Immigration and Settlement Conference in Toronto, Canada.