Nathalia Kobrosky and Jayde Kahn Learn How to Help Children in Crisis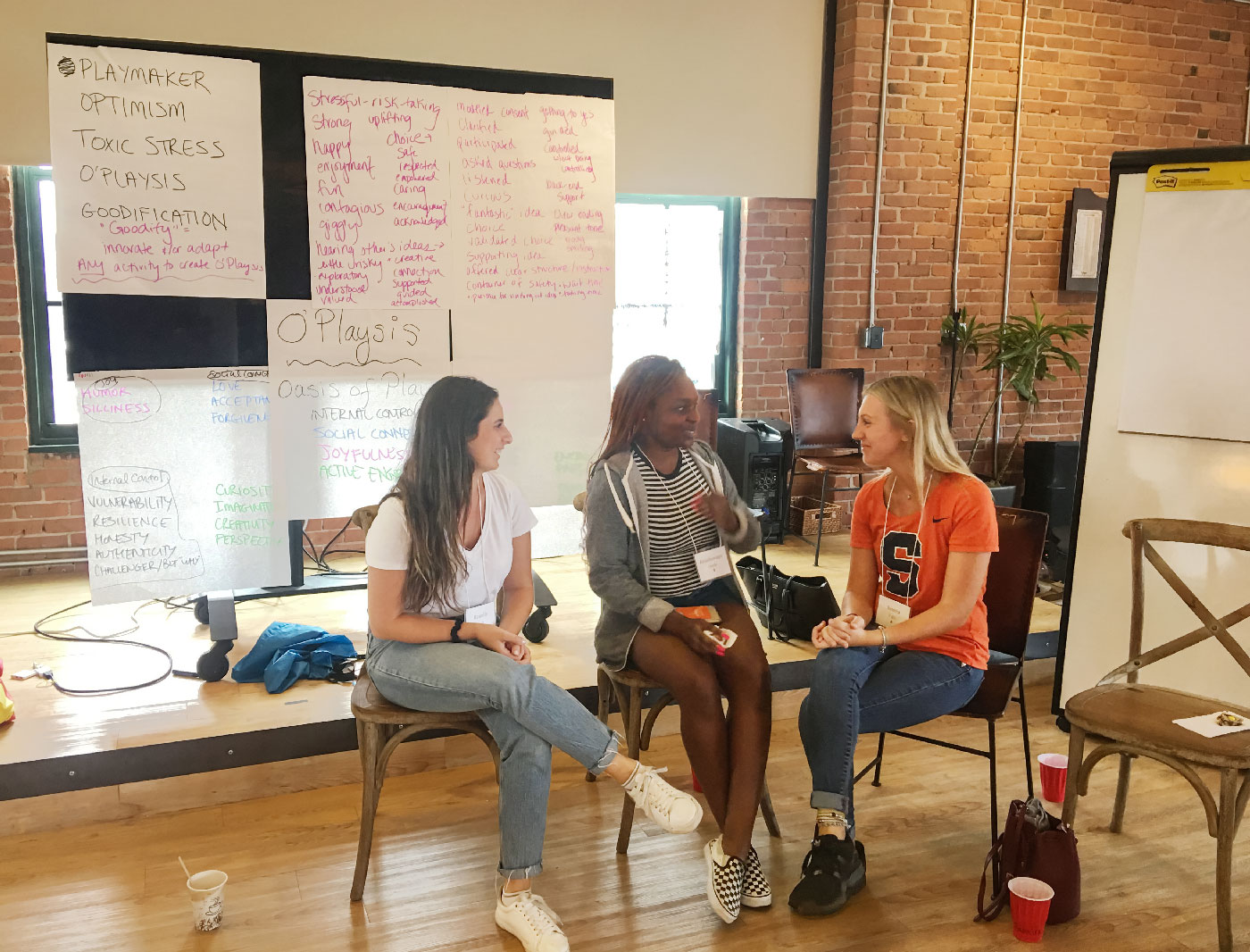 For Falk College rising juniors Nathalia Kobrosky and Jayde Kahn, participating in a
Life is Good Playmakers
online course this past spring was a crucial step toward their career goals of helping children navigate life's challenges.
Kobrosky is a Human Development and Family Science (HDFS) major who's also minoring in communications, while Kahn is a dual major (HDFS and psychology) who's minoring in creative leadership. They were among 49 students who enrolled in the Playmaker 101: Healing Power of Optimism online course as part of the Play, Child Development and Early Education class taught by Falk College Associate Professor Rachel Razza.
According to the Life is Good Playmakers website, the Playmaker 101 course provides "a deeper understanding of the power of optimism and how it can help all people–especially children–heal, learn and reach their full potential." The course also introduces Playmakers' "core philosophy and approach to building responsive environments where children who have been impacted by trauma can grow to see the good in themselves, others and the world around them."
The students who completed the course were certified as playmakers through Life is Good Playmakers.
"Playmakers is a wonderful opportunity for our students to acquire play-centered skills and strategies that are inclusive of all children and relevant across multiple contexts, including childcare centers, schools, and therapeutic or healthcare settings," says Razza, the HDFS graduate director. "The benefits of this program go beyond the certification on their resumes. These students are now part of the global Playmakers community that includes ongoing access to an extensive resource library of activities and exclusive networking opportunities."
To get a sense of what the students learned from the course and how they hope to apply it during their academic and professional careers, we asked Kobrosky and Kahn to share their thoughts with us:
A love for children
Why did you choose Human Development and Family Science as a major?
Kobrosky: The reason I chose to major in HDFS comes from the interest I have in working with children on social and emotional strategies that can help them overcome any psychological concerns or developmental issues they may have.
Kahn: I chose HDFS as one of my majors because I love working with children and want to learn more about their development if I plan on including children in my life and career plans.
Tell us more about your experience with the Healing Power of Optimism course.
Kobrosky: One of the activities that stood out to me was the self-care reflection. It allowed me to realize there are certain activities, such as allowing yourself to cry, that are a form self-care and a way to decompress from stress and tensions.
I also learned about the different ways people can view optimism and how that reflects on our mindset and attitude toward challenges we may face in life. I learned that I should try looking at life with a glass half-full because when I find something challenging, I tend to think it ruins the whole day instead of looking at the alterative of the situation and seeing the upside to it.
I was also interested in the introduction of the play oasis and how this environment can offer children a safe space to decompress from their daily life stresses and express their emotions freely through active engagement and play.
Kahn: Throughout the Playmakers' course, I participated in activities about optimism, building a safe space for children, and interacting with others in positive ways. I learned about seeing the silver lining in situations you feel like you don't have enough influence over by staying optimistic in the best way that works for you, whether that's glass half-full, glass-half-empty, or something in-between.
I also learned about meeting children where they're at developmentally and emotionally, helping them to understand that they are our biggest priority as playmakers and that playing with them, caring for them, and spending time in silence with them are all ways that help them grow in the way they need to grow. I also learned that making sure I am okay is step one to caring for children who need care and attention.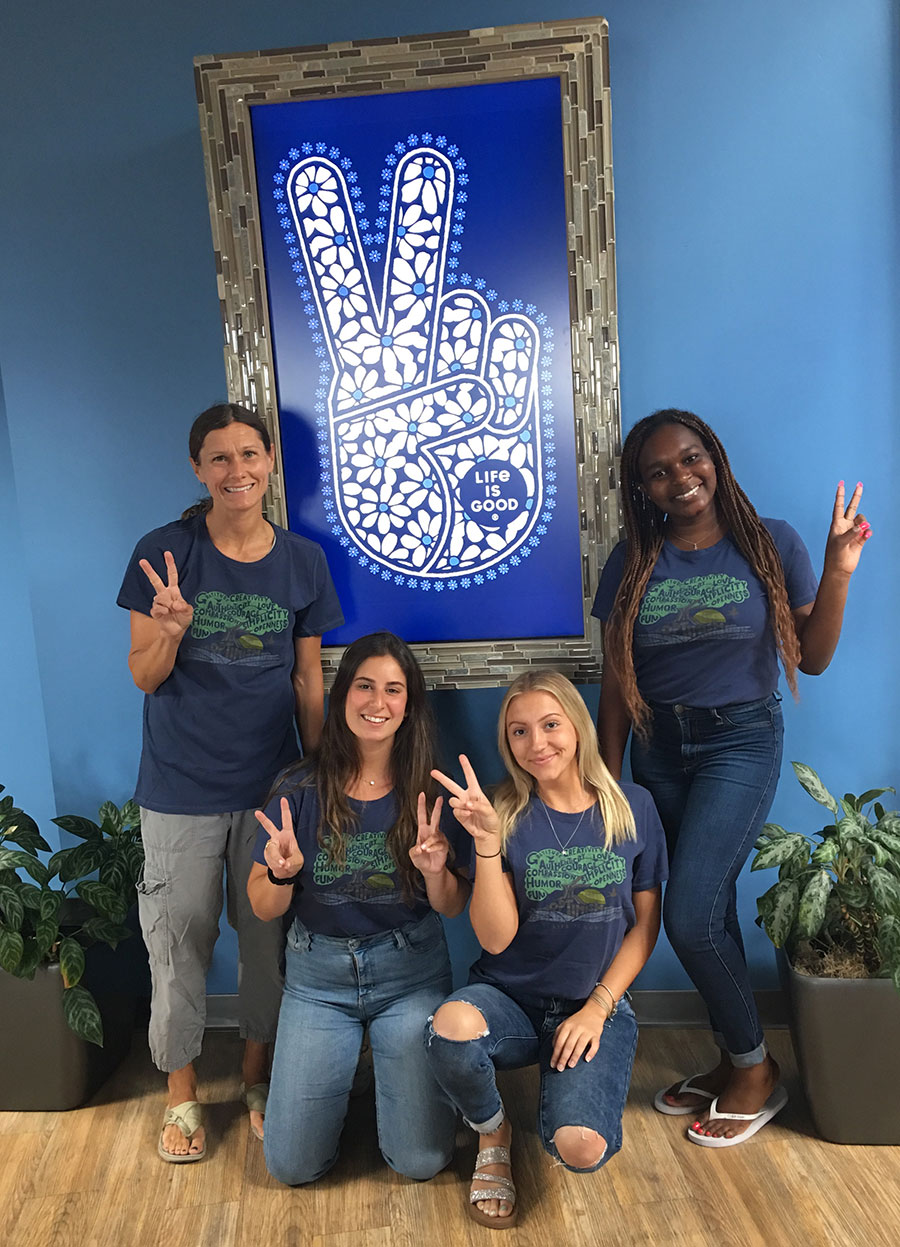 Finding fulfilling careers
How did this course connect to your HDFS classes so far and your career aspirations?
Kobrosky: Play is crucial for healthy child development because it gives children the opportunity to express themselves freely and use their active imaginations to demonstrate their creativity and social, emotional, and cognitive skills. This coursework illustrates critical life-learning objectives that can change the way a child is taught to take on life challenges and gives them an opportunity to reflect on their actions, and the actions teachers or guardians can take for their child, and possibly change them in the future.
As a possible future child psychologist/OT (occupational therapist), this course gives me ideas for certain developmental and coping strategies I can offer children to help them in difficult situations they might not know how to oversee initially on their own.
Kahn: The Playmakers' course reflects the ways in which the (HDFS) coursework describes how adults should always behave around children, especially around children in school settings, because you never know if the only caring adult in their life is you. It also shows how to be resilient in situations with children, and not let your actions be ruled by impatience or frustration; they are just children, and they deserve your time, energy, and attention.
I currently work at a summer camp as a direct supervisor for the counselors who will be living with–and programming activities for–the campers in the sixth- to seventh-grade age range. I will definitely bring what I learned about optimism, childcare, safe spaces, positivity, and selfcare with me to that experience and forward into the rest of my life!
What are your future career interests?
Kobrosky: My future career interests are focused on the child psychology field or OT (occupational therapy). I would like to work in a medical setting of some sort where I can have access to working with children in different medical departments.
Kahn: I hope to go to graduate school to earn my doctorate in occupational therapy, and my end goal is to work in pediatric OT in a clinical or private practice setting.
About HDFS
Programs in the Department of Human Development and Family Science focus on life-span development across cross-cultural contexts; social, physical, emotional, and behavioral development; and family dynamics and research training. Browse our HDFS programs to learn more about exciting internships, and life-changing careers.