Social Workers United's Fall Donation Drive To Benefit In My Father's Kitchen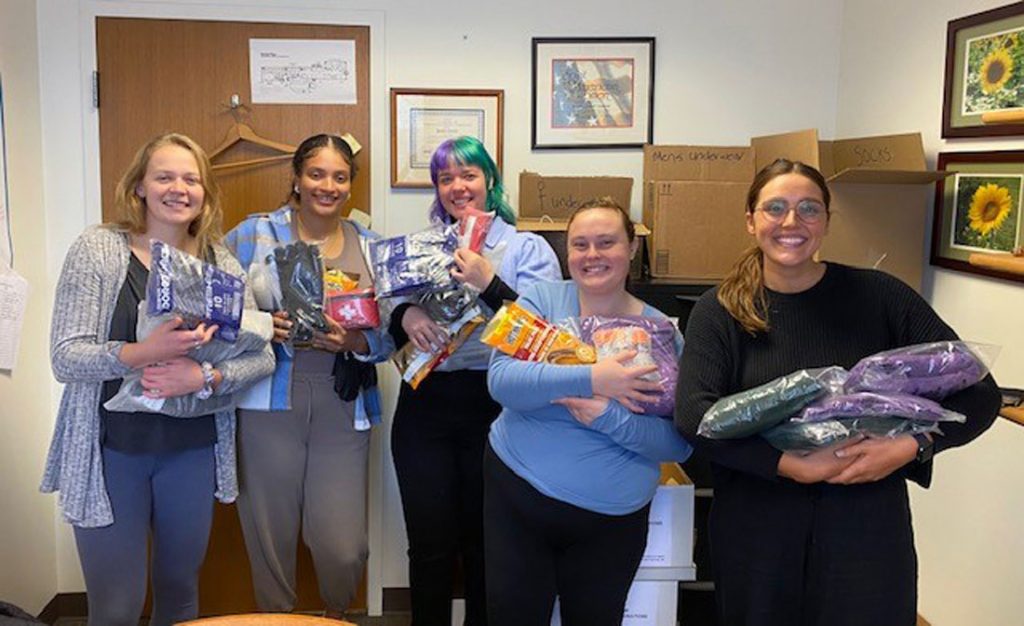 On any given night in the United States, there are 580,000 Americans who are homeless.
Millions of others are on the edge: 37.2 million Americans live below the poverty level, 44 million are at the risk of suffering from hunger, and 1 in 6 children live in poverty.
These disturbing facts about homelessness and poverty are provided by In My Father's Kitchen, an organization that serves the homeless in Syracuse. And they're worth noting as November is national Homelessness Awareness Month and national Hunger and Homelessness Awareness Week runs from Nov. 12-20.
To recognize this widespread problem and in recognition of Homelessness Awareness Month, the annual Fall Donation Drive hosted by Social Workers United will collect items for In My Father's Kitchen through the end of the Fall 2022 semester. Social Workers United (SWU) is comprised of undergraduate (BSSW) and graduate (M.S.W) students from the School of Social Work at Falk College.
"The Fall 2022 Social Workers United Donation Drive is especially exciting as we have involvement of both in-person and online students who are helping in various ways," says M.S.W. student and SWU president Rob Ryan G '23. "Social Workers United is unique because in keeping with social work values, including self-determination, the full membership has a voice and a vote about the donation drive. In My Father's Kitchen was chosen as this semester's recipient because 100 percent of donations will stay local and assist people in our own community."
Donations can be made securely through SWU's Amazon wish list. The items were chosen specifically to meet the needs of individuals who access services through In My Father's Kitchen and will support them through the cold winter months ahead.
"In My Father's Kitchen assists chronically homeless individuals who live on the streets of Syracuse and have a disability that prevents them from adequately caring for themselves," says Jennifer Genovese, an assistant teaching professor and the M.S.W. program director. "The disabilities of these individuals include substance abuse, mental illness, chronic illness and/or physical disabilities that make them vulnerable to crime, disease, hunger, and hopelessness."
According to the In My Father's Kitchen website, the organization's mission is to "feed people spirit, soul and body; using food distribution and supplying material necessities to break down barriers, build relationships, and bring hope to those who feel invisible." Founded by Executive Director John Tumino and his wife, Leigh-Ann Tumino, In My Father's Kitchen strives to honor those they serve by "offering them a hand up not a handout" and promoting "a culture of dignity and respect."
With their Fall Donation Drive, the students from Social Workers United are determined to address the issue of chronic homelessness by starting in their own backyard of Syracuse.
"The faculty advisors from the School of Social Work–Nadaya Brantley, Kristin Esposito, and myself–are extremely proud of the dedicated and enthusiastic members of Social Workers United who embody the core values of the social work profession: service; social justice; dignity and worth of the person; integrity; importance of human relationships; and competence," Genovese says.
If you're unable to donate items through the Amazon wish list, please contact Jennifer Genovese at jgenoves@syr.edu.
To learn more about social work academic programs, career paths, and experiential learning opportunities, visit the School of Social Work webpage.