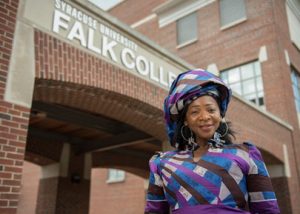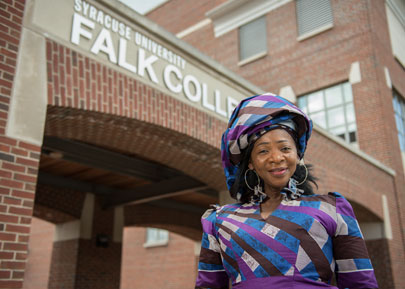 Growing up in Bulawayo, Zimbabwe, Blessed Unami Sikhosana '11, G'12, G'17 lived with her grandmother and 6 younger siblings. "My mother was not there," Sikhosana explains. Her grandmother was the caregiver. Sikhosana recalls the small garden her grandmother made at the back of their yard, teaching her grandchildren how to plant different vegetables she would then sell to buy food, and send Sikhosana—and her siblings—to school.
Sikhosana's life changed drastically when her grandmother passed away in 1974. "I had my two older sisters, but they were in a boarding school, which meant all the responsibilities fell on my shoulders. I was 12 raising 6 younger siblings." It strengthened Sikhosana's character and grit, which would play a big role in her journey to Syracuse University's Falk College, where in 2017 she earned a master's degree in marriage and family therapy.
In 1998, Sikhosana came to the United States. "I came to visit my aunt Joyce, but quickly realized that the U.S. is a land of opportunities, provided you apply yourself with determination. So, I decided to stay and further my education." Although she had never used a computer before, she enrolled at Bryant and Stratton College and studied information technology and programming. "Guess what? I became valedictorian."
But her academic journey had just begun. Sikhosana's desire to challenge herself brought her to Syracuse University. Through SU's University College, she earned her undergraduate degree in paralegal studies in 2011 and took a job as a paralegal working for a child and family attorney. While working there, she completed her executive master's in international relations and human rights studies through the Maxwell School in 2012.
At the attorney's office, she recalls, "we dealt with families and children who were hurting." Sikhosana realized that she was a humanitarian, an advocate for the voiceless. "That's what drew me in—the love for those who can't speak for themselves. The refugee communities that have experienced war in their home countries and now suffer from PTSD. Bringing hope to adults who are in nursing homes and providing them with therapy coping skills, especially those who are faced with mental health challenges."
So, Sikhosana began her studies in marriage and family therapy at Falk College, home of the first accredited master's degree of its kind in the country. Students in the program complete rigorous coursework in addition to 500 supervised clinical hours, during which students work directly with clients at both the Couple and Family Therapy Center located at Peck Hall, and at an approved community site. For Sikhosana's internship, she worked at Catholic Charities in Syracuse.
Seeing 27 clients each week was certainly challenging, but Sikhosana treasures the joy and fulfillment she gets from her work. "To be a marriage and family therapist is a rewarding career. You touch lives," she says. "The bottom line of being a marriage and family therapist is helping individuals with mental health challenges reframe their thinking. Most clients walk into my therapy room defeated. My job is to help them to walk out into the world feeling like a champion."
Today, Sikhosana is a proud citizen of the U.S., working in and with her community to make a global impact. Through her own initiative, the Blessed Sikhosana Foundation, Inc., she raises funds to send young girls in her home village in the Sigola homestead in Bulawayo, Zimbabwe, to school. Currently, the foundation is paying the school fees for 20 girls through its 2 U.S. chapters, Syracuse University and Little Falls, NY.
An active member of the Syracuse Sunrise Rotary Club for nearly 10 years, Sikhosana will be the first African woman president of her club and in this district when she takes office in July. District 7150 is comprised of roughly 43 clubs covering Central New York. "We raise funds through different fundraising activities and use these funds to support our service projects and other charitable activities making a difference in our community and internationally."
Looking back on the past year, she says it's been wonderful. "I completed my studies, my son got married, I have two lovely grandchildren, I'm getting married in June 2018." Her fiancé surprised her with a ring and a proposal on her birthday. "Life begins at 55!" she laughs. "I really want to thank Syracuse University for empowering me to be the marriage and family therapist that I am today," she says.