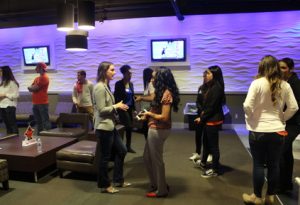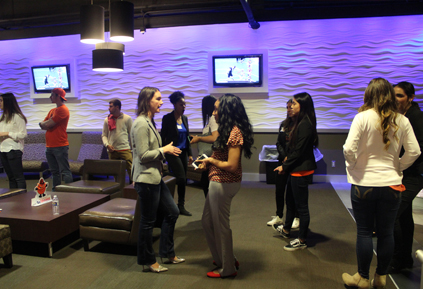 When Falk College's Department of Sport Management considered what companies to invite to campus to network with current students this semester, it knew exactly where to start. "I knew there were no better people to invite than our sport management alumni who are working for the companies our current students hope to work for some day," says Nicole Imbrogno, sport management internship coordinator who is organizing the inaugural event.
As part of its ongoing commitment to enhancing students' professional growth and networking opportunities, the Department of Sport Management presents SPM 205: 2.0 on October 13 starting at 1:00 p.m. in Grant Auditorium. To date, 40 alumni and more than 120 students are registered to attend the event. The program will include a welcome from director and chair, Michael Veley, the Rhonda S. Falk Endowed Professor of Sport Management, panel discussions focusing on the sport industry, business analytics, and the importance of practical experience, and a networking session. The day is also an opportunity for connecting/reconnecting with classmates, faculty, and staff. As part of the event, the Department will promote and highlight the companies alumni are working for, and is inviting all alumni to bring current internship, capstone, or other opportunities to market to current students. The event will conclude with an alumni tailgate in the Falk College Courtyard before the Orange host Clemson in the Dome.
"Sport management in Falk College prides itself on being a family, and it's evident through the faculty and staff, especially those that have been involved with the program since the beginning, who stay in touch with so many of the 550+ SPM alumni now infiltrating the sport industry. It's even more evident when our alumni are so excited to give back and help current students jump start their own careers!" For more information or to RSVP, contact Nicole Imbrogno, nfimbrog@syr.edu.