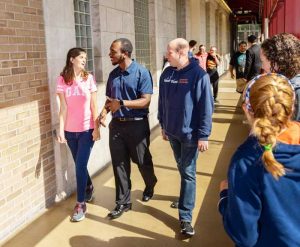 Through InclusiveU, students with intellectual and developmental disabilities can be part of a strong community, taking advantage of opportunities across campus while learning to be independent.
As one of 20 model programs in the United States for transition and postsecondary programs for students with intellectual disabilities, Syracuse University's InclusiveU sets an example other programs want to follow. Through InclusiveU, an initiative of the Lawrence B. Taishoff Center for Inclusive Higher Education, students with intellectual and developmental disabilities are part of a strong community where they are fully included with their peers.
InclusiveU students take a reduced course load of two to three classes per semester, working toward a certificate in their area of study. In their senior year, they complete two full-time, 15-week internships in a variety of departments on campus and with local employers. InclusiveU boasts a 100 percent employment rate for graduates, compared to the national average of approximately 17 percent for individuals with intellectual and developmental disabilities.
Evan Weissman, associate professor of food studies in Falk College, has taught InclusiveU students for the past several years. He sees firsthand how the power of the program extends to the campus community. "Other students are able to think about the diversity of our student body and see the opportunities for people at our University who have different life experiences," he says.
Weissman says he appreciates the opportunity to be part of the effort to create a more inclusive learning space and campus. "As an instructor, diversity forces me to constantly reevaluate my teaching methods and ensure that I am delivering class content in ways that reach a wide variety of students," he says.